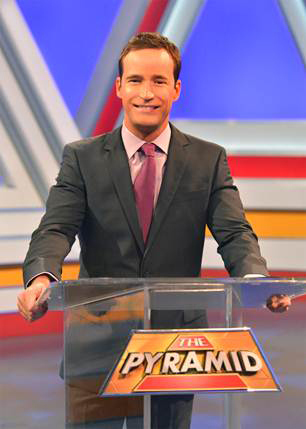 Game Show Joins Original Series Premieres "The American Bible Challenge" and "Beat The Chefs" set for Thursday, August 23
GSN announced the premiere date for its original series, THE PYRAMID, a contemporary take on one of television's most beloved game shows, hosted by television executive producer and Beauty and the Geek host Mike Richards. THE PYRAMID is a daily strip show airing Monday through Friday at 6 pm ET, and will premiere on Monday, September 3 at 6 pm ET.
THE PYRAMID is back in an all-new, half-hour version of the fast-paced word guessing game.  The celebrities, the Pyramid game board, the Winner's Circle: everything viewers know and love about the iconic format is returning in GSN's lively new version.  The series, a winner of nine Daytime Emmy Awards during its storied 40-year run, brings a contemporary sensibility, tone and style to a beloved franchise and will accompany the hit show, THE NEWLYWED GAME in GSN's "Iconic Game Reinvented" category.
THE PYRAMID joins the previously announced new shows on GSN this fall: THE AMERICAN BIBLE CHALLENGE and BEAT THE CHEFS, which are the first of GSN's "Shiny Floor Game" category—contemporary studio-based game shows that focus on themes prevalent in pop culture.  THE AMERICAN BIBLE CHALLENGE, an original one-hour game show hosted by comedian Jeff Foxworthy, will premiere on Thursday, August 23 at 8 pm ET/PT.  BEAT THE CHEFS, an hour-long cooking competition show with host Matt Rogers, will also premiere on Thursday, August 23 at 9 pm ET/PT.