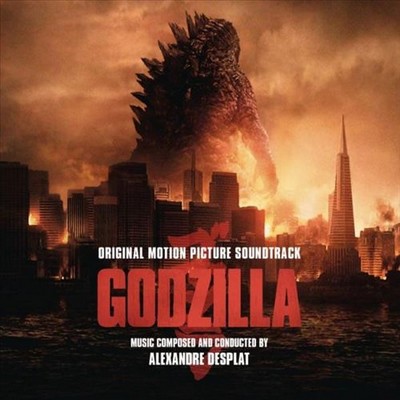 The famous colossal reptile makes his grand return to the silver screen in the updated film "Godzilla". Composed by Alexandre Desplat, (known for his work in "The King's Speech" and "Harry Potter and the Deathly Hallows," Parts 1 & 2) the soundtrack brings the story of Godzilla to life and allows new and longtime fans to feel as though they are experiencing the action first hand.
A classic film such as this is truly worthy of an outstanding and powerful soundtrack, and Alexandre Desplant does not disappoint. Tracks such as "The Power Plant", "Inside the Mines", "Entering the Nest" and "To Q Zone" allow you to do just that. These tracks are action packed and will leave you in awe and fear of the gargantuan titular character. This is a film that has been remade many times over and has garnered a new set of fans every single time. This time around, Godzilla isn't the only one exciting the fans, it is the accompanying soundtrack.
This soundtrack is absolutely perfect. Each track flawlessly describes the danger and thrill of the movie and the destructive nature of the legendary creature. When you hear songs such as "Vegas Aftermath", "Airport Attack", "Golden Gate Chaos" and "The Wave", you feel the same terror and despair one might feel if they were to face the wrath of Godzilla. This is a soundtrack with so much action and adventure that the audience—both viewing and listening—will find themselves wanting more. This awesome powerhouse of a soundtrack will electrify the audience. They will feel the anticipation and dread of Godzilla's imminent massacre, as well as the excitement of witnessing the rebirth of a celebrated science fiction icon.
While listening to the soundtrack, I felt my heart race as each song came on. One after the other, I felt a sense of urgency and exhilaration. Desplat certainly has done his job perfectly. In composing such an awesome piece, he has captured the essence of Godzilla, his intimidating features and remarkable cinematic history. Fans of Godzilla, both new and old, will love this soundtrack and will never be able to turn it off.
Final Grade: A+