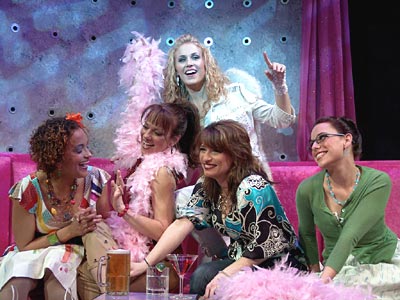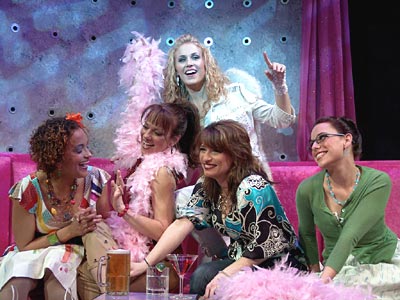 A bachelorette party that leaves no stone unturned hit our Nation's Capital for one night only and it had people dancing in the aisles and singing along even after the songs ended.
Girls Night the Musical tells the story of five friends who are doing a girls night out at a karaoke bar. Sharon (Dina Desmone) serves as the narrator has died 22 years prior, leaving behind a daughter Candi Rose. She watches as her four best friends come together to celebrate her daughter's engagement party. Sharon's friends Carol (Shelby Garret) the party girl who has been married & divorced twice, Kate (Alex Tripp) a straight-laced school teacher who married her high school sweetheart, Liza (Erin Baltsar) a married women with three children who has martial issues and Anita (Alissa Stahler) a woman who speaks softly & quickly and can fly off the handle sat any moment.
Throughout the musical, Sharon informs the audience about each of her friends' problems while the other friends perform some good old karaoke. All the while, we get to hear some confessions, experience some drama, do a little dance and enjoy some timeless women's anthems on this special girls night.
All of Sharon's stories about her girlfriends served as the catalyst for a song that fits the women's situation. Each time when the character sings, that's where the true talent shines. When Shelby Garret sings "Don't Cry Out Loud", you truly feel for Carol and all the pain she endeared throughout her life. Before demonstrating her softer side with the ballad, Garret leads the girl group to the Bonnie Tyler classic "Holding Out for a Hero."
Renditions like Garret's are ultimately what made Girls Night a good time, which makes Anita (Alissa Stahler), an emotionally challenged woman, look ridiculous. Stapler's take on a disco incarnation of Jerry Herman's "I Am What I Am" wowed the crowd. For a character who manic depressive, Stapler's vocals are simply amazing. The audience cheered through both of her solos.
Goody-two-shoes (Alex Tripp) get exceedingly drunk and all her schoolmarm charm suddenly went out the window. Tripp's performance of the Janis Ian's hit "At Seventeen" is charming and her blindly drunk rendition of "Cry Me a River" is embarrassing yet humorous. It kind of reminds me of how some karaoke singers can cause a train wreck on stage that you could not help but watch.
Erin Balsa's vocals for the classic "I Will Survive" and "It's Raining Man" totally rocked! When I interview Baltsar a few weeks ago, she informed that Liza sings the best song in the musical and I couldn't agree more. She nailed it! I cannot forget the talent of Dina Desmone. As Sharon, she kept the audience engaged with her narration and joins the girls in great harmony during the musical numbers. You can see in their performances that that cast commit to the roles.
The only downside to the musical is the storyline itself. At times, the story seemed a bit out of place and a little dark but nonetheless, the musical did its job by entertaining the crowd last night. A rare thing I observed at the end is that the audience kept singing and dancing as they leave the theatre. Honestly, can anyone tell me when THAT ever happens in DC?
If you're looking for a Girls Night Out with your girlfriends or some brave (emphasis on brave) men, then Girls Night the Musical is right for you. For the men out there who do get to see the musical, be strong and have some fun. You may catch yourself singing some of the classic hits like yours truly.
Girls Night The Musical is currently touring across the country. It will make stops in Largo, FL (10/22-10/23), Greensburg, PA (10/24) and Nashville, TN (11/1) This play runs at about 2 hours including a 20-minute intermission. For more information, go to http://www.entertainmentevents.com/shows/girls.asp?bhcp=1
Check out my exclusive interview with actress Erin Baltsar: therogersrevue.com/erin-baltsar/