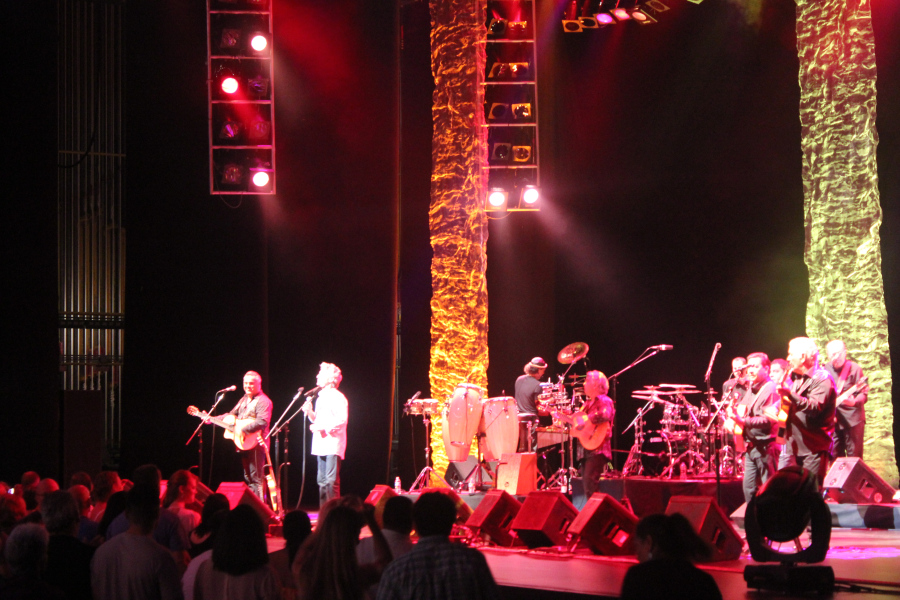 The subtle yet quick tempo will make you want to stand up and move your feet. The exquisite intricacies of the outstanding guitar solos will make you pause and realize this moment is special and not something you are likely to forget. The flamenco style rock is extremely catchy and Nicolas Reyes singing sounds better than ever. Listing to the Gipsy Kings live is to behold.

It is not unlikely a talented group of musicians get a standing ovation. For the Gipsy Kings the whole concert was a standing ovation. Isles reserved for dancing. Nicolas and Andre were both raising there arms and clapping rhythmically encouraging us to do the same. It was very engaging and you couldn't help but to participate. The sound was absolutely amazing the Congo's, the Keyboards, the Bass, everything, was spectacular. Not a lot of bands sound this good live. Certain songs grabbed my attention one of which would have to be "Djobi Djoba". The upbeat tune was performed masterfully and the Castanets during the chorus made it sound like a wild rock n roll Tango.
The Gipsy Kings guitar playing is rather rhythmic; they often play the guitar as if it were a percussion instrument. The way they play in succession with each other is outstanding. Tonino Baliardo's guitar solos rang out with distinctive flare and were extremely intricate. It really makes you want to learn how to play that style of guitar. One of my favorite songs was "Volare" and it was a priceless experience. It captured me, I couldn't even dance at this point, and all I could do is stand and watch in amazement. They concluded to a sea of applause and cheers. After they left the stage the applause only grew louder and louder until an encore was ever present and what better song to perform then "Bamboleo". It was as electrifying as you can get with acoustic guitars. It really set the tone to a perfect evening. The Gipsy Kings really know how to put on a terrific show; and they have been doing it for decades and sound just as good as ever. Seeing them live is a must for anybody who has ever dreamed of playing guitar or any instrument for that manner, they were absolutely amazing.
FINAL GRADE: A++