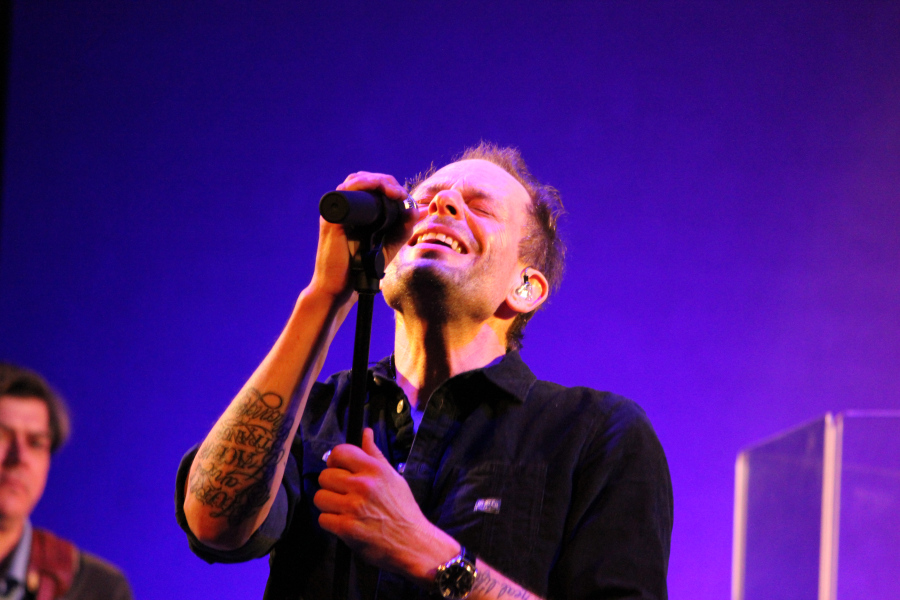 Let's take a trip down memory lane. The 90's was a great decade. Alternative music had exploded and evolved from Grunge. The airwaves were overrun with catchy guitar riffs and melodic jingles. MTV still played music videos. One of the bands to make their rounds touring and remain a mainstay on local radio during this time was the Gin Blossoms. Tonight we catch them at the start of their 2013 tour and first ever performance at The Barns at Wolf Trap.
During the 90's the Gin Blossoms had a number of songs top the Billboard Mainstream Rock charts such as "Hey Jealousy", "Follow You Down" and "Found Out About You" along with two platinum albums "New Miserable Experience" and "Congratulations I'm Sorry". They have since recorded two additional albums "Major Lodge Victory" in 2006 and "No Chocolate Cake" in 2010. I was really excited about this concert. I remember "Follow You Down" in particular being re-winded and played back over and over again on my rock n roll mix tape (along with Bryan Adams "Have You Ever Really Loved a Woman" and The Red Hot Chili Peppers "Under the Bridge").
In the nineties I was just a kid, all of my music consisted of me hanging around a tape deck and waiting for a favorite song to be played on the radio then pressing record. It's now time I finally get a chance to see the Gin Blossoms live and they didn't disappoint. Their really upbeat, lead singer Robin Wilson made it a point that we weren't going to be sitting in our chairs by the end of the show. It didn't take long, as soon as the opening guitar riff for "Found Out About You" sounded the audience was on their feet and dancing in the isles.
People then just started leaving their seat and walking up to the front of the stage to clap and dance. This went on till the end of the show. When they played "Hey Jealousy" everyone in the audience was singing the jealousy chorus, it was really loud. Robin Wilson's and Jesse Valenzuela voices sounded great. My favorite song was "Allison Road"; it just felt good listing to it.
The sound, the atmosphere, everything was here. This was a real fun show. My hands are still red from the amount of clapping I did. They played all their classic hits and gave me goose bumps. It you want to go to a concert and just sit and relax. The Gin Blossoms aren't for you (you probably won't be able to see anything). If you want to go out and move and have a good time, I would definitely recommend them. There sounds just make you want to move.