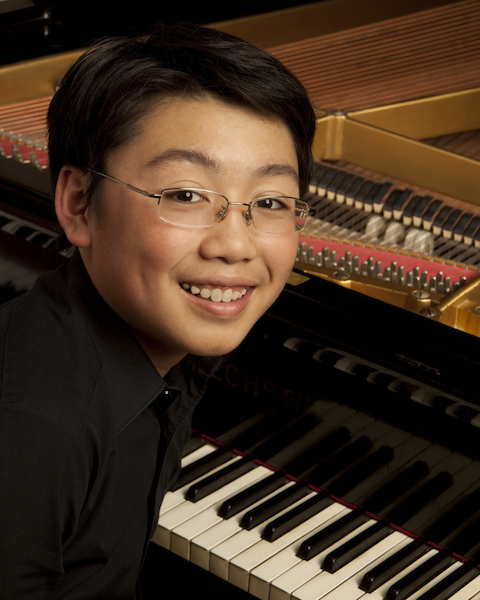 Pianist George Li at the age of seventeen has already accomplished a life times worth of achievements. He has performed for President Obama in the White House. He has performed at Carnegie Hall. He has performed with prestigious orchestras from all around the world. Tonight he performed at the Strathmore Mansion. This was a very special performance, I feel privileged to have witnessed it. This concert was nothing short of the best recital I have ever attended and probably ever will.
The Strathmore Mansion only seats 110 people. It was a very intimate setting to say the least. This made for spectacular sound. You could hear every note clear and distinctively. His program included the works of Franz Joseph Haydn "Sonata in C Major, Hob XVI: 50", Ludwig Van Beethoven "Sonata No. 21 in C major, Op. 53", Frederic Chopin "Sonata No. 2 in B-flat minor, Op. 35", and Franz Liszt "Hungarian Rhapsody No. 2". This was an interesting program to say the least. He followed Frederic Chopin's "Funeral March" which is a sad requiem with Franz Liszt "Hungarian Rhapsody No. 2" a whimsical tune most notably known for being featured in cartoons such as Looney Tunes "Rhapsody Rabbit". It was if he was trying to lighten the mood of the program after playing such a sad song. Another interesting note about Frederic Chopin's "Sonata No. 2, Op. 35" was the "Finale: Presto". This is one of the most intricate piano solos ever composed and George Li played it to perfection. He also played with a lot of emotion. Often he had his eyes closed and you could just sense the music was in complete possession. He didn't just play from a straight upright position either. He often swayed back and forth adding additional excitement and emotion to the pieces. I couldn't exactly tell from my vantage point whether or not he was using sheet music (I don't think he was) but if he did he wasn't looking at it very frequently at all. I must note his performance of Franz Liszt's "Hungarian Rhapsody No. 2" was especially enjoyable, I'm so glad he had that on the program. It was truly a memorable experience.
George Li is astonishing! My god, the kid's a genius! It's not just his youth that gives his music such appeal. He plays in a distinct manner that's like nothing I have ever heard. He is well on his way to a prosperous career. Like I said I feel especially privileged to have witnessed him perform a solo recital within the intimate confines of the Strathmore Mansion. It's not going to be long before he's playing sold out concerts at the Kennedy Center, Strathmore Music Center and any other highly prestigious venues you can think of.