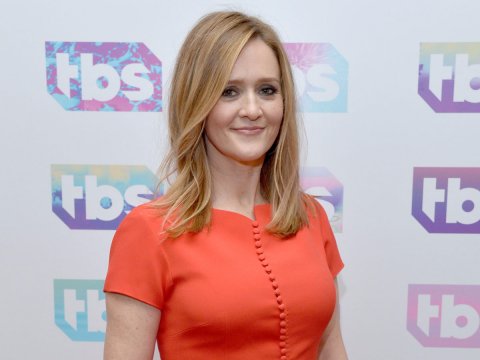 Turner's TBS is crying-with-joy-emoji to announce that Full Frontal with Samantha Bee's "Not the White House Correspondents' Dinner" will stream on Twitter following the special's premiere on TBS. Hosted by Samantha Bee, the event will take place at DAR Constitution Hall in Washington, D.C., on Saturday, April 29. It will then air that evening as a one-hour special on TBS at 10 p.m. (ET/PT), with an additional broadcast on Twitter at 11 p.m. (ET). Fans on Twitter in the United States will be able to access the stream by going to samanthabee.twitter.com, as well as via the @FullFrontalSamB Twitter handle.
"Not the White House Correspondents' Dinner" will finally answer the question, "What if Washington D.C.'s annual nerd prom were hosted by a lady nerd and had way more curse words? Also, what if it actually honored a free press and gave the finger to those who would try to diminish it?" And thanks to the uncensored encore Twitter stream of the special, viewers will be able to see and hear all those curses and fingers. Twitter will also serve as a hub for exclusive content from the event, including an hour-long red carpet special hosted by Full Frontal with Samantha Bee's team of correspondents beginning at 9 p.m. (ET). And yes, #NotTheWHCD has an emoji… this #$&@ is serious.
"The teens who run our social media accounts said we should do this, and honestly, I was about three margaritas in at the time, so I guess it's happening," said Samantha Bee.
"Social media is a powerful tool for journalism so it makes perfect sense for us to collaborate with Twitter in presenting this first-of-its-kind special," said Michael Engleman, executive vice president of entertainment marketing and brand innovation. "This is also a tremendous opportunity to grow fandom for Full Frontal by embracing the virtuous relationship between social buzz and TV viewership."
"Samantha Bee regularly offers fans compelling content on Twitter," said Anthony Noto, Twitter COO. "We are thrilled to collaborate with her and TBS to bring the video of this must-see special and the related conversation to Twitter."
TBS's proceeds from "Not the White House Correspondents' Dinner" will go to the Committee to Protect Journalists (cpj.org). For additional information and updates regarding the event, please follow #NotTheWHCD.