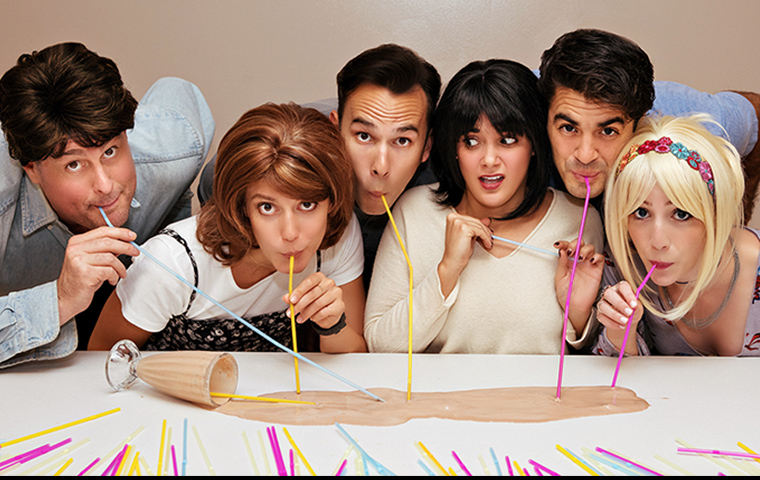 Friends! The Musical Parody took a short residence at AMP Bethesda. Make a big note that this is a parody! Liberties are taken and sometimes that left the audience, when I saw it, confused.
Let me say that I LOVE "Friends" the TV show. I have seen the entire series multiple of multiple times and watch episodes everyday still. When I heard this was a show, I thought, "how did I not write this?" but seeing it, my experience leads me to think it was written by people who might not actually like that show. That's why I say emphasis on "parody".
It's definitely 6 friends, in New York, in the 90's, and it's definitely based on the TV show. There are definitely references to major "Friends" events and usage of terms made famous by the TV show. However, some moments that were chosen to parody, left a lot of us confused. One example is the choice to make fun of guest star, Tom Selleck. I polled some audience members during intermission and only one said she thought it was funny. Everyone else said they were confused or didn't like the "joke". I happen to agree! When you parody something, it's to take something obvious and amplify the joke that's already so obvious.
Their version of this Parody was to have the actor portraying Selleck (another conundrum that we'll get to in a moment) come out in a grey wig and fake mustache, hunched over with a walker. The ladies I asked said that they were confused. A few said, "Tom Selleck is still hotter now than any of the cast of "Friends" ever were!". Some agreed that he was "super-hot" then and it was not a joke that he was on the TV show, so this Parody made no sense. The only part that got a substantial laugh was when the actor's mustache actually fell off.
This could have been clever had it been on purpose, as a reference to Season 3 when Selleck reprises his role for a minute, without his trademark mustache, but stage mishap was just that…the result of a cheap and ill-applied, fake mustache. I personally found it very amusing that he was wearing a Hawaiian shirt, a great nod to his "Magnum PI" days and thought that that was the angle to play up and maybe the writers should have gone with that instead.
So, the actor who portrayed Selleck was also our Chandler Bing (Seth Blum), who was also Janice (another thing that our audience didn't really find exceedingly funny) and various other characters as well. The choice makes sense from a production cost aspect, but it left some non-theatre audience members wondering why this choice was made. They tried to figure out if they were missing some references from the TV show.
At different moments I felt bad for the cast. It seemed like a mass hysteria of things going on, just to point out things that every "Friends" lover knows and get it all out as fast as possible. Sometimes understandable because they're trying to give you ten seasons in under two hours, but a lot of times it was a jumbled mess. This leads me to my biggest pet peeve of the stage show (and I wasn't alone in my thoughts) …The timeframe was all over the place. Act I was pretty solid and followed a fairly good flow, but Act II had "fillers" that were out of order and made no sense where the writers placed them and on top of it, these choices were highlighted in song!
Seth Blum came out in a monkey suit (literally) and played Marcel (if you don't know who Marcel is, you'll never follow this stage production). However, at this point in the show, we're rounding 3rd base and Marcel was in Season 1 and only had a reprisal in Season 2 and was way gone at the timing of where the stage show was. To make this matter worse, he has a whole song where it's mentioned that he was brought on because ratings were low and people love animals…" WTF?!" was a response I got when discussing this with other audience members. By the way, the trivia is: Marcel was introduced in Season 1 and also excited the show that same season and was only brought back in Season 2 because it was the episodes that aired after the Super Bowl and they thought it would be nice because they were big episodes (told you I'm a fan). Things like this happened a few times in Act II and it's just illogical.
Going back to the cast, as I realize that I'm deep in this review but have barely mentioned this cast. I think this is because unlike other musicals, the cast here needs to disappear and not really shine as themselves. If you go to see a show, you want to know who is in it and a lot of Broadway shows have celebrities portraying roles, to fill seats. This show however, you want these people to be as accurate to the original "Friends" actors as possible. I wasn't super impressed with their portrayals. I thought it seemed more like they were doing impressions rather than trying to embody their characters, but that was maybe their direction because it's a parody.
The ladies were definitely more in tuned with their characters than the men were, but not to any point where I'd say they were dead on. I found it interesting that there were no playbills for this show, as if the actors are not important enough to warrant their own identities. This could be just an opening night glitch and maybe rectified by the time they hit another city.
Our Monica, Maggie McMeans is very talented. I loved her voice and her dance skills surpassed her cast mates. Removing the "Friends" factor, the cast were mostly very good singers. Our Phoebe and Rachel (Madison Fuller and Sami Griffith, respectively) went in and out of full character, but both had great moments and are good singers.
The men fell very flat for me. I didn't think that any of them were brilliant at acting as their characters. They had decent voices but no one wowed me and I found the casting interesting. As I said before, Seth Blum played Chandler Bing and multiple characters throughout the show. However, I thought he was the weakest of the cast. He played the part like he was someone's drunk, sarcastic uncle. He was more like which one of these does not belong. He didn't fit with the look of the rest of the cast.
If it's not obvious, the production quality fell short for me. I thought the sets were ok, for a streamlined approach. The costumes for Act II were actually better than the Act I costumes. They missed the mark with Phoebe not having one of her trademark coats, but Act II really popped and looked straight out of the TV show. There was a misstep of the 80's flashback when Chandler and Ross mention that they're wearing the same outfits, except our gentlemen on stage are wearing two completely different outfits, although time period appropriate.
I had high expectations for the hair/wigs. Having done wig design for 20 years myself, I was ready for the "Rachel", very layered bob that became Jennifer Aniston's trademark but was actually worn by Courteney Cox first, on the show. Unfortunately, our Rachel's wig looked more like it did in later seasons and would have been better for Act II. I also would have greatly appreciated wig changes for Act II. But I was also distracted by the cheapness of them. Madison Fuller's (Phoebe) hair did the best transitions.
I think I had very high expectations of this whole production and overall it was funny, but I will not be seeing it again…and I love to see shows over and over. My biggest issue was the writing and what I felt were inaccuracies. I don't think the cast gelled and the weakest actor had the most to do. I felt like I was watching a pretty good community theatre production of this show. It felt very simplistic.
The shining light was the space! AMP is an incredibly executed place. Regardless of my thoughts on this show, this is a professional national tour, in the Bethesda/Rockville area! There's not a bad seat for viewing and the food is great. This show fit well in there and their comedy nights and intimate music shows must be fantastic and I will definitely be back. The fact that I don't have to drive into a city to see quality entertainment is a huge plus!!
Unfortunately, I haven't been able to figure out a tour website. So if you're up for making your own decision and you love "Friends" like I do and you want to see the unauthorized "Friends The Musical Parody", search your local venues to see if it's coming to you. There is a website for the off-Broadway production and the Vegas production, so maybe this will be added?! Go to: www.friendsmusicalparody.com
For upcoming events at AMP by Strathmore, go to:
www.ampbystrathmore.com