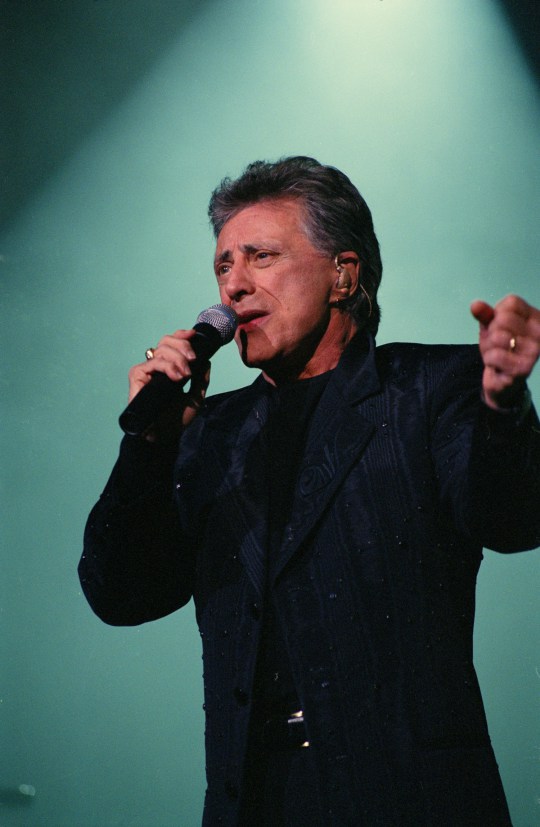 Thursday night held up it's end of the bargain at The Filene Center. When the 2012 season was announced and Frankie Valli was on the list, my excitement level for the Summer peaked and I wasn't disappointed! My anticipation was heightened and I was ready for the phenomenal time had by all! When the sold out crowd applauded for the smoke machines being turned on, I knew we were going to rock the night away.
I have seen Frankie in concert a couple of times and he really knows how to put on a show. Somehow, with him, less is more, but it also seems HUGE! He's simple in all black business casual attire and his Four Seasons are in head to toe black, with jeans and tight tees. The sounds of the evening are anything but casual, as he comes out singing his world famous, "Grease", the crowd leapt to it's feet. At 78 years young, he's still one of our top performers. Hit after hit rolled through the night air…"Dawn", "Save It For Me", "Tell It To The Rain", "I've Got You Under My Skin", and "My Eyes Adored You". A lot about this concert really stood out, but I want to give special mention to the lighting design. Somehow in it's simplicity, it was dramatic and showy. Coming back to the music…for all of the hits Valli has had, he managed to squeeze in some covers that he has recorded in more recent years, "Spanish Harlem", "My Girl", and "Groovin".
We came back from intermission and back to the hits. "Workin' My Way Back", "Who Loves You", "Oh What A Night" solidified my Summer! It was invigorating to hear these hits live, again. Everyone sang along and danced, but I was his biggest fan…but I have a feeling that there are hundreds who were there that night, who feel the same way! When he started to sing those hits and his Four Seasons struck their dance moves, I jumped out of my seat out of pure exhilaration. This is a not-to-be-missed concert! I know that I have had high praise for a lot of the concerts that I saw at Wolf Trap this Summer, but this is truly one that is a fun time for all!
Valli announced that his hit Broadway show will be shooting the big screen version starting next year, which was a big pleaser to the whole crowd. That show is currently running on Broadway, has several stationary shows, including Vegas, London, and Singapore and a tour going around the U.S. and Canada. That too is a terrific show and depicts the early days of The Four Seasons and how they became a smashing success. I know the movie will be the same triumph as everything Valli touches! He hand-picked the original cast for the show and I'm sure it will be the same with the movie. It's evident that Valli did the same with his current Four Seasons. Todd Fournier, Brian Brigham, Brandon Brigham, and Landon Beard have exactly the right zest to perform with Frankie Valli. Their dance moves are perfectly in sync and their solos show just how any one of these guys could be out on his own. "Sherry", "Walk Like a Man", "Bye-bye Baby", and "Big Girls Don't Cry" filled in the end of the night, with an encore of, "Rag Doll". Some hits were left out, but if you see him more than once, you'll end up hearing them all! 🙂 Luckily for me, he sang my favorite, "Can't Take My Eyes Off You". Incidentally, Mister Entrepreneur also has a fantastic CD out called, "Jersey Babies" where all of the hits are played in child-friendly nursery tones and "Can't Take My Eyes Off You" is a popular tune.
The original, "Jersey Boy" takes your breath away! He's the ultimate performer and I am thankful that I got to see him again and I'm already looking forward to the next time!
Overall Concert: A++, there's not a moment I would change!
Venue for Concert: A+, Frankie lucked out and had one of the best nights weather-wise of the whole Summer.
Valli is touring through the Autumn with his final (announced) stop being Broadway, rivaling, "Jersey Boys" which has an open-ended run at the August Wilson Theatre.
www.frankievallifourseasons.com