Flying V Fights: Heroes and Monsters
3 min read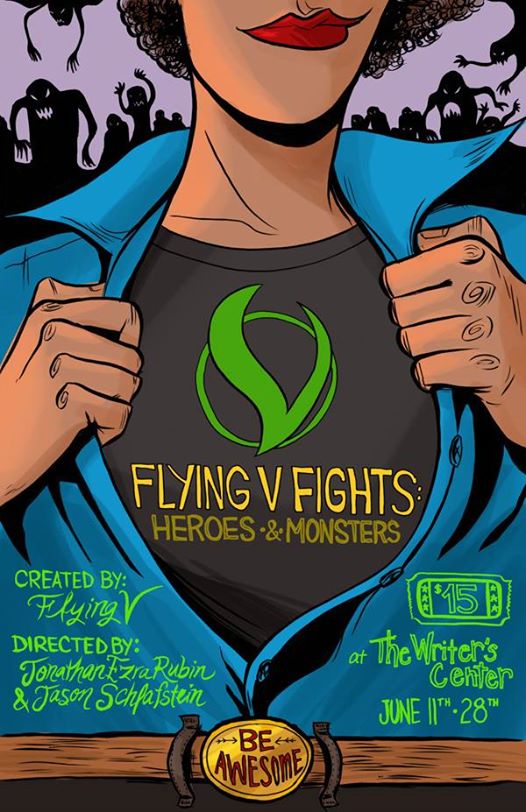 What makes a hero a hero and a monster a monster? Can one be both? Is it merely perception and point of view?

Working off the success of last year's, Flying V Fights: Love is a Battlefield, which was described as "sexy, visceral, and physical", Flying V is concocting another, all original, ensemble based, devised theatrical mix-tape of staged violence and sonic power. From the colorful, skintight super heroes of the sky, to the monsters under the bed; from real life saviors of the day, to the abusive parent at home and terror around the corner, Flying V Fights: Heroes & Monsters dives head first into those we admire and fear – and why.
Flying V is dedicated to inspiring adventure and is the proud recipient of the 2015 John Aniello Award for Outstanding, Emerging Theatre Company. Flying V is excited to be your outstanding emerging theater and our second production of 2015 won't disappoint.
Tickets are on sale now!
Where: The Writer's Center – 4508 Walsh St, Bethesda, MD 20815
Metered Parking is Available Out Front, and a short walk from The Bethesda Metro
When: June 11, 2015 – June 28, 2015
Who: Conceived and Directed by Jonathan Ezra Rubin* and Jason Schlafstein*
Starring: Tori Bertocci, Robert Bowen Smith, Jon Jon Johnson, Lee Liebeskind, Megan Reichelt*, Tim Torre, Ryan Tumulty, Madeline Whiting
Production Team: Andrew Berry*, Jonathan Ezra Rubin*, Sasha Goldstein, Brittany Graham*, Neil McFadden*, Andrea "Dre" Moore*, Dan Mori*, Kristen Pilgrim, Megan Reichelt*, Jason Schlafstein*, Tia Shearer Bassett*, Kristin A. Thompson*, Heather Whitpan*
*denotes company member
Tickets: Tickets are $15 and can be purchased in advance: http://flyingv.brownpapertickets.com/