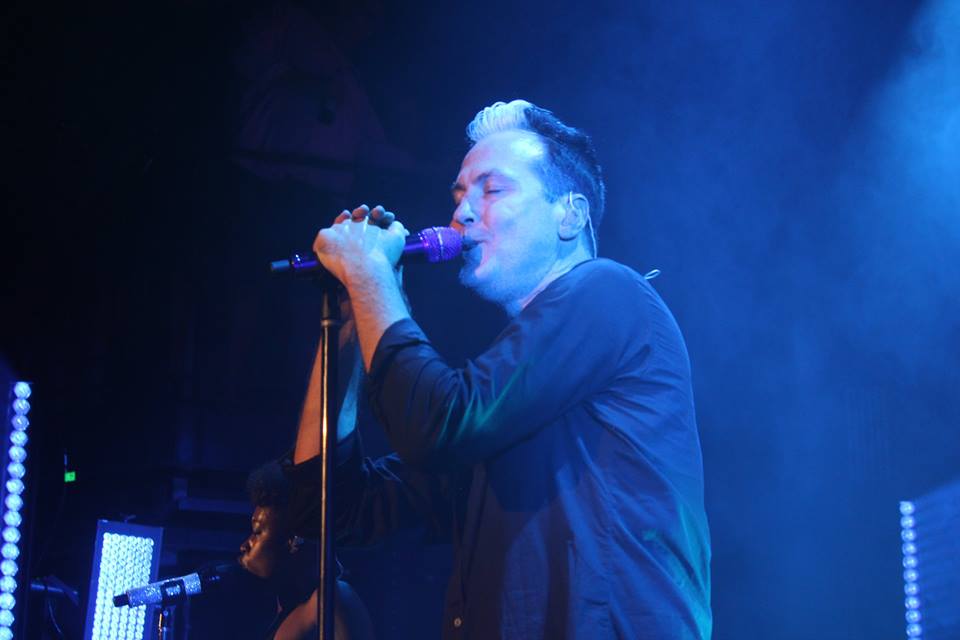 Fitz and The Tantrums although eclectic is all about one thing. Getting you moving. It's easier to dance at one of their concerts than it is to stand still. With the temperature rising it's time to romp n' roll at a sold out 9:30 Club.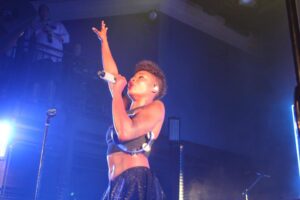 I first heard Fitz and The Tantrums on a skate video called "Pretty Sweet" in 2012. It was directed by Spike Jonze and featured a cameo with Tenacious D front man Jack Black.  Skateboarder Mikemo Capaldi's clip featured the Fitz and The Tantrums single "MoneyGrabber" as the background music. I listened to the rest of their album Pickin' Up the Pieces and was impressed.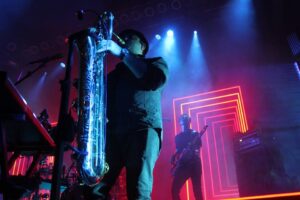 The first thing I noticed when seeing Fitz live is that they have no primary guitarist. I can't believe I didn't pick that up from listening to the albums. Multi-instrumentalist James King is listed as a guitar player but most of their tracks don't feature any guitar. That's unusual for a rock band but not unheard of; take Death From Above for example. Usually, the guitar player composes most of the music in a rock band.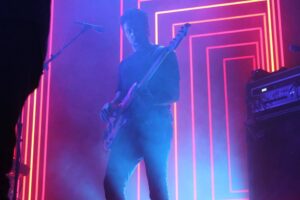 James King's main instrument is a baritone sax. An amplified baritone sax can and spread some good vibes. It's like you can feel the deep vibrations of the brass horn. It makes you want to romp. What makes me identify Fitz and The Tantrums as a rock band is Jeremy Ruzumna on keyboards. He uses an organ effect almost exclusively. It's like he's playing a Hammonds B3. Quintessential old school rock n roll. It's a great combination, organ, bass, and baritone sax.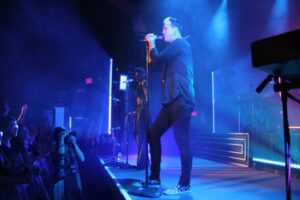 Fitz and the Tantrums shows bring a lot of energy. Michael Fitzpatrick (lead vocals), and Noelle Scaggs (co-lead vocals) don't waste any time firing up the crowd. Michael Fitzpatrick said during the show "You guys are moving, I can feel the heat rising, I love it." They sing great in combination and match what they sound like on the album. What I enjoyed most is even when the audience knew the lyrics to the song Michael Fitzpatrick still sung loudly over top of the audience. I hate it when the crowd starts singing and the vocalist just stops and lets them sing. It's usually during the most popular tracks. I came to hear the performer perform not the audience. When Fitz performed "The Walker" everybody knew the words and we sang with Michael, not for Michael.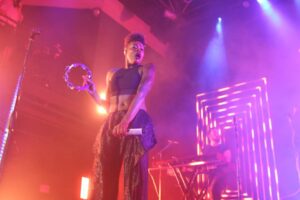 What's great about Fitz and the Tantrums is how easy it is to understand the lyrics and how fun they are to sing. Here are some lyrics from The Walker, "Oh, crazy's what they think about me, ain't going to stop because they tell me so, 99 miles per hour baby, is how fast that I like to go. Can't keep up with my rhythm though they keep trying, to quick for the lines they throw. I walk to the sound of my own drum, it goes, they go, we go, yeah, yeah, yeah, yeah! Hey! What a feeling! I fell it in my soul! What a feeling, feeling!" I can really relate to this song as a concert reviewer.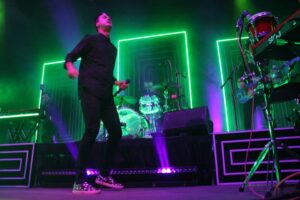 Micheal's singing was impressive for the song "Out Of My League." This was one of the most fun tracks of the night. I was surrounded by at least five women who were probably out of my league. Everybody was dancing. It was a beautiful scene people dancing to rock n roll. If you had a drink you have to drink it quickly or risk it spilling. It felt like a party, not a concert.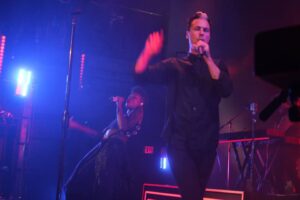 Every song was performed well. Another great song was "HandClap" off their latest album, the self-titled Fitz and the Tantrums. The handclap rhythm was fun to participate with. It adds to the performance not just by being fun but the sound as well. The clapping is loud!
This was an awesome performance! Fitz and The Tantrums definitely bring the energy. They sound great and their smiles are contagious! They genuinely enjoy what they do. You don't know how much of a relief that is. I've actually heard bands complain that the fans want more. Another good band here tonight was the opening act, Finish Ticket. They caught me off guard and have some quality material. Their song "Color" set the tone for a fantastic evening. It's a great song!