First Look at Upcoming Fan Film Polaris
4 min read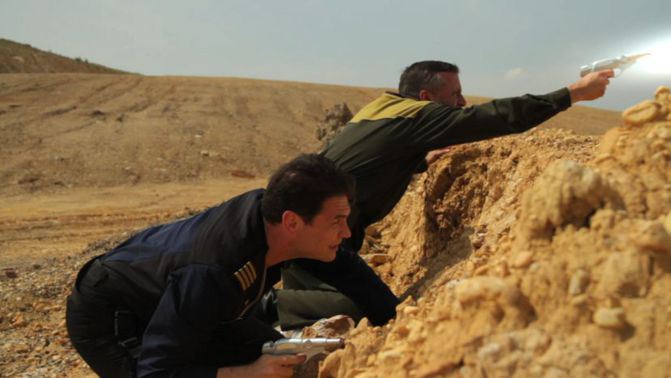 Polaris is a short science fiction film inspired by Sci-fi movies of the 1950s and 60s. A co-production of United Worlds Pictures and Farragut Films, Polaris was shot in Maryland on a shoestring budget by a volunteer cast and crew headed by Director of Photography Alex Ibrahim and first-time director Dennis Russell Bailey. Production commenced in December of 2009 and wrapped in July 2011. They're currently in post-production working with editor and producer Maurice Molyneaux, effects house NEO f/x and composer Hetoreyn. Release is scheduled for mid-2013.
The movie stars Paul R. Sieber (The Henchman's Wife, Ninjas vs. Vampires, Star Trek: Phase II), Gina Hernandez (The Fringe, Ugly Betty, Star Wars: Revelations), Garrett D. Melich (Dead Reckoning, Rescue Dawn), Susan Cirrincione (She's Out Of My League, Love And Other Drugs) and Nick Cook (Star Trek: Intrepid).
Set centuries in the future, Polaris tells the story of an interstellar starship lost in uncharted space.
­­­­­­­­­­­­­_____________________
Having survived the final battle in a lost war, Captain Sam Fredericks and the crew of the reconnaissance ship Polaris are stalked by an implacable enemy in space and on the surface of an unexplored alien world. What they discover on the planet Phaidros will change humanity forever – if they make it home alive.
_____________________
"Having worked briefly as a free-lance writer for Star Trek: The Next Generation ("Tin Man," "First Contact") in the early 1990s, I got involved in helping Jimm and Josh Johnson on the Starship Exeter: The Tressaurian Intersection." Bailey told TrekWeb "It was one of the first Trek fan films to utilize full sets and the production facilities of a studio, and I was struck by how closely the behind-the-scenes effort resembled – albeit on a more limited scale – the kind of productions I'd seen in Los Angeles. By the end of the 20th century (heh) the personal computer revolution and later the Internet were making all kinds of new tools for sophisticated video and sound editing, visual effects and so forth available to just about anybody with a personal computer. The people behind Exeter, Farragut and Phase II could potentially create anything that I'd seen at the movies or on television when I was a kid, and at a tiny fraction of the cost. I loved watching fan films and thought a lot of them were awesome productions but I was never in love with investing years of effort and lots of money in something that could be brought to a sudden halt by a C&D order from a Hollywood studio. I thought we should try to invent something of our own so in 2005, with a lot of input and advice from other writers and artists I started writing a script for what I hoped would be a short film that would evoke the science fiction and fantasy shows I grew up with."
"Writing a script is something that one or two people can do, but movies like this get made through the dedication, skills and talents of dozens of creative people in collaboration – in the case of a production like ours, devoting their free time for months and years on end to volunteer their professional services. I'm in awe of and grateful to everyone who's worked on Polaris. Thanks!"
For more information about the new fan film: head to – http://www.starshippolaris.com/wordpress/
Source: TrekWeb