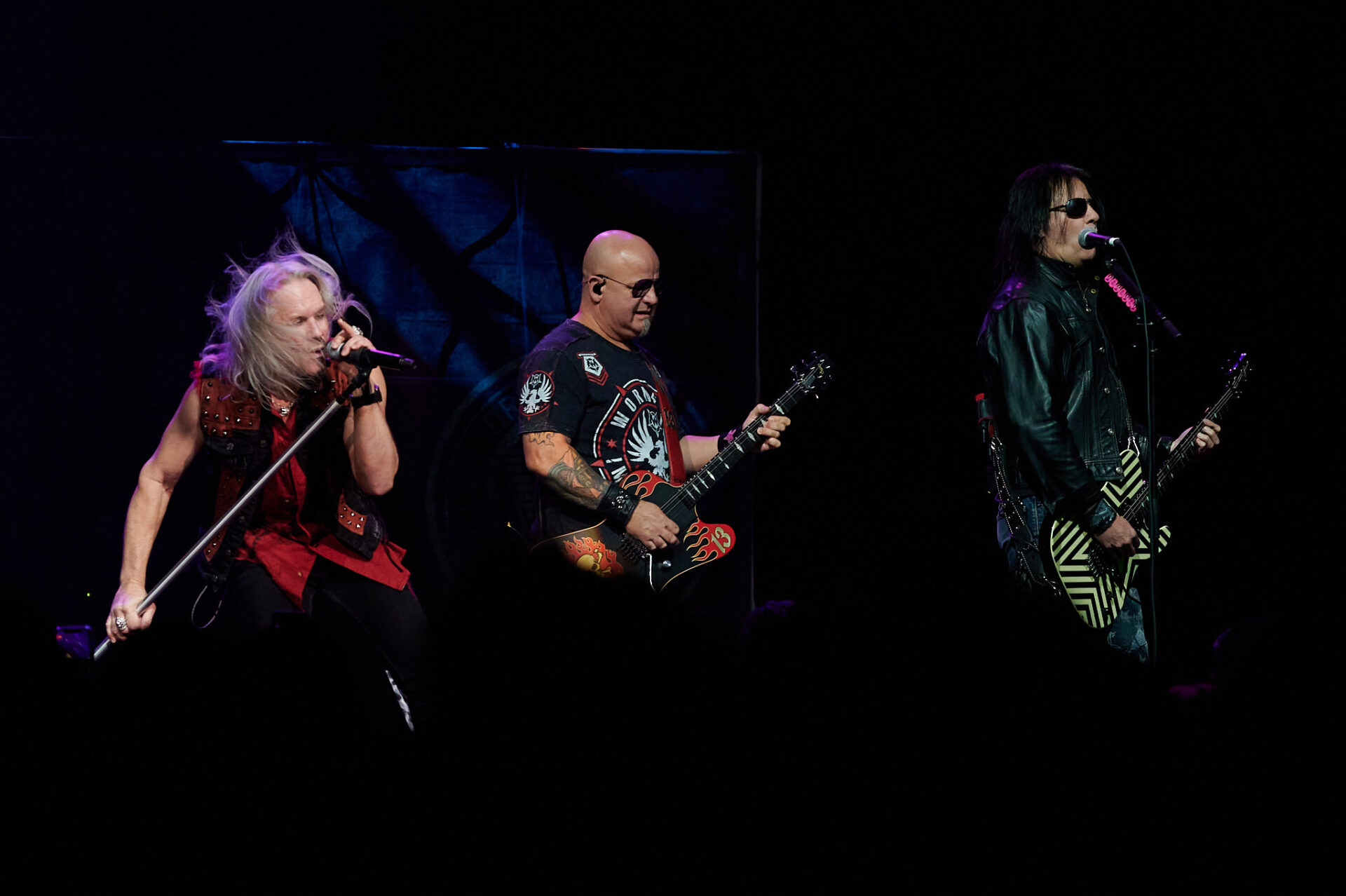 Friday November 22nd Firehouse, Winger, and Warrant came to The Theatre at MGM National Harbor to rock. I grew up listening to all three of these bands. I have seen Firehouse and Warrant perform live, but this was my first-time seeing Winger live and was looking forward to seeing their performance. I will say I was disappointed by the turnout. The attendance, while good, should in my opinion of been better. All three bands came to put on a great show and all three did.
Firehouse opened the show playing a set of music from their first 2 studio albums including classic Firehouse songs When I Look Into Your Eyes, Love of a Lifetime, Don't Treat Me Bad, and I Live My Life for You. It was great to see Firehouse again. Firehouse has always been big into performing for the audience and showing their appreciation. The first time I saw them, at the end the show they mentioned to everyone that some bands have a backstage where some fans get lucky for a meet and greet, but to them, everyone in attendance was invited "backstage". They said that when they got off stage they would come out at the back of the venue and meet and greet all the fans that wanted to meet them, and they would stay until they were able to meet everyone who wanted to meet them. Of course, I did this, think it was my first time meeting a band. Don't get many opportunities for that. They did not do this at this show as it was much larger and more in attendance than when I first saw them. But it would be nice if they were able to play at a venue that they were still able to do that.
Second on stage for the evening was Winger. They played a great set of music spanning music from their self-titled first album, "Winger" and their last album released in 2014, Better Days Comin'. They opened up with a song Midnight Driver of a Love Machine from Better Days Comin' and had a nice mix of songs from various albums, including hit songs Easy Come Easy Go, Headed for a Heartbreak, and Seventeen. The most interesting part was what they ended the show with. A Cover of Van Halen's Ain't Talking 'Bout Love and it was not the song what had people talking. It was who came on stage to perform the song with them. Something that was a love / hate relationship with the audience. Former President Trump's White House Counsel Don McGahn played guitar on the song. Politics aside, I thought the performance was great. I was there to hear and enjoy music and leave the outside world outside of MGM National Harbor.
Warrant came out to close the night, and what a close it was. Warrant has a new lead singer, Robert Mason, who recorded 2017's Louder Harder Faster with Warrant. The late Jani Lane was lead vocals for Warrant for their biggest albums and I will admit prior to the show. I had not heard any music from Louder Harder Faster  prior to this show, so I did not know what to expect for vocal. Let me say this. While I write this, I am listening to Louder Harder Faster. Robert Mason's vocals and energy for the show was amazing. As Winger did for their set, Warrant played music which spanned all albums. Most of the songs from the first Dirty Rotten Filthy Stinking Rich and their follow up album Cherry Pie with a song from Dog Eat Dog.
They played two songs from their latest album, Only Broken Heart and the title track Louder Harder Faster. They also performed hit songs included Down Boys, Heaven, Sometimes She Cries, Uncle Toms Cabin, and closing the night with Cherry Pie. These songs were recorded with the late Jani Lane on vocals. For Robert Masons vocals on these songs, let me just say, there were a few instances I got chills down my spine they were that good. Musically Warrant sounded amazing.
This was a great night of rock and roll. I was happy that attend and only wish more people came out for a great night of rock n roll!