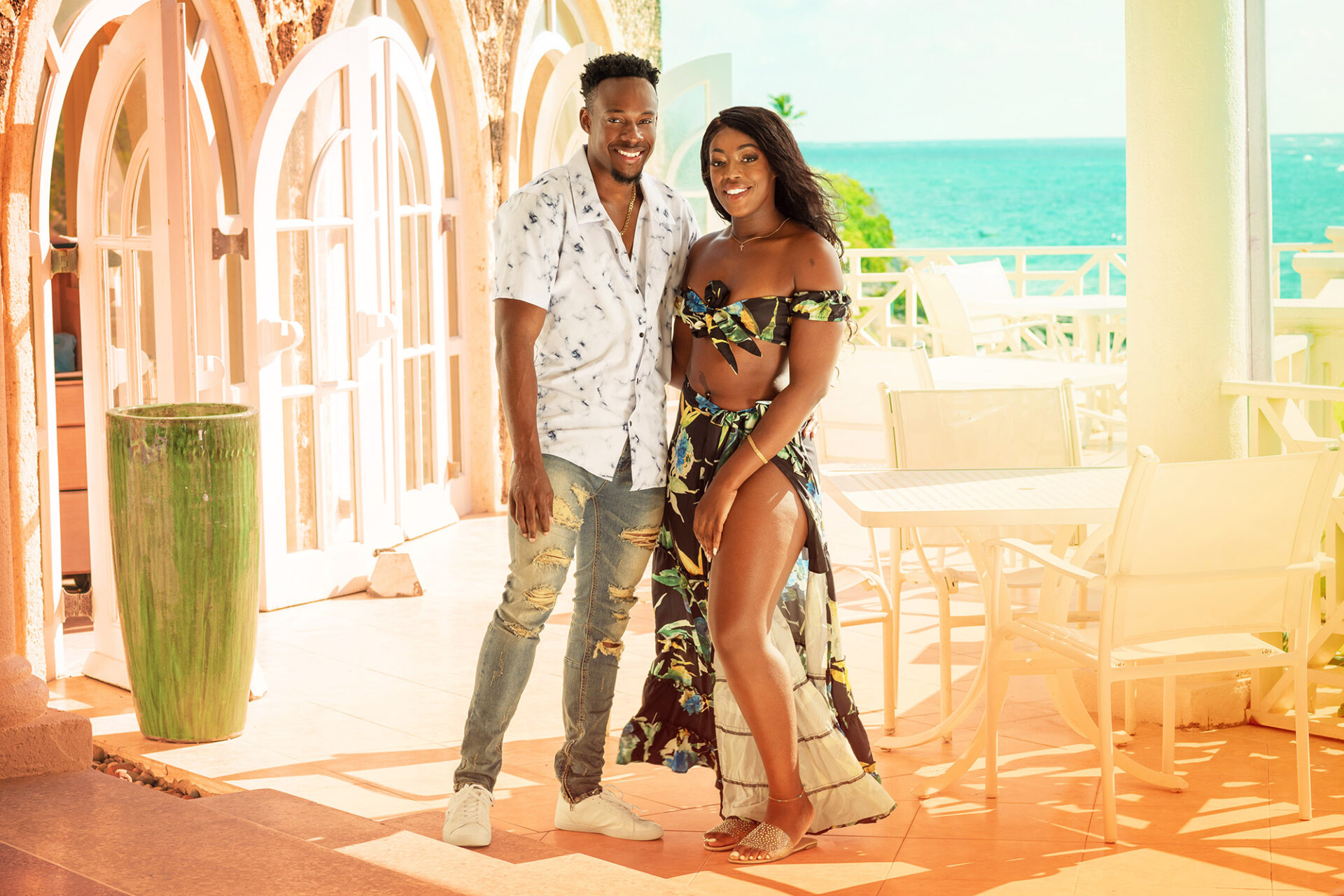 Welcome to the latest edition of THE INTERVUE! In this edition, we are looking for love as four couples find out in the new series, LOVE IN PARADISE: THE CARIBBEAN, airing on Discovery+.
With relationships in various phases including a holiday fling that turned serious and even a vacation romance that turned into a pregnancy, the Americans are hopeful their romance with their local islander works out once the blue skies and suntans fade. Follow along as these couples dip their toes in the water and dive headfirst for a shot at true love. Reporter Arely Morales recently sat down with Miami native Martine who met her love interest Steven (of Barbados) on a Caribbean cruise three years ago.
Tell us a little bit about yourself?
I'm Martine. I'm 26. I live here in Miami.  I've been here for about a year. I love it. I like the weather and the people. I like to go out to have fun. I work a regular job. And I went to grad school. I finished grad school last year, but I also like to go out and have a good time.
What made you want to be part of Love in Paradise?
So I actually I didn't know what I was going to be part of that first all right, and my sister saw the casting, and we were talking about it when she was here visiting me in Miami, and she was like you should do it, and I was like I think I don't know and she was like she submits it for me. Then that's how I started to learn more about Love in Paradise. I was like, oh, this is actually my situation. It actually is something that I actually do in real life, so why not.
I saw that you like to travel. What's the most exotic place you have traveled to?
I do like to travel a lot. I love Honduras and Costa Rica. I love all the Caribbean islands. I like Trinidad and Tobago. It's fine. I can't say I have a favorite I love. I like to be everywhere, you know.
Were you a fan of the original 90 Day Fiance before signing onboard the spin-off?
I actually have seen a few episodes, but I haven't really watched a lot of the franchise. To be honest, I haven't, but as I found out I was going to be part of the franchise, I started to do some research and to watch more episodes.
Tell us more about Steven
Steven is my boyfriend where he's my love interest in the show, and he is a DJ. He lives in Barbados. Barbados is like a paradise, so he likes to have fun too. He's a lot like me. We both were partying. He is mature sometimes, but he also has a big party side too.
What part of the show do you enjoy the most? 
So not only for me but also for the rest of the couples, I enjoy everyone's very honest and very upfront because people are like, oh I would never do this I would never do that, but it's like everyone has been to things in their relationship everybody has had different types of issues, and I think that I like that these people address everything, but they still keep it really fun they're talking about the vacation they get to showcase people's islands and the beauty of where people are from but also talk about you know their relationship issues, and they're very open about.
What can fans expect from this series?
The fans can expect a lot of drama. Really sexy scenes and they can expect a lot of different people's opinions and think the paradises everybody's been on vacation right now everybody's had a good time on vacation but just like what happens when you get a little too have too little too much fun on vacation. You meet people, and you start to form attachments so they can expect a lot of that unfolding.
What advice would you give to anyone pursuing a relationship?
Relationships are not easy even when you're in the same city, so I would say people are pursuing a new relationship get to know the person don't jump into the relationship take your time make sure there the both of you are on the same page if you like to party they have to like the party if you don't like to party they have to be like kind of a homebody you're looking for the future. You're looking at the same things in the future. I don't ask them on the first date, but get to know what the person really wants from the relationship and the most important thing to travel.
Having fun meeting people do not just stay in your city because you know when you stay in one place you really only know things from where you're from like when you travel you get different perspectives you meet different people and it makes you a bit better person I think.
Where can people find you and what is the show? 
Its Mairmaid___3  tree underscores you can also find me on Twitter.
Watch Martine on Love in Paradise: The Caribbean, A 90 Day Story, currently airing on Discovery +