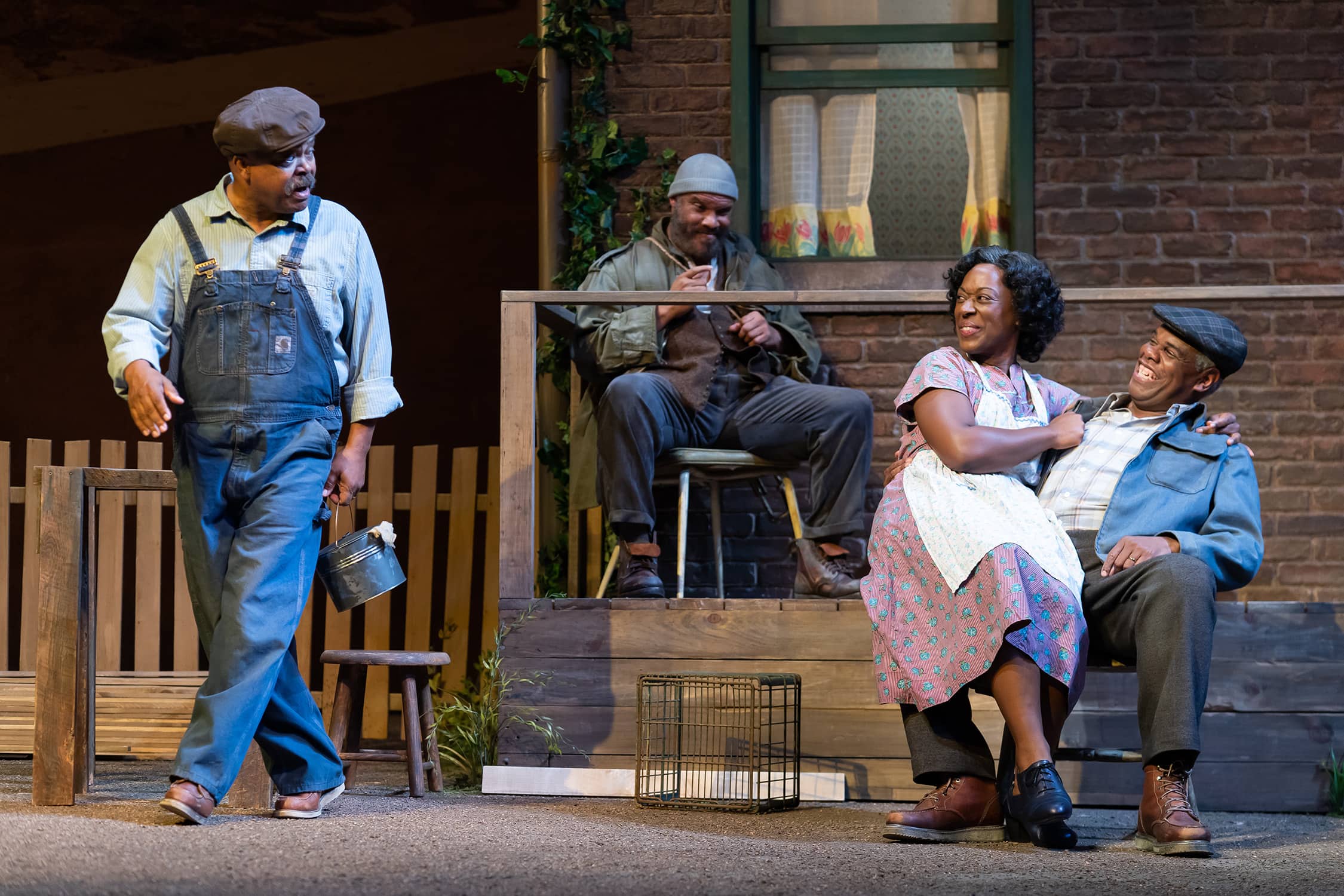 Today's Fences could easily fit into an episode of housewives drama filled with infidelity, alcohol, prison, relationship drama, and long-suffering wives, along with competition, humor, rawness, and confrontations. This production however, while being madly inspiring, sad, and symbolic, somehow missed the mark. Set in the 1950's, Fences is the sixth in August Wilson's ten-part cycle of plays, the "Pittsburg or Century Cycle" which explores 100 years of the African-American experience.  It is set in Wilson's hometown of Pittsburgh and follows has-been baseball player Troy Maxson, who is the victim of segregation ending up as a garbage man living with dutiful wife Rose, and son Cory, who has an opportunity to earn a football scholarship. However, dad Troy wants him to get a job at the expense of his son's dream. While the play itself, originally winning a Pulitzer Prize for Drama and a Tony Award for Best Play both in 1987, the Ford's Theatre production of Wilson's writing spoke to all of those illuminating, provocative, and pulsating issues of life, while being somewhat lackluster.
Bottom line…it was the acting.  This writer is spoiled, having seen both the 1987 original Broadway version with powerhouses James Earl Jones, Mary Alice, and Courtney B. Vance and the 2010 Broadway revival with Denzel Washington, Viola Davis, and Mykelti Williamson. Even though the recent screen version was not seen by oneself, the on stage electricity of this production seemed forced, contrived and somewhat stoically anti-climactic, with a few exceptional moments. Thank goodness for the legacy of Wilson's amazing writing that keeps revivals like this one alive otherwise audiences would not be able to enjoy this masterpiece of dialogue, theme, literature, and exploration of racial issues. Wilson never disappoints on that front.  His work will always speak to the hearts of the Black community and perhaps, hopefully touch some Washington, DC audience members who in today's political climate might have a softening of heart to see another perspective of racial segregation, disenfranchisement, and exclusion.  But then again, that audience member would probably not come to see this play in the first place.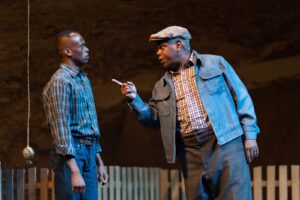 Back to the acting, which reminded this writer of glorified chittlin' circuit plays, with too many overacted stereotypical characters, forced theatrics, and try-too-hard emotions.  On the other hand, Wilson does make several interesting and noteworthy allegories in the play, the most obvious is the fence, a character by itself, with leads Troy unconvincingly played by Craig Wallace, Rose poignantly portrayed by Erika Rose, and miscast son Cory played by Justin Weaks (too thin and frail-looking to be thinking about a football career) all having the symbolic fence keeping them in or keeping others out. Troy straddled the fence throughout wanting to be able to do both with his comic relief friend Jim Bono humorously played by Doug Brown lending his voice to the allegorical theme. The fence then becomes a subliminal symbolic character as Rose wants her fence built to keep her husband and her son together at home; Troy, even though he meanders with an outside affair, wants to use his fence to tower his dedication and responsibility of family, juxtaposed with an outside life that results in an adulteress relationship and baby.  Finally, the fence pushes the family apart as Troy loses Rose and son because of the supercilious standards he doesn't achieve, flexes his power over his son, and seemingly only wanting his wife for a good meal and sex.
The poignant ending does a spiritually powerful job tying up loose ends with Troy's death. His brother Gabriel in a standout-out performance played by Jefferson A. Russell is mentally ill but has child-like wisdom. He blows his horn to Heaven three times and on the third blow Troy is let in by St. Peter, with the sky opening up. Another allegory. A moving ending. Audiences are happy Troy is gone and thankful that emotionally abused wife Rose is now free to move with her life. No longer a housewife.