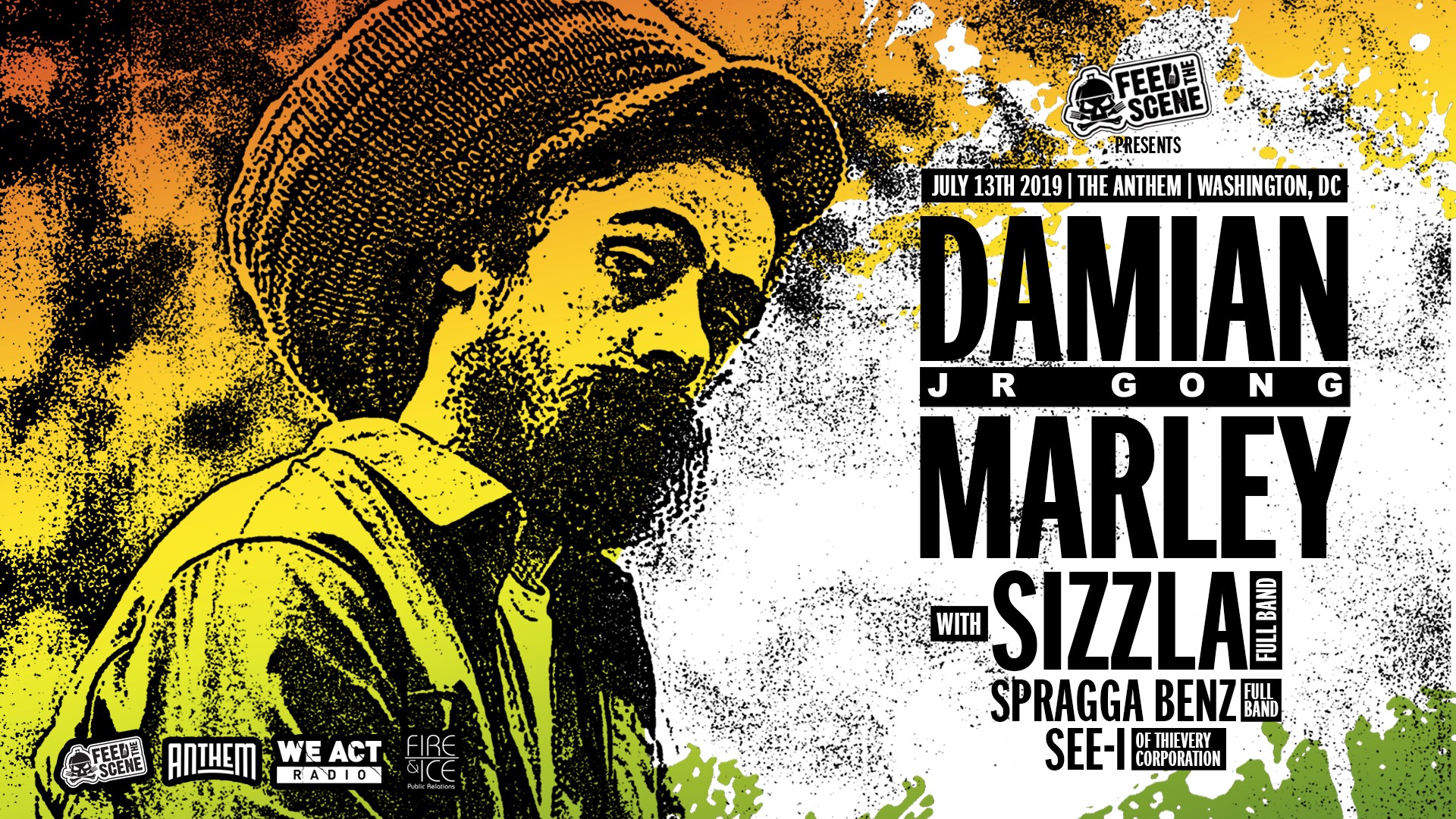 Feed the Scene will make history again by blending some of the most iconic reggae artists for an authentic music experience. This historic moment will feature full-length live band performances by Damian "Jr. Gong" Marley, Sizzla, Spragga Benz, and SEE-I. Music fans will experience 5-hours of authentic reggae music making July 13 at the Anthem the premiere summer event you don't want to miss!
The youngest son of Reggae legend Bob Marley, Damian "Jr. Gong" Marley garnered his own place in music history when he became the first ever Reggae artist to win a GRAMMY outside of the "Reggae" category, taking home an award for "Best Urban/Alternative" performance for his title single, "Welcome To Jamrock". The acclaimed 2005 breakthrough disc Welcome To Jamrock, also won a GRAMMY for "Best Reggae" Album. Marley has been shaking up stages all over the world, first in collaboration with Nas on their Distant Relatives project, and then when he went on to partner with Skrillex for their groundbreaking track "Make It Bun Dem," which Rolling Stone called "a monster mash-up of dubstep and dancehall. "Marley's latest album Stony Hill won the 2018 GRAMMY Award for "Best Reggae Album." Marley is not afraid to speak his mind out of respect for the music and culture he loves—and for the divine spirit of humanity in all of us.
Emerging during the latter half of the '90s, the enormously prolific Sizzla was one of the leaders of the conscious dancehall movement. Along with Buju Banton and Capleton, he helped lead dancehall back to the musical and spiritual influence of its reggae roots. Overall his music has been positive advocating faith and compassion for poor black youth, and respect for women. To date Sizzla is an enigma to the public at large, rarely granting interviews and keeping his concert appearances to a minimum. Nonetheless, he is still ranked as arguably one of the most popular conscious reggae artist of his time.
Spragga Benz has been an icon of the local dancehall culture since the early 90s. He made his first appearance onto the scene as an assistant DJ for Ricky Villa and the La Benz Sound system. It didn't take long before he had the chance to put some of his tunes on tracks. Spragga has always been a philanthropist at heart. His humanitarian ways have been noted from the very beginning of his career when he started the organization "Stay in School", which provided help for needy students in his hometown of Kingston Jamaica. In honor of the untimely death of his first-born son, Carlton "Carlyle" Grant Jr., Spragga started a second organization, "The Carlyle Foundation", a program which currently provides scholarships and computers to excelling Jamaican students. Currently, Spragga is working on a brand new album entitled, "The Journey Continues" that will be released later this year.
While most people are familiar with SEE-I from their years of touring with Thievery Corporation, the band has made a name for itself from coast to coast spreading its irresistible reggae-soul vibes to the masses. SEE-I founders brothers Arthur "Rootz" Steele and Archie "Zeebo" Steele, toured and performed for over 15 years as frontmen for the Thievery Corporation live band. See-I has released four albums of music, as well as countless remixes and collaborations with some of the world's hottest producers. Drawing upon DC's deep musical tradition, See-I combines the legacy of Marvin Gaye and Chuck Brown with skanking reggae riddims.
Feed the Scene Presents Damian "Jr Gong" Marley takes place on Saturday, July 13th at the Anthem. The address for the Anthem is 901 Wharf St SW, Washington, DC 20024. Doors open at 5:30 pm and the show starts at 6:30 pm. Tickets go on sale Thursday, May 30, and can be purchased online at https://www.theanthemdc.com, by phone at 1.877.4FLY.TIX, or at the box office of the Anthem, 9:30 Club, Lincoln Theatre, and Merriweather Post Pavilion 12pm-7pm daily or show days till 9 pm. Tickets are priced at $76 and $125 dollars.