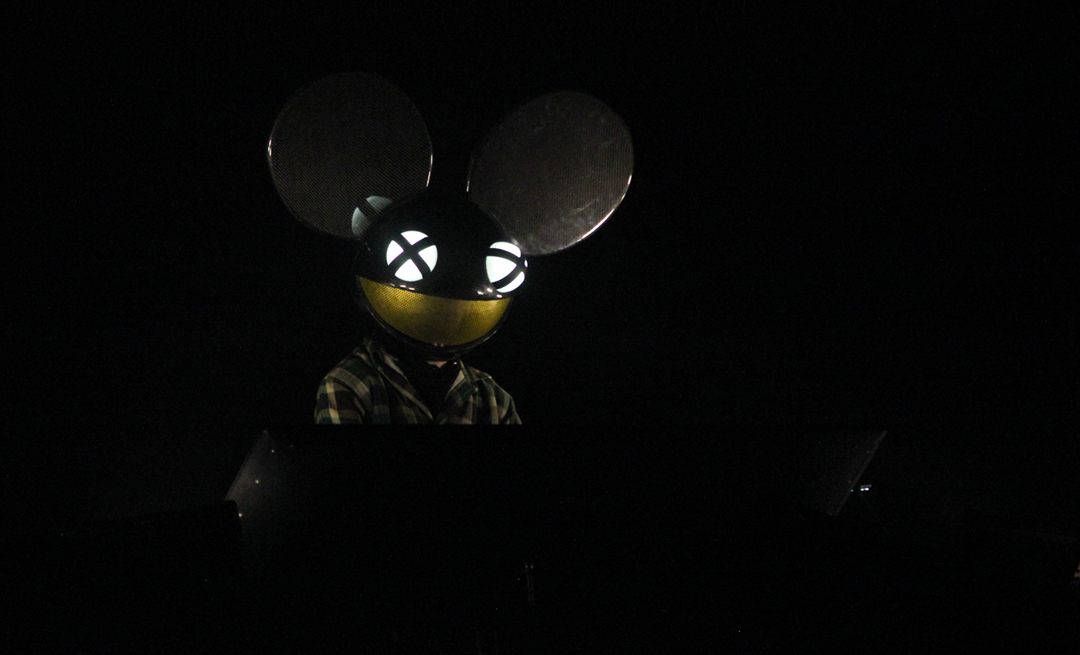 deadmau5 plus support from Feed Me and Lots of Shows in a Row 2017 hit Merriweather Post Pavilion in Columbia MD, Saturday night. deadmau5 pronounced (dead mouse) is an EDM, VGM music legend. His concerts are famous for state-of-the-art concert graphics, animation, lighting, and sound.
For the Lots of Shows in a Row Tour, deadmau5 premiered his new Cube 2.1. It's a massive cube-like DJ booth shelled with glowing HD monitors. It's astonishing! deadmau5 has really stepped up his game with this piece of machinery. It's like an Energon cube flashing 3D graphics, light patterns and even fine art. Directly behind it towers of lights form an incandescent wall emitting spectrums of colors. It's one of the most gnarly stage set-ups I've seen in person. The only other act I've seen that comes close is the STS9 pyramid.
The sound was amazing! You could really feel the music! That doesn't mean it was deafeningly loud either. There were a lot of dynamics at play. The bass was loud but smooth. It made your skin tingle but didn't drown out the rest of the sound. You could hear every detail. It was like Merriweather Post was a gigantic pair of Beats headphones.
With any new technology there will be glitches. The Cube 2.1 isn't different. There were two incidents where the music stopped and they had technical difficulties. Zimmerman said, "This is my worst nightmare as a DJ." As he fumbled around with cables and monitors. He even started singing. This wasn't part of the show! This was real! Apparently there was a firewire 800 cable going to the mixer that the bass kept rattling loose. Zimmerman kept his cool, and his team got the thing working. The interruption was brief and we got a chance to know the real Joel Zimmerman and not just deadmau5 as some abstract caricature. It was cool. The audience didn't mind the interruption. Most thought it was part of the act, but knowing Joel Zimmerman and the perfectionist that he is it probably didn't sit too well with him.
deadmau5 is known for progressing the EDM electronic dance music genre but chiptunes are another genre he helped put on the map. Chiptunes are music made from vintage computers. It's the 8bit and 16bit sounds of the NES, SNES, Amiga, Commodore 64, Sega Genesis, TurboGrafx16, Neo Geo, and Game Boy. Pretty much any system predating disc-based consoles. You might even go on to include the analog sounds produced by electronic music artists in the 50's and 60's. They included Raymond Scott, Delia Derbyshire, Daphne Oram, György Ligeti, Tom Dissevelt and Kid Baltan. Although I typically refer to this music as early electronic or radiophonic and not chiptunes.
My first taste of EDM mixed with chiptunes was the All Your Base Are Belong to Us internet phenomenon of the early 2000's. It's a techno dance remix of Tatsuya Uemura's Zero Wing soundtrack for the Sega Genesis. The song was titled The Invasion of the Gabber Robots and it was by The Laziest Men on Mars. This is important because it was through this thread of music I eventually discovered deadmau5. I heard the track titled 8bit off deadmau5's Get Scraped album, and have been hooked ever since.
Just before deadmau5 when on you could feel the amps warming up. The continuous hum was a sure sign of things to come. The curtains dropped and it was all over, or just the beginning. He opened with Imaginary Friends. It was like being lifted off the ground with sound. The bass pulsated and you could feel the vibrations moving right through you. My hair stood straight up. It was some type of experience. He kept the pulsation going with Three Pound Chicken Wing on the next track. The audience was amazed. There was this hesitation to just stop and witness what you are experiencing before erupting into dance.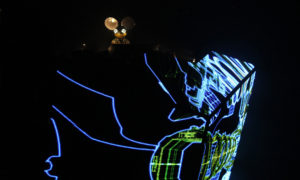 There were so many great songs, most came from his new album W:/2016ALBUM/. There was Maths, 2448, Cat Thruster, Duez Ex Machina, Snowcone, and Three Pound Chicken Wing, all new material. Cat Thruster is a groovy rhythm tune with a chirpy melody. It's great music to listen to while creating computer art. The track 2448 is like being teleported to a mad house. There's an alluring synthesized melody that transitions into an eruption of sound. It entices you in and when you get there it's crazy. All in all, a pretty spectacular show! He didn't play all the tracks I would have liked to hear but deadmau5 has so many it'd be impossible. Of course, I would have liked to hear 8bit but also I Remember.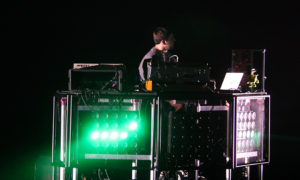 Another act to note was the opening act DJ Feed Me. The audience really had a feel for his music which included some pretty elaborate compositions. He's definitely an artist to look out for.