FX'S Fargo Rolling Out the Waffle Wagon Before October 12 Premiere
2 min read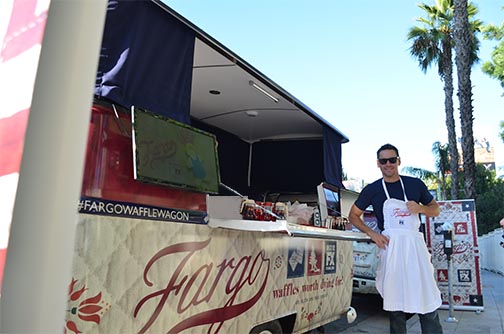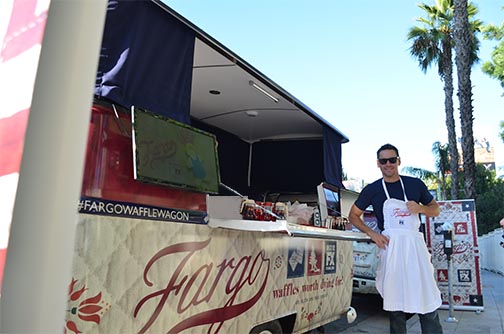 Second Installment of the Emmy® and Golden Globe®-Winning Franchise Also Partnering with Local Media to Promote Winter Survival Kits

To celebrate its return to FX, Fargo is giving fans a taste of Minnesota nice by sending the Fargo Waffle Wagon to Chicago, Boston and New York City ahead of the October 12 premiere of its second installment. Designed and styled after the 1970s setting of the new installment, the Fargo Waffle Wagon will be offering free Waffles on a Stick to consumers and fans in the three locations, culminating in New York City on the weekend before the premiere.
The Fargo Waffle Wagon began its journey in Los Angeles on September 20 on Emmy weekend and is next set to appear in:
Chicago – Pritzker Park
Friday, October 2nd
Hours: 9:30am – 3:30pm
Boston – Boston City Hall (Inside Plaza)
Wednesday, October 7th
Hours: 9:30am – 6:30pm
New York City – Bryant Park
Friday, October 9th
Hours: 9:30am – 6:30pm
In addition to the Waffle Wagon, Fargo is also partnering with local television stations in numerous cold-weather markets to promote winter safety by encouraging viewers to keep emergency supplies in their cars. Winter Survival Kits featuring Fargo-branded blankets, mittens, flashlights, first-aid kits and other items are being used to demonstrate the critical gear motorists need for roadside safety in cold and snowy conditions.
The all-new second installment of Fargo, which premieres on FX on October 12 at 10 PM ET/PT, follows a young State Trooper (Patrick Wilson) and his Sheriff father-in-law (Ted Danson) as they investigate a grizzly case involving a local crime family and a major mob syndicate, and a small town beautician (Kirsten Dunst) and her husband (Jesse Plemons) who inadvertently get caught in the middle.