Fantasia Sizzles at the Strathmore Mansion
3 min read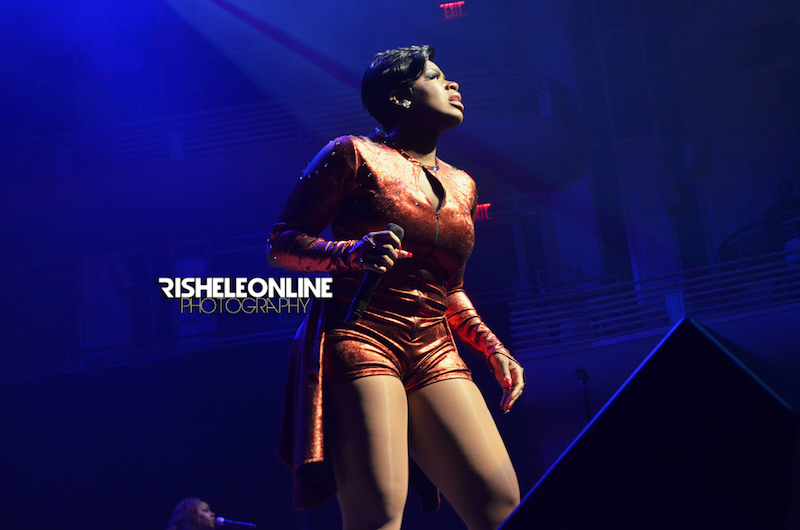 The roof on Strathmore was torn off on Saturday, December 5 when Queen of Rock Soul Fantasia rocked the house at An Elegant Evening of Giving benefit concert presented by Talking Hands Corporation.  As a fan of Fantasia since her days as a contestant on American Idol, receiving this opportunity to see her perform live for the first time was one that couldn't be missed.  If her gritty soulful voice gave me goosebumps through my home speakers, I could only imagine how electrifying her live vocals would be!
An Evening of Giving was held in order to help Talking Hands Incorporated raise funds to educate and provide resources and support for families with special needs children.
I got in the venue just in time to enjoy the sounds of Ken Ford, a jazz/hip hop violinist.  Though unfamiliar with his talent before that night, he wowed the crowd with an amazing performance of Donny Hathaway's Christmas Spirit, but won the crowds' participation with his rendition of Mary J. Blige's up-tempo hit Just Fine.  Woo!
After a brief intermission, and chit chat from host of the night Tony Richards of WHUR and Talking Hands president Shee' Newman, the lights dimmed and Fantasia was about to hit the stage.  I was ready. The crowd was ready.  She started the show off with So Much To Prove, a funky, up-tempo number off her latest album Side Effects of You.  The crowd rose to their feet as she hit us with hit songs and an abundance of energy.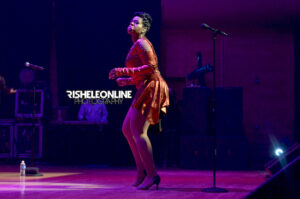 The set list was wisely planned out, with songs connecting and relating to each other on the topic of men and relationships.  Fantasia speaks to the crowd candidly testifying that she's been through a lot, but overcoming her obstacles has shaped her into the woman she is today.  She gloated about her husband and finally knowing what real love is like.  Selfish, Man of the House, Without Me, and Free Yourself was the soundtrack for this testimony.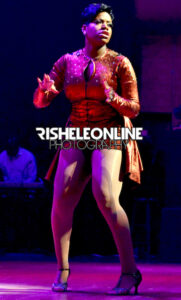 Nearing the end of her set, Fantasia pulled out Lose to Win, an encouraging ballad that lets you know it's okay if you fall down, because sometimes you have to lose to win.  She hopped of the stage and made her way through the crowd serenading her fans.  Some fans took this an opportunity to not only get close to the American Idol winner, but to actually take pictures with her!  It was incredible.  Most times Fantasia was in the middle of belting out a note, or just singing, and someone would run up next to her and have someone take the picture.  Hilarity in its rawest form.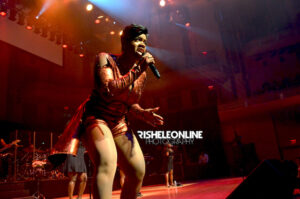 Following that number, Fantasia, true to her gospel roots, sang the gospel classic Total Praise.  Now, let me tell you something.  As a former member of the Bowie State University Gospel Choir, Total Praise means a lot to me.  It was our signature song.  We literally sang it at the end of every performance and the crowd would go wild.  As Fantasia started the song, I rose to my feet and sang along joyfully and proudly.  If you're familiar with the song, the end gets big and exudes emotion.  Well, I must have caught the spirit in The Strathmore that night, because next thing I know I'm clapping my hands and raising my arms to the ceiling.  As the song ends, I look at my phone to check the time and what do I see? A completely shattered screen! I hadn't dropped it; it had been in my hand the entire time.  However, I guess during my clapping my rings on the opposite hand hit the screen a little too hard.  Though devastated, the feeling that had overcome me made it okay.
Fantasia would end the show with her rendition of Ella Fitzgerald's Summertime, a song she made her own during her tenure on American Idol.
Though this was my first Fantasia show, it most definitely will not be my last.  Her energetic performance accompanied by powerhouse vocals and enchanting stage presence made this a show to never forget.