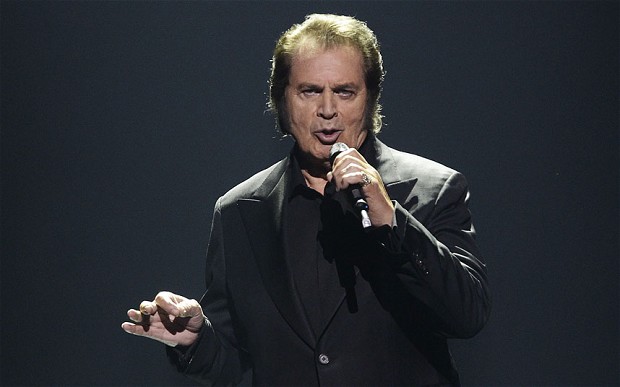 Thursday February 13, 2020 Engelbert Humperdinck came to MGM National Harbor for the first time to put on a show for an audience that was smiling ear to ear before, during and after the show. For me, one of the best parts of the show was to see the pure happiness of fans standing in line to get into the theater.
I grew up listening to Engelbert Humperdinck  because my mother loved his music. I know my mother would have loved to come to this show but unfortunately, she passed away, and wanted to go to and review this show in honor of my mother. She would not have been disappointed, and I wasn't either. Engelbert said a few times, he is 54, but shhh he is really 84. Engelbert has a great sense of humor, telling stories and jokes a few times during the evening.
The music Engelbert sang was a great mix of songs that were hits, as well as some covers, including a new cover that blew me away. Vocally for the show Engelbert sounded great. There were a few times that his vocals were buried by the music and sounded a bit off key, but I admit it has been a long time since I had heard many of his songs.
Songs he performed included "Quando, Quando, Quando", "Am I That Easy to Forget". "A Man Without Love", "Release Me", "The Last Waltz", and combined medley of "This Moment in Time"/ "The Way It Use to Be", "Les Bicylettes de Belsize", "There Goes My Everything", "Spanish Eyes", "Love Is All".
He talked about years ago meeting a 5-year-old boy in Hawaii who loved to sing. Today, this boy he met, is one of the biggest pop stars, Bruno Mars. He recorded a cover of Bruno Mars song "Just the Way You Are" and he Engelbert played his version of the song. I thought it was OK, to me it's hard at times hearing other versions of songs you know. There have been times I have heard other versions of some of my favorite songs that I did not like at first but listening more with an open mind, many of these I now like and some even more than the original. The vocals that Englebert sang were below and low key. After the show I listened to his version a few times on the way home. I thought it was a great way to play tribute to Bruno.
The one cover that Engelbert performed that blew me away was a Toby Keith song. He told a story of Toby Keith talking to Clint Eastwood, and Toby talked about Clint Eastwood about his movie "The Mule". Toby said to him that he is a Director, Actor, producer, plays golf, and was very active and asked him how he can still do it all. Clint Eastwood's response was that he did not let the old man in. Toby wrote and recorded a song called "Don't Let the Old Man in", which Clint included in the end credits of his movie.
Engelbert performed this song and I will tell you, his vocals gave me goosebumps. Engelbert is known for easy listening, and pop and his voice and vocals are great for these types of music but wow, for someone who has not recorded country music, his vocals are amazing. I think Engelbert should record an album of covers of country music. I know I would love to hear it.
One of the most touching songs this evening was a duet with his granddaughter Olivia "Angel on My Shoulder". Olivia's part was a pre-recorded video of her vocals.
For a show that I wanted to see, to honor my mother, I truly enjoyed the show and would love to see him again sometime.
Grade: A