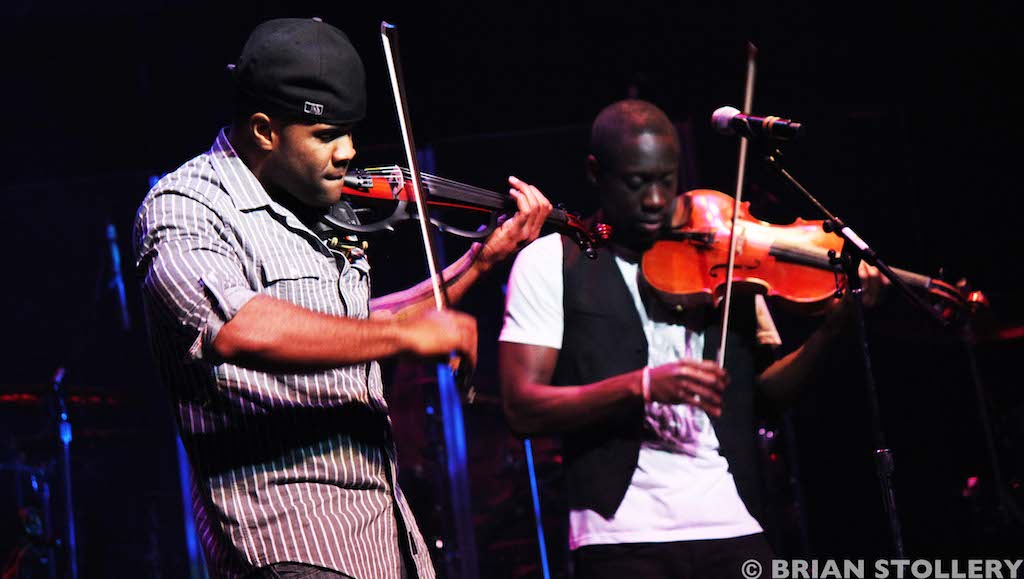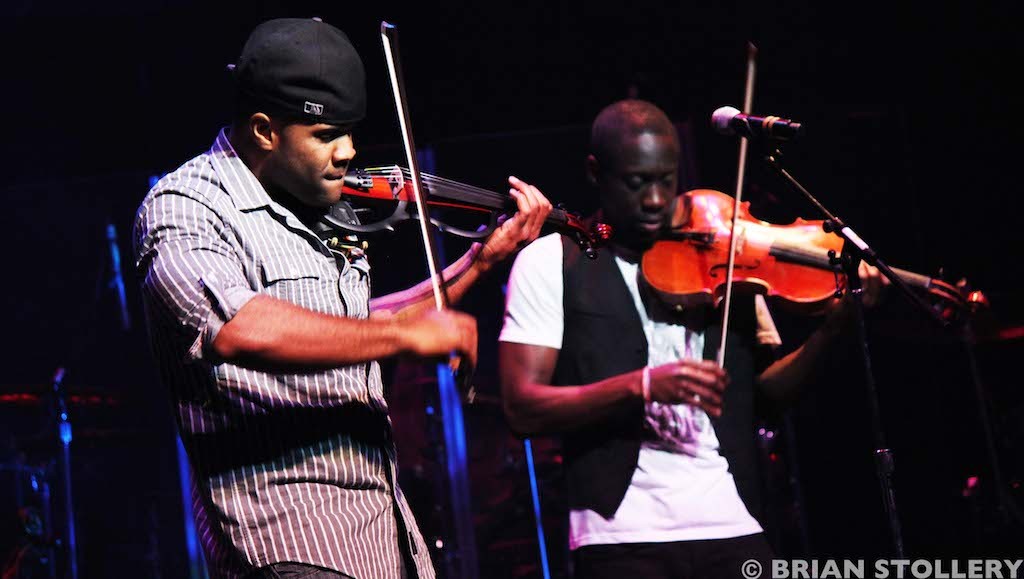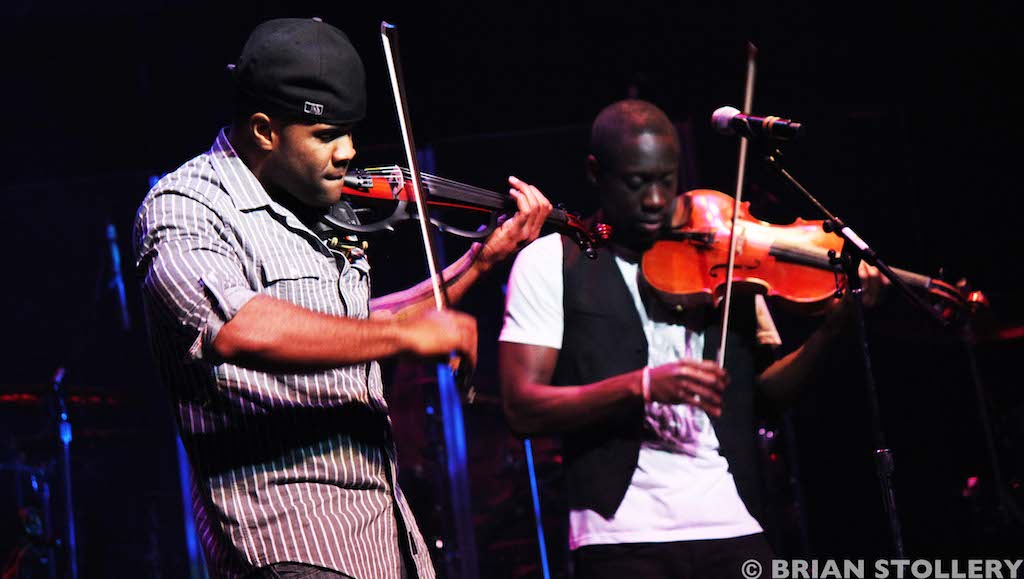 Thursday April 30th, 8 p.m. – Black Violin is a violin and viola duo, Wilner "Wil B" Baptiste and Kevin "Kev Marcus" Sylvester. They perform progressive hip-hop and classical music as suggested by the title of their second studio album release "Classically Trained" (2013). Tonight at the Barns at Wolf Trap they shared with us this innovative expression.
Life has been good for Kev Marcus and Wil B ever since being crowned 2005 Showtime at the Apollo talent show Legends. They have since gone on to produce two full studio albums, tour relentlessly and perform alongside artist such as: Linkin Park, Alicia Keys, 50 Cent, Jay Z, Akon, Kanye West, Nas, Common, Fabulous, Lil Wayne, Aerosmith, The Eagles, Micheal Bolton, Kenny G and the Temptations. Tonight was their 83rd show in just 2015 alone.
When Wil B and Kev Marcus are on stage they make a point to mention the formal music training they received growing up. To me their approach is almost like you have to know the rules to break the rules. Music is all about establishing and breaking rules. With Black Violin the results are astounding!
One of the most innovative aspects of a Black Violin show are the electric violin and viola. Wil B uses a variety of effects and a loop station pedal to strum a base rhythm. It sounded just like an electric guitar. He used this technique to perform a cover of Bruno Mars's "Treasure." It was a great cover!
Wil B's has a gospel style singing voice. It works well when he's covering Sam Smith's "Stay With Me." His piano playing was also exceptional.
Listening to electric viola and violin I couldn't help but think of Led Zeppelin's Jimmy Page and how he used a cello bow on his guitar in "Dazed and Confused."  This concert had a definite rock feel and a lot of that came from the electric violin and viola and how much these instruments can mimic the guitar. They also perform with live drums. So you pretty much have volume and distortion and that's just like rock music.
For me hearing amplified classical style violin was the most enjoyable element to this concert. Something about that style of violin at high volume just gives you goosebumps. The opening overture and opus was spellbinding! DJ TK accompanied the violin duo on turntables. It was like nothing I had ever heard! You had a virtuoso violin duet with interjecting turntable scratches. It was extremely detailed and a lot of fun to listen too. It sounded like Kev and Will fed off DJ TK the same way a concert master violinist feeds off of his orchestra and conductor.
It's interesting how much emphasis in hip-hop there is in sampling and that's true of classical music too. There was a classical composer Béla Bartók who was infamous for roaming the Hungarian countryside sampling folk melodies on his gramophone. Richard Strauss was known for incorporating American folk melodies into his scores and so was Leonard Bernstein. Carl Stalling the composer for Looney Tunes often sampled Raymond Scott into his music. So Black Violin as genre defying as they may seem really aren't that out of the ordinary. It's cool; it shows that the nature of music has always sort of been to mix the new and the old. That's true about hip-hop and that's true about classical music.
Black Violin puts on a fantastic concert. The covers are performed well. The mix a variety of music together and its engaging to the ears, plus they make sure you don't just sit there and implore you to get up and move around. As good as the covers did sound I wouldn't be any at all upset if they just played hip-hop classical all night. Those were the most enjoyable songs for me.