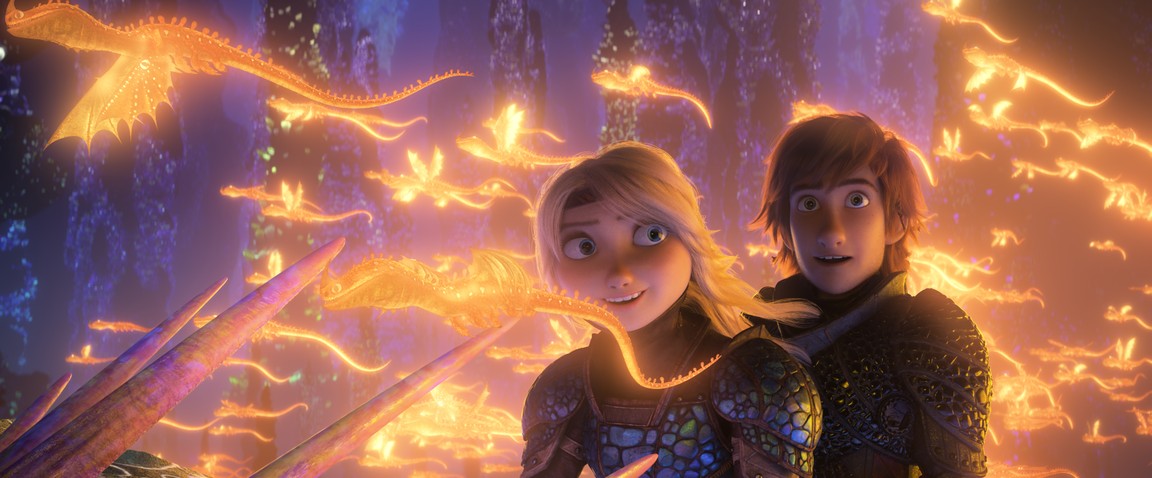 Ten years ago How to Train Your Dragon flew into theaters and to the hearts of kids everywhere. It was a kids' movie that was actually good. Compelling story, groundbreaking animation and a surprisingly large adult fan following. Now an era is ending, bring multiple generations together for How to Train Your Dragon: The Hidden World, the final chapter in a surprisingly beautiful trilogy.
The final installment brings us back to Berk, where Hiccup (Jay Baruchel) is leading his village by day and leading a dragon liberation operation at night. His partner in crime, the cat-like Toothless, is going through dragon puberty and starts to desire a mate. Luckily, a beautiful white version of Toothless of starts to show up and causes both Toothless and Hiccup to contemplate their wants for the future. Meanwhile, the dragon hunter Grimmel (F. Murray Abraham), is after Hiccup's vigilante crew to trap and enslave the liberated dragons and kill Toothless, his Moby Dick.
I can't stress enough how breathtaking this film is. There were literal moments where my breath hitched watching some of these ethereal wide shots. The film is at its best when there is no dialogue, allowing comedy and art to speak for themselves. This is usually where the films best visuals pop in, following dragons flying high into the clouds and down into its Nordic landscape. The titular "hidden world," is like visual ASMR, a mix between a glow worm cave and like a very calm and mellow rave, leaving the viewer with a calm dream-like feeling.
The film is worth viewing for its visuals alone and that might be a good thing, considering the script is lacking compared to the bar set by the series' prequels. Most of the running jokes don't land. Some of the human relationships and their motivations seem weak and need more fleshing out. However, the emotional core of the movie, the idea that if you love something you have to set it free in order to grow, takes over the last thirty minutes of the film and provides a moving conclusion to a beloved franchise.
It took me a minute to realize the power of this franchise. This is like the kid's version of Game of Thrones with the impact of Harry Potter. Over the last ten years, kids have grown up with Toothless and Hiccup, with beautiful vistas and unlikely friendship. The fact that the series is ending is bittersweet because they were actually good kid's movies that taught kids emotional complexity and captured the wonder and magic that cinema can offer. Who knows how long How to Train Your Dragon will penetrate the zeitgeist, but The Hidden World definitely helps solidify its place there.
Grade: B-