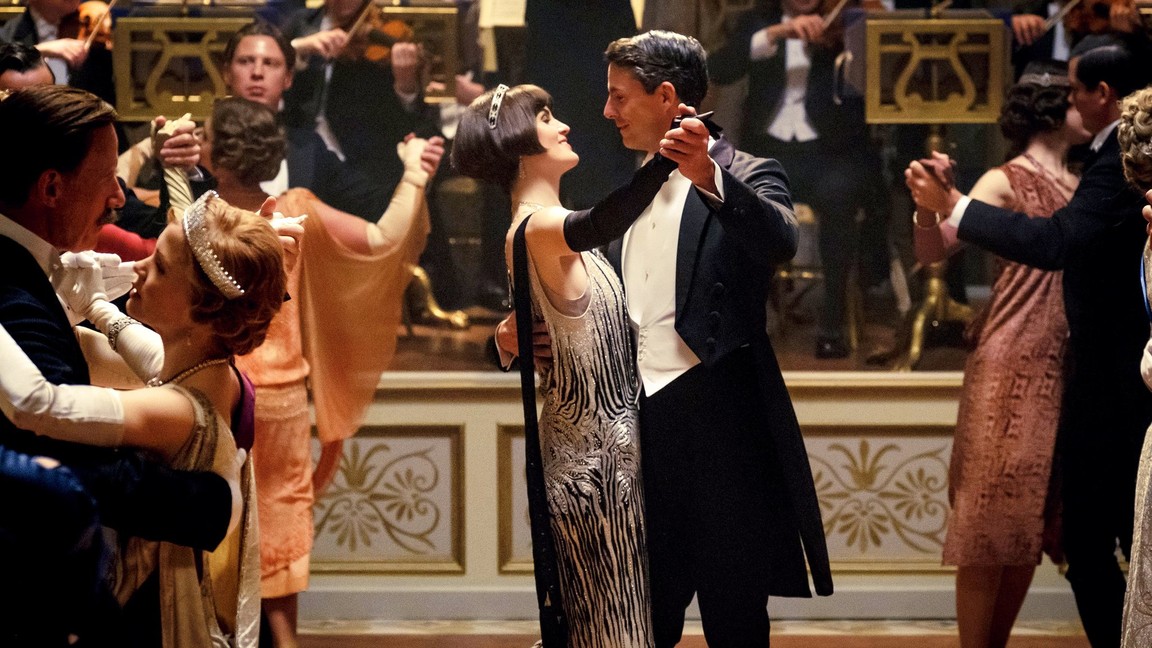 Kudos to writer and creator Julian Fellowes and producers Liz Trubridge and Gareth Neame for shepherding the incredible series to film adaptation of the much-beloved manor-and-manners, British period drama Downton Abbey. Coasting off of the success of its six-season run on PBS's Masterpiece, the Downton Abbey movie is a must-see for fans and newbies alike. Downton Abbey was perfect – both heartwarming and affecting – and viewers uplifted and wanting more.
Despite the Crawley family's moneyed perseverance, doubt as to whether they should carry on with their high-borne Edwardian customs amid an ever-changing cultural landscape has crept in to Lady Mary's (Michelle Dockery) psyche. Should the Crawley's persist and carry on with maintaining Downton Abbey and all of their splendor, including maintaining house and home for their devoted servants that dwell below (downstairs) while the Crawley's dwell above (upstairs)?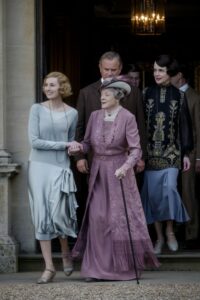 Fan favorites grace the screen ensuring credibility with this film adaptation: Crawley matriarch and steward of Edwardian customs Violet, the Dowager Countess (Dame Maggie Smith), indomitable Lord Grantham (Hugh Bonneville), blissfully restored Lady Edith Pelham (nee Crawley), the Marchioness of Hexham, the Crawley feminist humanitarian and family moral compass, Cousin Isobel, the new Baroness Merton (Dame Penelope Wilton), brazen and visionary Tom Branson (Allen Leech), distinguished and trusted Mr. Carson (Jim Carter), inclusive and kindhearted to the downtrodden Mrs. Hughes (Phyllis Logan), maternal and dedicated Mrs. Patmore (Lesley Nicol), and star-crossed lovebirds, Anna and Mr. Bates (Joanne Froggatt and Brendan Coyle).
Downtown Abbey, the film version, is a wonderful package of the best of the season premieres and the season finales all rolled into one mega (two-hour) suite – all the while garnering up nostalgia and anticipation with each passing scene. After the six-season PBS run in North America ended in 2016, Downton Abbey fans have been eagerly awaiting the grand movie sequel to satisfy their Anglophile cravings and quench their thirst for all things British, especially their fascination with the British aristocracy.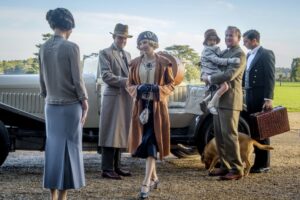 If you were a devoted Downtown Abbey Masterpiece TV series viewer, like myself, you'll more than likely feel a lot of satisfaction with the film version and will leave yearning for more, as it reunites you with almost all of the series' key characters whom you dearly care for, enhances the production value to make it big-screen ready, and provides a beautiful score. The sweeping views of Downton Abbey (Highclere Castle) and the high drama of the epic aerial shots of the Abbey coupled with the elaborated strings of the signature theme are emotion stirring and absolutely breathtaking.
The one-off story of the Crawley Family and its dutiful servants having to prepare for and host none other than the King and Queen of England him and herself will make fans giddy with excitement understanding the significance of a royal visit from King George V (Simon Jones) and Queen Mary (Geraldine James) to Downton Abbey.
Overall, Downtown Abbey, the film, is definitely a thrilling gift for longtime fans. The Edwardian Art Deco beaded dresses, tiaras, vintage motorcars, and lovely elongated country lanes flanked by rolling green English countryside pastures will please the eyes of those who love high fashion and historically accurate period pieces. The royal visit expectedly flusters Downton and per usual there's plenty of upstairs-downstairs subplots that weave throughout the film providing plenty of suspense, romance, and drama. The stream of witty banter and choice lines between the Cousin Isobel (Penelope Wilton) and Violet (Dame Maggie Smith) are perfectly placed and will have you chuckling from beginning to end. May Downton forever reign? I think so.
FINAL GRADE: A for fans B- for non-fans