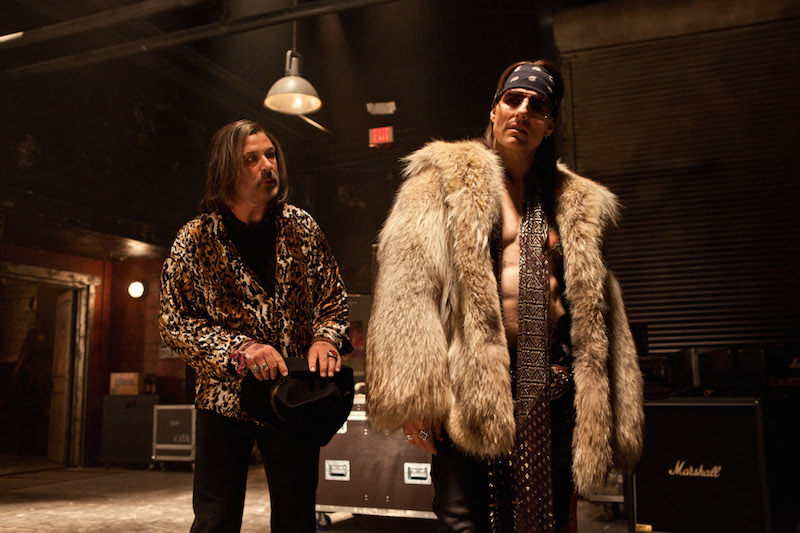 Adam Shankman is back in the center seat taking on another Broadway show turned movie. This time, we are heading to the decade of big hair, LP Records and Power Ballads. Yes, the 2009 musical tribute, nominated for five Tonys and currently playing on Broadway is getting the big screen tribute. Will this rose have its thorn or hit us with its best shot? Here's my rad review of Rock of Ages.
It was 1987. The hair was big. The cell phones were bigger. Heavy metal rock was sweeping the country. Sherrie Christian (Julianne Hough) is a small town Oklahoma girl who takes the midnight Greyhound bus to Hollywood to make it big as a singer. Just moments after getting off the bus, she gets a proper Sunset Boulevard welcome when a thief runs off with her suitcase filled with her record collection. A dashing, young aspiring rocker Drew Boley (Diego Boneta) comes to rescue by helping Sherrie cheer up by trying to offer her a job at L.A. hot spot, the Bourbon Room. The Bourbon Room, run by owner Dennis Dupree (Alec Baldwin) and sound techie Lonny (Russell Brand), is the place where rock rules the Sunset strip and where glam rock superstar Stacee Jaxx (Tom Cruise) got his start before becoming infamous.
Dennis hopes that Jaxx's upcoming concert will save his financially strapped venue from going under, while Jaxx's greedy manager Paul (Paul Giamatti) hopes that the concert will be the launching pad as a solo artist. In order to do that, he plans to scam the take. To hype up Jaxx's last show with his band Arsenal, a one-on-one interview is arranged with Rolling Stone reporter Constance Sack (Malin Akerman), which turns into a one-on-one close encounter. On the other side of town, mayoral candidate Mike Whitmore (Bryan Cranston) is hoping to win the election so he can clean up L.A. while he is getting his pipes cleaned by his mistress. His conservative crusading wife, Patricia (Catherine Zeta-Jones) spearheads an anti-rock movement against Stacee Jaxx and the sinful strip.
While my generation will be rocking their heads and singing along to numerous eighties power ballads, you may have a hard time finding a solid plot within the two hour film. For a ninety minute film, RoA would have been totally rad to the max but tack on an extra thirty-four minutes and you might be gagging with a spoon for the film overstretch the story of the young lovers. Nonetheless, Rock of Ages is a fun movie to watch.  Some of the mash-up songs are decent but the stand alone songs really captured my attention. I take that back, one of the mash-ups did capture my attention. When you see the "We Built This City/We're Not Going to Take It" scene, be on the lookout for eighties icons Kevin Cronin, Sebastian Bach and Deborah Gibson among the rock crowd.
The standalone songs truly elevate the scenes they're in. Patricia and her LOSER Group dances to "Hit Me with Your Best Shot" in a church, one of the completely unexpected settings and events you will experience. Performances such Drew singing "I Wanna Rock" as he takes the stage as opening act to Cruise and Akerman belting out "I Want to Know What Love Is" during some wild sex and seeing Any Way You Want It sung by Justice, played by the dynamic Mary J. Blige, at her strip club will keep you singing and guessing what will happen with the next song. With hits from Def Leppard, Journey, Foreigner, Bon Jovi, REO Speedwagon, Pat Benatar, Twisted Sister, Poison and Whitesnake in this movie musical, I bet you won't leave the theatre without humming the classic tunes.
Who knew thought that Tom Cruise could capture the essence of a self-absorbed, screwed, blued, and tattooed glam metal rock god and deliver a performance that brings the house down? Cruise's performance was dead-on; I could have sworn I was seeing Axl Rose, Steven Tyler and Jon Bon Jovi in their heyday. After seeing his performance, you will never forget him belt out Bon Jovi's anthem "Wanted: Dead or Alive" with sheer precision and determination. Cruise is rock and roll, brilliant and hilarious, all thanks to his own superstardom mixed with eighties excess and decadence. Kudos goes to Baldwin and Brand for the unforgettable rendition of REO Speedwagon's "Can't Fight This Feeling." Thanks to those two characters, you will not see the song in the same light ever again.
If you're looking for Nothin' But a Good Time, Rock of Ages is your ticket to Paradise City this weekend.
FINAL GRADE: B