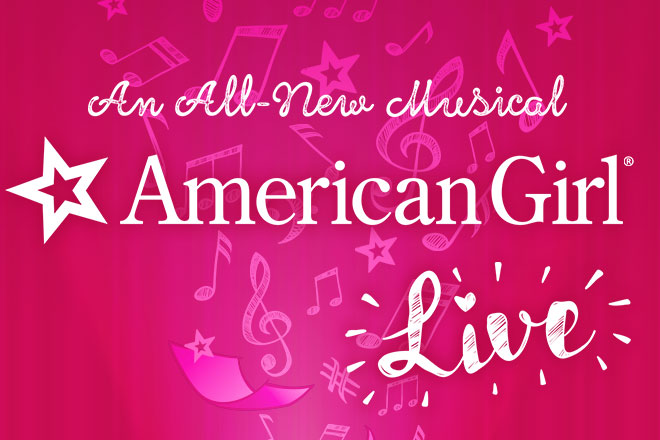 Second only to Barbie, American Girl dolls enchant girls, parents, and grandparents with Broadway-esque live stage show at The Music Center at Strathmore.
One way to get a young audience out on a cold rainy night is to highlight an 18-inch doll and book series and bring it to life through music, song, and dance. The American Girl Live tour produced by Mills Entertainment and Mattel, Inc. came to the Strathmore Music Center in North Bethesda, Maryland, this past weekend for two shows.
The Broadway-esque stage performance was a musical extravaganza based on a camping trip theme featuring six girls at fictional Camp American Girl.  Set during the present day and inspired by corresponding popular girl-power American Girl characters: Rebecca (1914), Nanea (1941), Maryellen (1954), Melody (1964), Julie (1974), and Luciana (2018), the dolls have been beloved by children and adults for three decades and second only to Barbie when it comes to the collectible doll market.
While the young audience members were as diverse as the dolls they carried, a multi-generational audience, representative of the Washington, DC metropolitan area, watched in wonder a show offering eighteen original songs including catchy tunes such as "Be Brave" and "Home Away from Home"  composed by Emily Chu, Meg Zervoulis and Britt Bonney.
Most memorable ones were performed by Laila F. Drew who played a dual role, as did her cast mates. She portrayed one of the campers Nia and the American Girl character counterpart doll Melody, whose characteristics are described as a singer and songwriter from the tumultuous Civil Rights 60's.  Each of the other actresses Monica Poston, Jenna Bruce, Kelsey Pressnall, Ashley Diane and Shelby L. Miguel also portrayed camper/doll roles and performed their roles to well-choreographed musical numbers by Emilie Renier. The scenery was appropriate to a campground setting with a constantly changing set, a mild distraction for this writer.
Taken from the book by Sandy Rustin, the original story captivated the young audience members with relatable content helping to navigate their own feelings of sharing dreams, girl power, self-confidence, bravery, empowerment, and making and supporting friends. While almost every girl in the audience carried their own $100 plus American Girl doll of every hue, hair and eye color, all dressed in a variety of costumes…some even to match their holder's outfits. These dolls, like the ones on stage, all had stories to tell and served as what we can hope, teachable moments.
While somewhat disjointed, overall the story line gave a positive outlook to feelings girls of all ages experience.  One has to wonder if the Mattel Corporation ultimately has a theme park in mind for future development.  Wouldn't that be American?