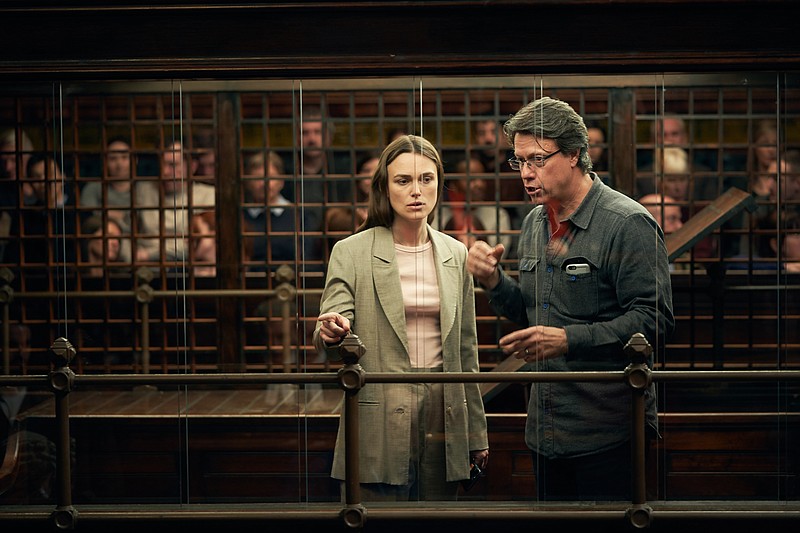 This month, the real-life tale of Katherine Gun, a 29-year-old translator at the British intelligence agency GCHQ, discovers a classified email that urged the blackmailing of United Nations members to ensure a yes vote on the controversial war resolution, becomes the new political thriller by director Gavin Hood entitled Official Secrets. I recently sat down with Gavin to discuss to discuss his discovery of Katherine's story and how he brought the courageous act of a whistleblower to the big screen.
So, how did this film come about?
Well, I finished a film called Eye in the Sky, with a producer called Ged Doherty, and one day Ged Doherty called me up—we were looking for another project—he said, "Gavin, have you ever heard of Katherine Gun?" And I felt like I ought to but I hadn't, so I had to be honest and say, "no," and he said, "just Google Katherine Gun and Official Secrets and see what comes up." So I Google 'Katherine Gun and Official Secrets' and I end up in this deep dive into a world that lead up to the invasion of Iraq in 2003. And this young woman who was a spy working for Britain's equivalent of the NSA, and I called him back and said, "this looks fascinating as a story of an ordinary person, much like us, not someone like Julian Assange, who's leaked—she's leaked one memo, and felt very strongly that this one memo was something that had gone too far.
And I said, "can I come and meet her?" So, I flew to London, spent five days, just everyday talking to Katherine and asking her to tell me her story from beginning to end. And that lead to be talking to the journalists, interviewed all of them. And that lead me to the lawyers who represented Katherine later on, and I end up with piles of notes, much like you as a journalist. Just notes, notes and notes. And by the end of that I felt, "ok, this is a really interesting story that I'd like to tell.
Why do you feel this story should be told and that it's so compelling, especially considering that the memo that she leaked really had an effect not only on society, but on the Iraqi War that happened in 2004-2005?
So, Katherine leaked the memo from NSA to the British equivalent GCHQ, asking them to help bug private communications of UN security council members, in order to see if they could dig up dirt and perhaps vote in favor of the invasion of Iraq in 2003. And if they had succeeded in getting that UN resolution, there would have been no real need to make the arguments that were subsequently made about—they said there were weapons of mass destruction, and Saddam Hussein has all these dangerous weapons and was a threat and that's why we have to take him out. Because they would have had the backing of the whole of the United Nations to go into Iraq and take out Saddam Hussein.
So, they didn't get that, and the reason they didn't get that has a lot to do with Katherine leaking that memo. When members of the security council found out they were being bugged, they were furious, and they declined to even take the issue to a vote. And then suddenly, we were at war based on weapons of mass destruction, we invaded anyway and never mind the UN. So, I found it fascinating piece of history told through the eyes of a young woman who might have bee you or me. She happens to be a spy but she's doing a job, and she happens to finds that something at work isn't right, and she speaks up. And that could be—you know, all of us work in jobs, and companies, and when you find something that's wrong, when do you speak up? Do you have the courage to speak up? And Katherine did, and many of us are afraid to speak up for fear of losing our jobs.
You stated that you love the theme of loyalty when it comes to this film. Why?
Well, even in politics of the current moment, it's "you've got to be loyal to me if I'm the president, the FBI should be loyal to me." Where does loyalty really lie? When I was interviewing Katherine, we kind of broke it down into four things. You can be loyal to your conscience; she was also married, so do you have loyalty to that relationship, and if you speak out about the spy operation, might that risk your marriage, or in her case, her husband's asylum claims? Loyalty to your government; to what extent should you be loyal to your government? And is there a loyalty beyond government to our country, to our fellow citizens?
In Katherine's case, you could argue that she was loyal to her conscience, loyal to the British people; but she was disloyal to the government, and in some ways she risked her marriage. And so those decisions about what to do—we say, 'follow your conscience'—yes, follow your conscience, but sometimes following your conscience might harm other relationships. And so, I don't think it's easy to judge people for where they place their loyalty, and I just thought it was an interesting theme in the film.
You directed a lot of films; Tsotsi, Ender's Game—which is one of my favorites —how do you go about choosing the right film to direct and be involved with?
That's a big question. Sometime you choose the film and sometimes it kind of finds you. When you're young and starting out—I wrote and wrote and eventually got my own work made, and there came a point where people started to ask me if I wanted to do a particular project, so it's both. What I'm drawn to, I think—the films I like most are films that do two things: they entertain, but they also leave me with something to talk about. I think there's nothing worse than going to the movies and, "that was great! Wanna go get a pizza?" and there's nothing to talk say, you know? I hope a film like this will entertain you. I think the performances from Keira Knightley, Ralph Fiennes and the actor Matt Smith are great. Really proud of them. Hopefully you'll be entertained, but when you're done watching the movie you'll have something to talk about with your friends.
Along those lines, what are you hoping your audience will take away from the film, especially given our political climate, not only in the United States, but also in the United Kingdom?
Well, we're in a strange time now where "what is truth and does it even matter?" And we have an administration that says "fake news!" and ridicules journalists. Yes, journalists don't always get the story right, but one of the great things about this country is that it has a free press. You have to know; I grew up in South Africa during a very authoritarian time in Apartheid. I know what it's like to live in a country where the press is threatened. The right of access to a lawyer is even taken away.
For Americans, that seems impossible, but during the 1980s, the security legislation became so bad—started with 90-day detention without trial laws that went to 180 days, and then it went to the right for the state to detain you indefinitely without right to a trial, without right to access to a lawyer, based on "protecting the people from terrorist threats."
Wow.
It's almost inconceivable to an American mind. And I can see your face, it's going "what???"
(laughs)
Really, when you've lived under an authoritarian regime, you realize how precious the constitutional rights of this country are, how important the checks and balances are, and that you don't want to throw those out. So, what makes this country great and special, and allows us to have this conversation is the system of checks and balances and rights that Americans enjoy.
With your previous film was Eye in the Sky. It was a film about justifying an attack. When it comes to this film, it's about exposing it. Does it work for you to take on another angel with this film?
That's an interesting question. I think in both films, we tried to present the facts of what's happening in a particular environment and let the audience decide how they feel. In both films, I think they are uncomfortable in the sense that they don't give you an obvious response. "Is it right? Is what Katherine did right, to leak that memo?" Some people would say no. If you watch the story, I think you get insights from a number of different points of view.
One last question. What cane we learn from the eyes of a whistleblower because when most average Americans think of a whistleblower, they think of Edward Snowden?
That's another great question. I think the key difference between Snowden and Julian Assange and Katherine is that Snowden and Assange leaked a lot of information and that may or may not be right, that's another discussion. Katherine leaked one particular memo. So, she's a person sitting at work—imagine you're sitting in your accounting firm, a law firm, entertainment firm, or Boeing—and you see something come across your desk that's just wrong; that this organization is doing something wrong. This one thing. She spoke up about that one thing that she felt was just wrong, and in that sense, she's much more relatable.
Snowden is an amazing figure that almost exists above the clouds. He's almost mythical. Katherine is you and me. So, what Katherine faced sort of asked me to ask what I would do if I was faced with something like that. My organization has just asked me to do something illegal. Do I just brush it off to keep my job, or do I go—I bet you right now, there are people out there facing this at work. Whatever it is, big or small, when do I go to my boss and say, "this isn't right. This thing that's going on here in this organization isn't right"? And then risk the boss saying, "well, you're fired." Because on a very basic level, she just lost her job, she very nearly lost her freedom. So, it's gutsy to speak up, and it take courage to speak up.
Stay tuned to the page as we bring Part II of the Official Secrets interviews with whistleblower Katherine Gun and journalist Martin Bright. OFFICIAL SECRETS – In theatres now!