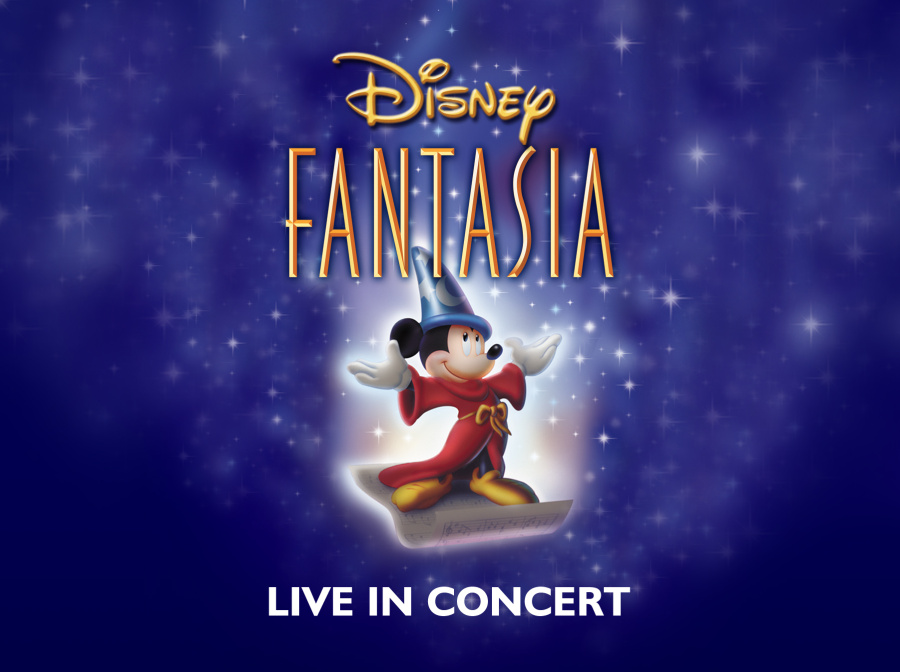 The National Symphony Orchestra conducted by Emil De Cou presented Disney's Fantasia: Live In Concert at Wolf Trap. The concert included two massive HD screens displaying a mix of selections from both the original Fantasia and Fantasia 2000.
Walt Disney Vs. Charlie Chaplin
Fantasia is an elaborate collaboration of art, motion and sound. Walt Disney was a pioneer when it came to producing symphonic animation. He had been producing Silly Symphony shorts for years. Charlie Chaplin mastered synchronizing film and orchestral sound at around the same time. I feel animation is a lot more detailed and intricate of a process than live action film. I still do give a lot of credit to Charlie Chaplin. His film Modern Times (1936) had a full length original score and it wasn't a collection of excerpts. With that said, both truly are pioneers of the art form.
Program Notes
A great addition to the program was the Claire de Lune selection by Claude Debussy: an absolutely beautiful score! It's hard to believe such an amazing work was edited out of the original movie. A selection not included on the program was The Carnival of the Animals by Charles-Camille Saint-Saëns from Fantasia 2000. It was played as an encore.
REPERTOIRE
Excerpt from Symphony No. 5*………..Ludwig van Beethoven
(1770–1827)
Excerpts from Symphony No. 6**………..Beethoven
Allegro
Allegro
Allegretto

Nutcracker Suite, Op. 71a**………..Pyotr Ilyich Tchaikovsky
(1840–93)
"Claire de Lune"**………..Claude Debussy
(1862–1918)
Suite from The Firebird (1919)*………..Igor Stravinsky
(1882–1971)
Intermission
Dance of the Hours**………..Amilcare Ponchielli
(1834–1935)
The Sorcerer's Apprentice………..Paul Dukas
(1865–1935)
Pomp and Circumstance*………..Sir Edward Elgar
(1857–1934)
(arr. Schickele )
Excerpt from Pines of Rome*………..Ottorino Respighi
(1879–1936)
*From Fantasia 2000
**From Fantasia 1940
Cymbal and Wave Synchronization
There was an abundance of movement expressed with sound. It's as if Disney superimposed action sequences directly over the notes of the composition. There were many examples, but a prime example came from The Sorcerer's Apprentice. Mickey Mouse is infamously atop a cliff embracing the current. Each time a wave splashes against the cliff, you hear a cymbal crash. It directly follows the sheet music. The timing is interesting considering the score was written in 1896.
Water Volume Dynamics
There are dynamic indications written into The Sorcerer's Apprentice score that express a steady increase in volume. As the composition develops it crescendos. The original poem states "how the water spills/how the water basins/brimming full he fills." It's describing the Sorcerer's chambers being flooded with water. Paul Dukas was a programmatic music composer. Programmatic music is music with a narrative that invites imaginative correlations and parallelisms. I believe the steady increase in sound volume was meant to represent a steady increase in water volume.
Scale Volume Dynamics
Dynamics are such an important part of Disney presentations. There were examples of fortissimo's synchronized to the  scale of the scenery as well. Disney has used this technique for a lot of their films whenever revealing grand scenery. I feel it all stems from The Sorcerer's Apprentice and programmatic music. Dynamics are what truly differentiates the live experience from a recording. I feel Fantasia Live is how Walt Disney would of liked Fantasia presented.
The NSO and Emil de Cou
The NSO performance was magnificent in the sense that they went largely unnoticed. You had a giant HD projector displaying outstanding animation with sound accompanying it perfectly, so it was easy to get completely enveloped into the experience. As far as accomplishing a desired effect, I must say it was a job very well done. One thing I noticed about Emil de Cou's conducting is that it's very submissive; there aren't any overly exaggerated gestures. He uses his conducting strictly as a tool to guide the orchestra and not a means to put on a show for the audience.
Concert Notes
This concert was a fantastic journey! It was a collection of some of the best sound compositions ever created, and it was accompanied by brilliant animation. Every selection was really entertaining. Some favorites included The Pastoral Symphony, a depiction of the mythical ancient Greek world of centaurs, and Pomp and Circumstance, starring Donald Duck. The mix of wonderment and excitement guaranteed immense joy, the type of joy that Disney is famous for creating.