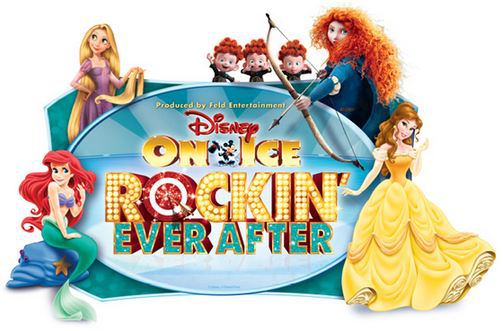 Feld Entertainment and Disney On Ice, animated the 1st Mariner Arena in Baltimore on Wednesday night with their newest ice capades adventure, "Rockin' Ever After". A few all-time favorites mixed with some new Disney "classics" and you're in for a treat!!
Princesses and Buzz Lightyears filled the arena, with parents and teens who were as excited as the little ones. This incarnation had some new twists on the classic capades you might remember as a kid! The costumes and the set pieces are divinely up to Disney standards, but with neon touches for updates. The music naturally centers around Disney favorites from the featured classic movies and from the new ones, but they also had some flair mixed in with "Mickey", "Girls Just Wanna Have Fun", "We Got The Beat", and "Vogue"….Who knew that Ariel's sisters had MTV, back in the day?!
The night started out with skate-dancing gals and guys, who brought out Mickey, Minnie, Donald, and Goofy. There were touches of "Pinocchio" and "Cinderella", but the main events were, "Little Mermaid" and "Tangled" for the first Act and "Brave" and "Beauty and the Beast" for Act II. Rather than snippets, we were given a full glimpse of each movie, with a beginning, middle, and triumphant end! The skating has been stepped up over the years and this new show has triple jumps, tons of lifts between the pairs, and even Ariel is an aerialist, as well as an expert skater! It's an enchanting night filled with the songs directly from the movies and Prince and
Princesses who skate like Kings and Queens. Naturally, it is a Disney show, there is a WOW Finale, complete with ball gowns, dancing, a light show, and fireworks. So, go join Ariel, Rapunzel, Merida, and Belle before they turn into pumpkins and move onto their next city, which incidentally is Hershey, Pennsylvania, followed by Long Island and other points North.
One, nine year old boy even told me that it was, "The best night of [his] life!"
Overall Experience: A++, The costumes are what only a Fairy Godmother could dream up! The set pieces and props would make Gepetto proud and the choreography could rival "Dancing With The Stars". The night was, in a word, Supercalifragilisticexpialidocious!!
Production: A++, As you would expect from Disney and Feld Entertainment, who produce a myriad of events.
Venue for Event: A+, Even though there was traffic getting into town, it did not really hold us up enough that there was concern, the arena and surrounding garages were organized for the event, and every seat was a winner!
Now through Sunday, October 28th!!! www.baltimorearena.com or www.ticketmaster.com