Disney Live! presents Mickey's Magic Show
5 min read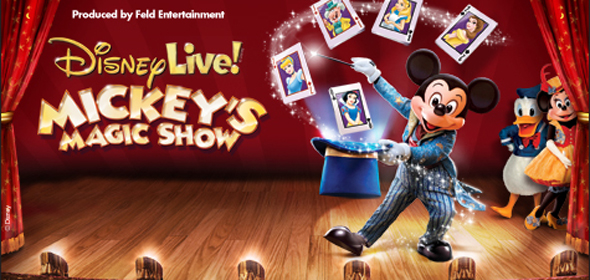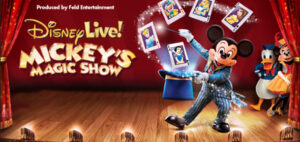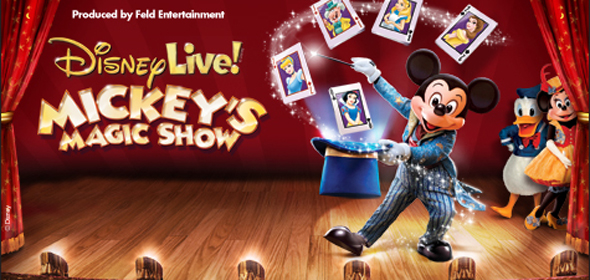 Disney Magic Takes the Stage in Live Touring Production With Two Shows Set for February 22 at the Patriot Center
In a captivating combination, favorite Disney characters join a professional illusionist live on stage in a performance that will excite and delight children of all ages.  From Feld Entertainment, the producers of Disney On Ice, Disney Live! presents Mickey's Magic Show brings audiences into a world where Disney magic takes on a whole new meaning.
Disney Live! presents Mickey's Magic Show will perform two shows on February 22 at the Patriot Center at 1p.m. and 4 p.m. Tickets are on sale now for both shows at www.ticketmaster.com.
Disney Live! presents Mickey's Magic Show features the special magic from legendary Disney films, performed right before your eyes: Cinderella's rags turn into a beautiful ball gown in a split second; Aladdin's Princess Jasmine levitates into the air; and the enchanted dancing brooms in Fantasia help sweep Minnie off her feet.  The Master Magician himself – Mickey Mouse – performs astonishing illusions along with Cinderella's Fairy Godmother, Alice in Wonderland's Mad Hatter, and professional illusionist Zak Williams. The magic is complimented by appearances from Disney princesses Belle and Snow White and Mickey's pals from Toontown — Minnie Mouse, Donald Duck and Goofy.
"This one-of-a-kind show gives parents and children the power to see magic everywhere," says Kenneth Feld, producer of the Disney Live! shows and producer of the most successful live illusion show of all time, Siegfried & Roy.  "We take them on an inspirational journey with the Disney characters where they learn to find the magic within and all around them.  At the same time, families will see world class illusions that will truly take their breath away."
The production values and stagecraft of Disney Live! presents Mickey's Magic Show make this an exceptional family show.  Famed Illusion Designer Jim Steinmeyer, who has worked with leading magicians David Copperfield, Lance Burton and Siegfried & Roy, brings his more than 20 years of world-class experience to the illusions in the show, which include a dynamic sawing-in-half duet and an
awe-inspiring levitation of Minnie set to black light.
In another astonishing magic act, illusionist Zak Williams levitates Princess Jasmine.  The moment is pinnacled by a starry night sky, with a mood both mesmerizing and surreal. To the tune of "A Whole New World," Zak ultimately joins Jasmine in the air as they soar high above in harmony.
"In every show we do, we try to exceed audiences' expectations," says Director Jerry Bilik. "With the sheer magnitude of the illusions, we are able to take the audience to a place far beyond what they would ever imagine.  From the moment the magic begins on stage, audiences will be in for a visual surprise as they take part in a unique Disney experience."
Zak Williams's interactive style as an illusionist adds another dimension to the show as he brings children up on stage to assist in the magic.  Whether it's making a Magician's Apprentice tissue paper hat or inspecting a trunk for "The Fastest Escape in the World," children in the audience have the opportunity to become part of the show.
No matter if they are on stage or in their seats, children are given an unforgettable experience as magician's helpers in Disney Live! presents Mickey's Magic Show. Amidst a show jam-packed with surprises and spectacle, audiences learn to find the magic inside as they take part in a revolutionary blend of captivating magic.
For tickets and touring information, go to www.disneylive.com, or visit us on Facebook at Disney Live! and follow us on Twitter @Disney Live!
Ticket information: Tickets for Disney Live! presents Mickey's Magic Show on February 22 at 1 p.m. and 4 p.m. are $55, $35 and $25 (plus applicable service charges) and are on sale now. Tickets are available through all Ticketmaster outlets including the Patriot Center box office, online at www.ticketmaster.com or via Phonecharge at 1-800-745-3000. Accessible seating is available for patrons with disabilities by calling 703-993-3035. Visit www.patriotcenter.com for details.