Disney Live! Mickey and Minnie's Doorway to Magic comes to EagleBank Arena on Feb. 21 with two shows
2 min read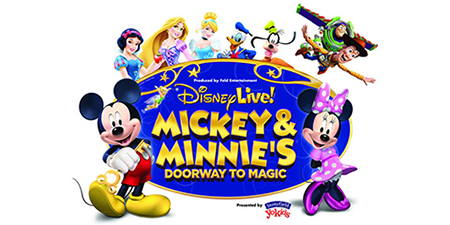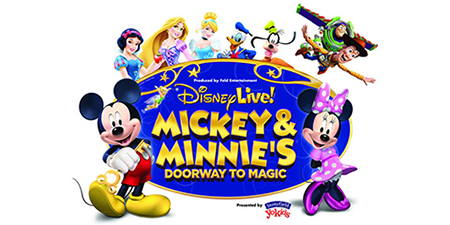 Magic is coming your way when Feld Entertainment, the worldwide leader of live touring family entertainment, sets the stage for its most compelling Disney compilation to date with Disney Live! Mickey and Minnie's Doorway to Magic. Join Mickey Mouse, Minnie Mouse, Donald Duck and Goofy as they step into mysterious portals throughout the Disney universe, entering the enchanted lands of more than 20 of your favorite Disney characters and encountering surprises at every turn of the doorknob.
Tickets for the February 21 shows at 1 p.m. and 4 p.m. at EagleBank Arena go on sale Oct. 6 at 10 a.m.
Audience members will be transported to unforgettable moments showcased in the animated features Disney's Tangled, Aladdin, Cinderella, Snow White and the Seven Dwarfs, Fantasia and Disney•Pixar's Toy Story. Orchestrating the creative collaboration for a production that fuses together these Disney stories and theatrical illusions is Feld Entertainment executive vice president and Disney Live! producer Alana Feld. By bringing a team together that includes seasoned and emerging industry experts, Feld was able to build a dynamic, multi-layered experience that is sure to engage families around the world.
"This show is about bringing to life the magical places and moments that exists with the world of Disney in a very authentic and modern way," says Feld. "By using magic and illusions, we've reimagined iconic scenes and enhanced them, creating a great connection to the characters and stories for our audiences."
Mickey and Minnie's Doorway to Magic opens with a burst of color, high-energy choreography and an original song titled "Magic is Here." For director and choreographer Fred Tallaksen, everything from the pop and funk infused soundtrack to the diverse choreography was essential in capturing the vitality of the show and differentiating it from a traditional re-telling of classic tales. "What makes this show extraordinary are the adventures Mickey, Minnie, Donald and Goofy have every time they enter a different whimsical doorway and the amazing things they do in each world they visit," says Tallaksen. "One moment Mickey and Minnie are jumping rope alongside the Toy Story gang in Andy's room and the next they have traveled to Agrabah to unleash the power and comedic antics of Aladdin's Genie."
Ticket information: Tickets for Disney Live! Mickey and Minnie's Doorway to Magic are $55, $35 and $25 (plus applicable service charges) and go on sale October 6 at 10 a.m. Children one year and older will require a ticket. Tickets will be available through all Ticketmaster outlets including the  arena box office, online at www.ticketmaster.com or via Phonecharge at 1-800-745-3000. Accessible seating is available for patrons with disabilities by calling 703-993-3035. Visitwww.eaglebanarena.com or www.disneylive.com for more details.