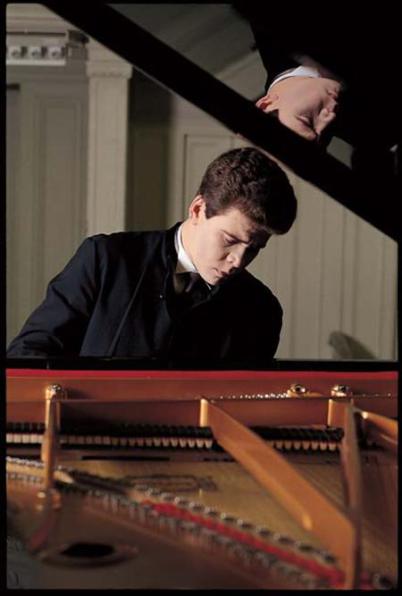 Denis Matsuev, one of the best pianists of this generation, had a solo recital Tuesday evening at the Music Center at Strathmore. The program consisted of the works of Haydn, Schumann, Rachmaninoff and Tchaikovsky, which is fantastic in of in itself, but it was some of numbers not on the program which proved to be show stoppers.
Denis Matsuev has been redefining the piano for well over a decade. I'd say the best way to put it is that he has been redefining the piano with definition. Matsuev's style is very temporal; it's his timing and his tempo that are his own definitive stamp on a program. He accents the tempo so precisely but to the extent it's his own personal interpretation.
The opening piece, Franz Joseph Haydn's Piano Sonata Hob. XVI: 52 really fit Matsuev's style of play. Haydn composed keyboard music that required both power and finesse with room for skilled improvisation, and it's those types of compositions I feel Matsuev is best at performing. Matsuev began and ended his program with sonatas almost as if he was insinuating a introduction and a coda.
Of the pieces he performed on the program, Rachmaninoff's Prelude was the most stimulating. It was fantastic! Matsuev exuded a fierce dynamism that was both emotional and aggressive. The sound was very satisfying, leaving us with a sense of confidence with brio.
The program was actually only a part of the program, I feel. Either that or Denis was in a really good mood because he then proceeded to perform what was at least six encore pieces. This is when the show really livened up and got interesting. He played hand-picked excerpts of some really fantastic compositions. Since it wasn't on the program I didn't recognize all the material but I definitely recognized his encore finale: an interpretation of Duke Ellington's Take The A-Train, maybe an homage to Duke Ellington who is a Washington D.C. native. He didn't play the song in it's entirety but instead picked it up right from the development where the impromptu begins. It was spell-bounding and just plain fun to listen to! Although improvised, it was still played stunningly accurate. The solo improvisational skills displayed were off the charts! He also has this technique where he aggressively clicks his heel almost like a metronome or drum beat. I have never seen a piano performance that exciting!
Matsuev is a magnificent performer. Some might compare him to pianist Evgeny Kissin, as they both share interest in composers. I'd more closely compare him to pianist George Li who is also aggressive with the tempo and dynamics of his playing. A fantastic show no doubt!