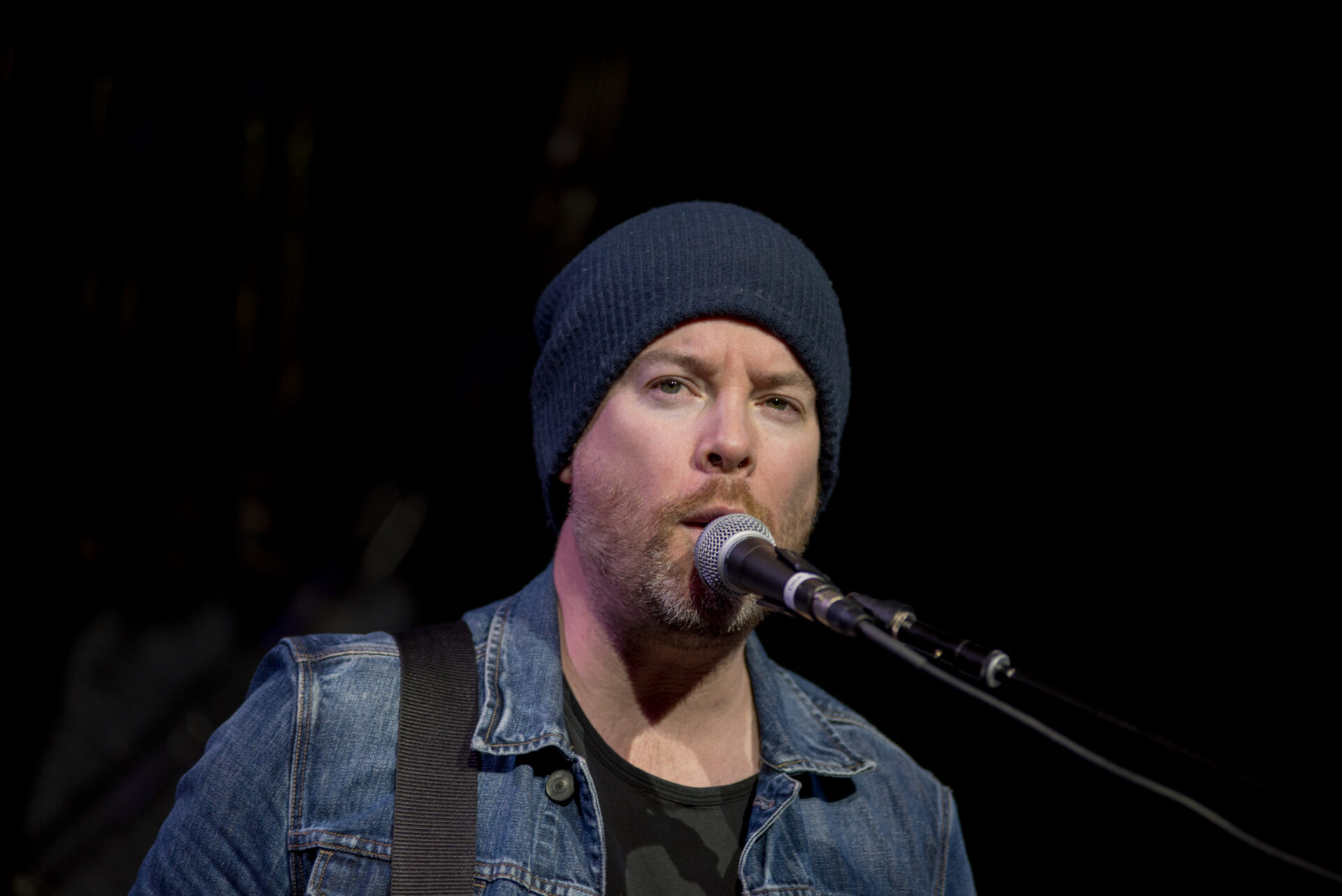 Friday Feb 23rd, I was at Pearl Street Warehouse to see David Cook perform to promote his new EP Chromance. This was my first time at Pearl Street Warehouse.  It's a small club with an upstairs that looks down directly at the stage to give the viewers a birds eye view of the performance.
David Cook gave his fans a great night of his songs and laughter making for a great night of music in downtown Washington DC at the newly revitalized Wharf in DC. David started off the night with the song "4 Letter Word" followed by "Declaration". At the end of the song he asked if the audience was alive, if we had a rough week.  We should be excited and drunk or at least excited.  He joked with us about football and sports.
To get us motivated, he joked that we were not there for his originals, that his guitarist Jeff Scott's reputation has proceed him and told Jeff to give the us what we wanted. They played a cover of Def Leopards "Photograph".
David walked around the stage smiling and laughing.  Asked if he will be involved in this song and Jeff responded, probably at some point, and laughed. During the song David walked off stage and quickly returned. As he came back out on the stage the band stopped playing and David commented that the audience seemed more energized.  In fact, I could tell this was going to be a fun night for us. David has a great sense of humor.
Now they had us energized.  They got back into David Cook's original's including one of my favorite songs "Broken Windows". They also played "Criminals", "Better Than Me" and a great cover of the Phil Collins song "Another Day in Paradise" from his new EP.
David talked about moving to Tulsa after college and joining a band and recording his first solo record.  His favorite part of that was Urban Tulsa weekly's review the record and called him the Tulsa's newest heartthrob, so what he did was got drunk and a tattoo because he made it.
A show called American Idol came up. David talked about going to Omaha with his brother to Audition. Talked about what winning meant to him. He has fallen ass backwards the last 10 years of his life getting to do what he loves to do. Gets to do that because a lot of his fans decided to pick up their Nokia brick phones and voted. As he said, the ones that could survive a nuclear blast. He said he made it, not sure what that means anymore, He gets to do this because fans like us were nice enough to push him into the right direction.
From time to time, David played all the songs from his new EP which he got a very warm reception from the audience. Dave and his band were in sync with the crowd. Instead of leaving the stage for an encore David said rules say, that they leave the stage. They were to stand behind the curtain and point and laugh at the fans going crazy, but they opted to stay on stage and complete the show, which was awesome.
To finish the night, they played "Heartbreak", "This Is the Time" and two new songs from his EP, "Ghost Magnetic" and "Warfare". I have been a fan of David Cook since American Idol. The interaction and joking with the audience made the night feel like David and his band were playing for a group of friends', a very casual and laid back atmosphere.
Therefore, if you get a chance to see David Cook in concert, I highly recommend it.
Rating: A
In addition, I want to talk about musical guest Ryan Tennis from Philadelphia PA who opened for David Cook. Ryan played an acoustic with a percussionist that lasted just under an hour. This is my first time seeing Ryan and I am really impressed with not only his music, but the involvement of the crowd. He spent a lot of time interacting with the us. The highlight of his set, he talked about his recent trip to Columbia and the warm reception he received there. He collaborated with and wrote songs with local musicians. He played two of these songs, explaining the chorus with the us so we could sing the chorus with him. The songs were in Spanish, which to me, made the songs more interesting. There is something very romantic about Spanish language in song.
Ryan was supporting his new CD, "Two Days On a Fence". I genuinely liked his performance and will be listening to his CD's to learn more about him. I would like to see him perform again.
Photos by Jeff Talbert