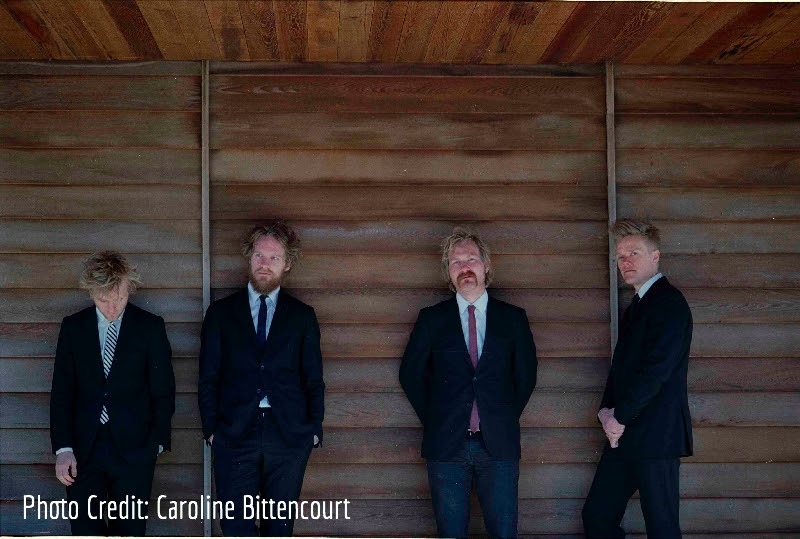 Quartet to perform The Art of the Fuguefeaturing works by Mendelssohn, Shostakovich and Beethoven
The Danish String Quartet, which modestly describes itself as "simply your friendly neighborhood string quartet with above average amounts of beard," has consistently won favorable reviews in the New York Timessince its 2004 New York debut. Appointed in 2013 to a three-year position with the Chamber Music Society of Lincoln Center, their debut performance at Alice Tully Hall in early 2014 was sold out and a second performance, featuring the same program, was added the following night at the Rose Studio. The New York Times said "The Chamber Music Society of Lincoln Center has a hit ensemble on its hands… The enthusiastic response is well merited… The playing was so direct, confident and engrossing, I almost forgot to notice that technical matters, like intonation, blending and balance, were impeccable."
Violinists Frederik Øland and Rune Tonsgaard Sørensen and violist Asbjørn Nørgaard met as children at a music summer camp where they played both soccer and music together, eventually making the transition into a serious string quartet in their teens and studying at Copenhagen's Royal Academy of Music.  In 2008, the three Danes were joined by Norwegian cellist Fredrik Schøyen Sjölin.  The Danish String Quartet was primarily taught and mentored by Professor Tim Frederiksen and has participated in master classes with the Tokyo and Emerson String Quartets, Alasdair Tait, Paul Katz, Hugh Maguire, Levon Chilingirian and Gábor Takács-Nagy.
Travel & Leisure magazine said "they could be mistaken for 21st-century Vikings.  But unlike their forebears, this supremely gifted group of thirty-something Scandinavians – three Danes who met as schoolboys and a Norwegian cellist – is out to conquer the world through sheer musical charisma."
The Quartet is also currently a BBC Radio 3 New Generation Artist (2013-15).  In 2009, the Quartet won First Prize at the 2009 London International String Quartet Competition (now known as the Wigmore Hall International String Quartet Competition) as well as that competition's 20th Century Prize, Beethoven Prize, and Sidney Griller Award. Other accomplishments include the 2011 Carl Nielsen Prize, Denmark's most prestigious music prize, and the NORDMETALL –Ensemble Prize in the 2010 Mecklenburg-Vorpommern Festival in Germany.
The Quartet has been in great demand throughout Denmark since winning the Danish Radio P2 Chamber Music Competition in 2004, and was the Danish Radio "Artist in Residence" in 200
6 when it recorded all Carl Nielsen's String Quartets in the Danish Radio Concert Hall. The resulting releases on the Dacapo label in 2007 and 2008 were a Gramophone Magazine "Editor's Choice."  2010 saw the release of a recording of Brahms' Complete String Quartets, and 2012 the release of works by Bartók and Beethoven. The Quartet recently released a recording of works by Brahms and Fuchs with award-winning clarinetist Sebastian Manz. Their love of Scandinavian music has been captured in a recording of folk music, released earlier this year on its own label.
Who:                      Danish String Quartet
Where:                   Kennedy Center Terrace Theater
When:                     Wednesday, October 15, 2014, at 7:30p.m.
Program:               The Art of the Fugue
Mendelssohn          Capriccio for String Quartet
Shostakovich          Quartet No. 9 in E-flat Major, Op. 117
Beethoven              Quartet No. 14 in C-sharp minor, Op. 131
Tickets: $35.00, available at washingtonperformingarts.org  or (202) 785-9727