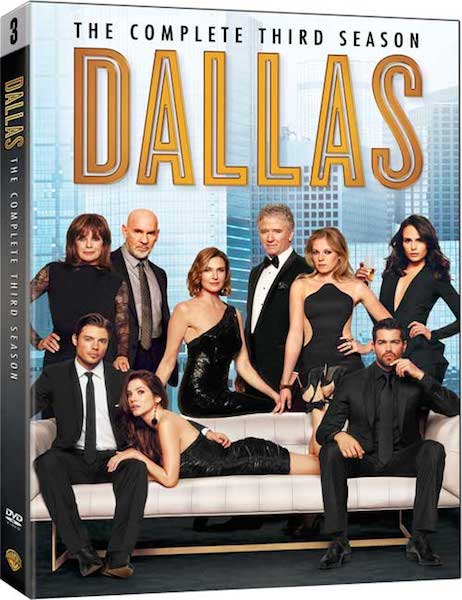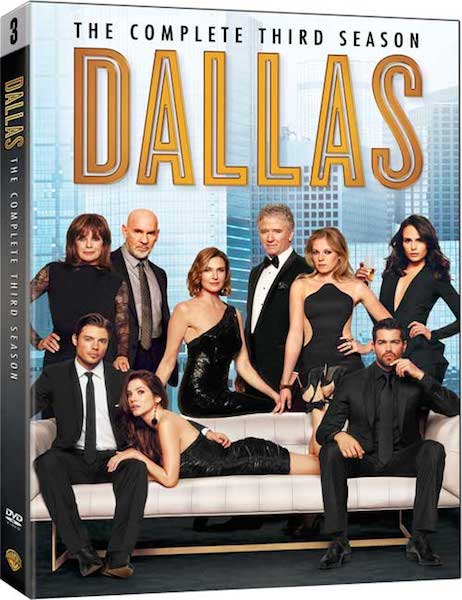 Want to take a trip to the Southfork Ranch, one more time? For one lucky winner, you will as TRR  gives away a copy of Dallas: The Complete Third and Final Season DVD, courtesy of Warner Bros. Home Entertainment!
To enter our contest,
You must answer this one question, correctly, to be entered into a random drawing!
Actress Julie Gonzalo played Rebecca in the current Dallas series. Rebecca is the daughter of which original Dallas character?
Send your answer, in an email, by JANUARY 18, 2015 @ 5:00 PM with your NAME, LOCATION & the ANSWER to therogersrevue@gmail.com – SUBJECT: DALLAS SEASON 3 for your chance to win the prize in our random drawing!
DVD:
Warner Bros. Home Entertainment Group releases Dallas: The Complete Third and Final Season on DVD January 13, 2015, bringing Dallas back for more backstabbing, feuding and passion — and at the end of the season, a Ewing will die! This three-disc DVD collector's set features all 15 episodes from the third season, including deleted scenes.
As Examiner.com says, "…the action on Season 3 of Dallas comes fast and furious, and like the Energizer bunny, it just keeps going." In season three, Ewing patriarch Bobby Ewing (Patrick Duffy), now the senior member of the family after the death of his older brother, J.R., butts heads with John Ross (Josh Henderson), who is out to prove he can be just as powerful an ally or enemy as his infamous father. Meanwhile, Christopher (Jesse Metcalfe) is newly single and determined to make a name in the world of natural gas. Elena (Jordana Brewster) is blinded by thoughts of justice for previous wrongs, and Pamela Rebecca Barnes (Julie Gonzalo), the daughter of longtime Ewing rival Cliff Barnes (Ken Kercheval), is now married to John Ross and determined to have a happy ending.
The third and final season of Dallas stars Josh Henderson (90210), Jesse Metcalfe (Desperate Housewives), Jordana Brewster (The Fast and Furious films), Julie Gonzalo (Veronica Mars), Brenda Strong (Desperate Housewives), Mitch Pileggi (Grey's Anatomy), Emma Bell (The Walking Dead), Juan Pablo di Pace (Mamma Mia!), with Patrick Duffy (Dallas [original series]) and Linda Gray (Dallas [original series]). Recurring guest stars this season include AnnaLynne McCord (90210, Nip/Tuck) and Judith Light (Ugly Betty, Who's the Boss?). Executive produced by Cynthia Cidre (The Mambo Kings, Cane), Michael M. Robin (Rizzoli & Isles, Major Crimes, Nip/Tuck), Robert Rovner (Private Practice, Crossing Jordan) and Bruce Rasmussen (Without a Trace, Cane), the series was created by David Jacobs and is produced by Warner Horizon Television.
DVD SPECIAL FEATURES
RULES:
This contest is open to residents of the USA. Each household is only eligible to win Dallas: The Complete Third and Final Season DVD via blog reviews and giveaways. Only one entrant per mailing address per giveaway. If you have won the same prize on another blog, you will not be eligible to win it again.
Entrants who are immediate family members of the staff of The Rogers Revue or Warner Bros. Home Entertainment are ineligible. If you have won a TRR contest within the past thirty (30) days, you are ineligible until thirty (30) days after the last contest won.
Winner is subject to eligibility verification. The prize will be sent via FedEx or USPS. No P.O. Boxes please.