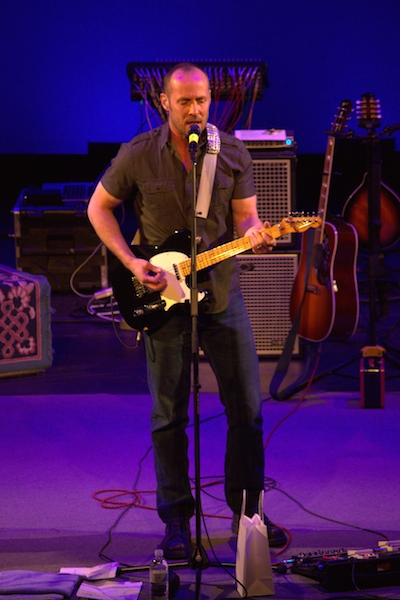 It's not everyday you come across someone with the demeanor of a Paul Thorn. He's a true southern gentleman in every sense of the word, but with an edge. His mannerisms are such he could preach the gospel and then tell a joke about how he's going to hell. Tonight Paul Thorn and his band took the stage at the Barns at Wolf Trap for a sold out performance, a concert that sold out built off the reputation of his live shows.

To describe Paul Thorn's sound really wouldn't be all that difficult. He sounds good! A Paul Thorn performance is sort of like a bluesy hard rock gospel country concert with influences such as Buddy Miller, Elvin Bishop, Delbert McClinton, Ray Wylie Hubbard, Foy Vance, and Wild Bill Emerson. All of whose songs he covers in his new album "What the Hell is Going On?" due to be released May 8th. His feature track a rendition of Elvin Bishop's "What the Hell is Going On?" has some real step to it, really makes you want to clap your hands and move your feet.
Probably the most entertaining aspect of his shows are his story telling. Each one of his songs seems to have a back story with some humor and humility. One example is his song "I'd Rather be a Hammer than a Nail", it was stunning. I thought it might be a cover of Simon and Garfunkel's "El Condor Pasa" except for they sound nothing alike. He goes into the details of his professional boxing career and his nationally-televised fight with former world champion Roberto Duran. In the song he modestly recounts the events of the bout during the last verse; it really gives you visualization.
Another great song performed was "Pimps and Preachers". It starts off with a real groovy bass line, which is appropriate given the title. It's a story about being given advice growing up from his Uncle a pimp and his Father a preacher. I translate it as the musical equivalent to having a devil on one shoulder and an angel on the other. It makes for good music!
The Paul Thorn experience is a gratifying one. If anything it reminds me of Classic Rock. It's great to know that there is still new Classic Rock being made. The guitar solos were amazing! Paul Thorn himself plays exceptional rhythm guitar and maracas. He's a real down to earth dude and that's really portrayed throughout his performance. You can check it out for yourself at www.paulthorn.com if you like blues and rock your bound to find something interesting. If you even remotely enjoy his music I would highly recommend seeing him live