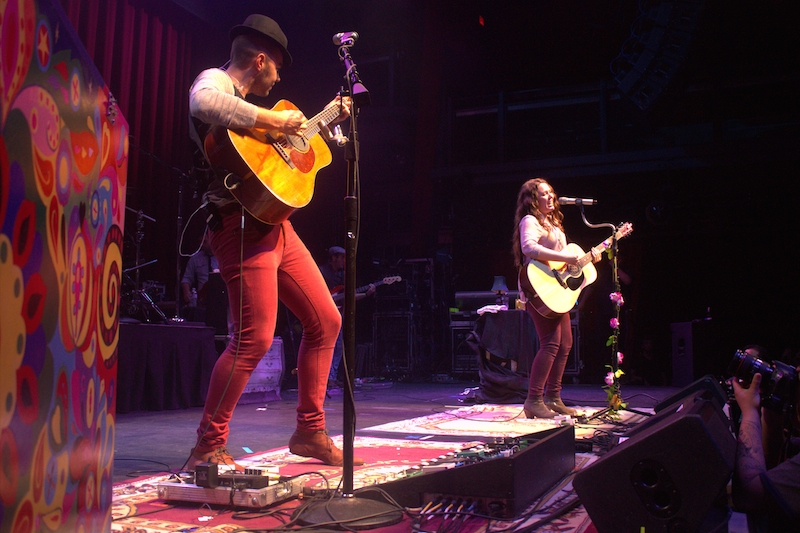 The brother and sister Mexican pop rock duo Jesse and Joy makes a stop in Silver Spring with The Fillmore set to play host to the charming sibling duo. The multi-platinum selling, four-time Latin Grammy-winning rockers are international superstars. The 143,000,000 plus views their official music video "Corre" has on YouTube says it all.
It was a modest setting for a pair growing in popularity as fast as these two. At the front left hand side of the stage was a colorful hand painted upright piano. Then there was a pair of small stacks with printed covers made to make them look like old furniture and antique televisions. A string of flowers wrapped around Joy's mic stand, it was like we were in the seventies.
The lights dimmed and an audio recording of Richard Wagner's "Ride of the Valkyries" sounded off. I immediately recognized the classic composure. Coincidentally, I just saw the NPO perform this piece live not even a week ago during their Wagner 200th Anniversary Celebration. I'd have to admit hearing Wagner came way out of left field and was something I wasn't expecting. The trombone player worked his way into the song and when the audio stopped took the stage and opened with a pretty cool solo.
Jesse and Joy have something extremely unique about their style of playing. It's really original. It's like they just followed a homemade recipe for music and everybody wants a taste. The sibling duo plays together with such love. They are constantly making eye contact with each other as they sing. The sound was very catchy and rhythmic in an emotionally uplifting sense. Girls were crying their hearts out singing to their songs. They has some beautiful ballads as well, like "Corre" now wonder it's so popular on YouTtube. It opens with a soft piano solo; Jesse and Joy then just start signing to each other. It was really graceful and touching.
Jesse and Joy played very well. They didn't disappoint their fans by any means. They keep it real; just stick to what you know and do it well. Listen to their album "Con Quien Se Queda El Perro?" and what you hear is what you will get live. A Heartfelt, original rock n' roll performance.