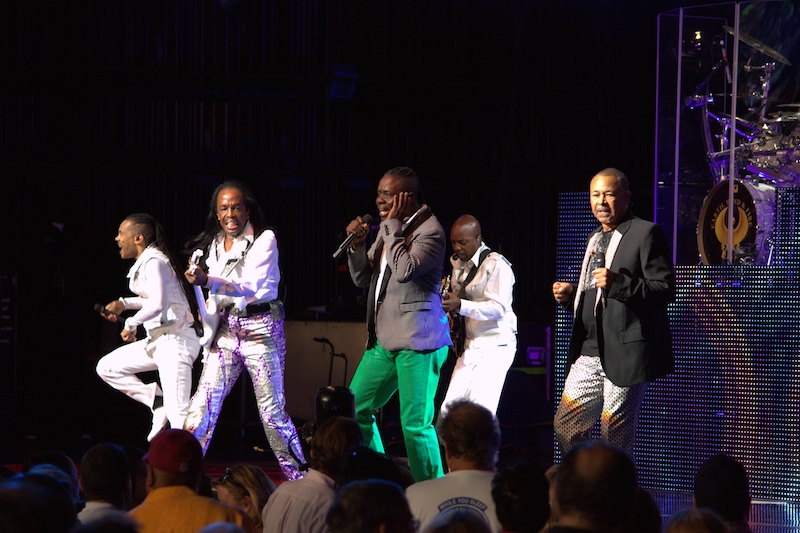 It's been well over twenty years since I first heard EWF (Earth Wind and Fire). I was about five years old, "Shining Star" came on the radio and I have been a fan ever since. Last night at the Filene Center at Wolf Trap EWF didn't just take the stage, they set it ablaze. They played all their hits in front of a sold out audience, just over 7,000 people strong.
http://www.youtube.com/watch?v=Ek0PeJzZHQA

The atmosphere was amazing and temperature was just right. EWF encompasses a wide variety of musical genres. I'd say it felt relaxed like a jazz concert but at the same time carried a lot of energy and excitement like a rock concert. I'd compare it to that feeling you get when you take that first sip of a Starbucks Mocha Cookie Crumble Frappuccino. I had a seat but couldn't help strolling along the lawn taking in people doing everything from dancing and eating to some even choosing to lie down and rest their eyes just absorbing the sweet sounds. It wasn't overly crowded for a sold out concert either, plenty of room to just feel the summer breeze.
Now, you don't need me to tell you just how incredible Earth Wind and Fire sounds. Their resume says it all. They've been playing for 47 YEARS! Concerts for them are second nature; hehe get it? The prestigious accolades they have acquired are numerous. Everything from being inducted into the Rock 'n Roll Hall of Fame, the NAACP Hall of Fame, and having a star on the Hollywood Walk of Fame. They've received numerous Grammy awards and nominations and even a BET Lifetime Achievement Award. They've played for Presidents and Foreign dignitaries on multiple occasions. Entertained major sporting events like the Super Bowl and the U.S. Open. Not to mention have influenced and collaborated with more musicians than I can say in a single breath. You could make a double album just off artist who have sampled their work, no joke. So yeah, I guess you have to carry a good reputation for live performances in order to accomplish that.
For this performance the band had three of its original members. They were vocalist and multi-instrumentalist Philip Bailey, Kim Johnson and bassist Verdine White. They played just as enthusiastically as if they were just signed to a major label. It was non-stop hit after hit. Songs like "Boogie Wonderland", "Shining Star", "Sing a Song", "September", "Let's Groove". It was funny, the audience members (myself included) would be standing, waving and clapping until the song finished. We'd sit down for literally two seconds only to immediately stand back up, wave and clap some more to another one of our favorites. It's takes a long time to reach this status. Phillip said it best "we're putting 47 years of work into a 72 minute concert".
What had caught me off guard was actually the Latin flare they included into their sound. Philip Bailey's extensive use of the congas and timbales with the cowbell reminded me of Tito Puente. When Philip wasn't rocking the drums, he was singing his you know what off. With all the instrumentation going around you have to have some kind of voice to project over all of that sound, even with a microphone. They sounded clear as day; the singing was great all around but particularly from Phllip. His vocal range is such he could be anything from a baritone, to a tenor, to a falsetto. Philip also played a pretty good kalimba solo. It really is something to hear.
EWF is a show to say the least. They are on stage constantly dancing and singing. There was never a dull moment. The array of instrumentation is fascinating; you might as well call them the Earth Wind and Fire orchestra. It's a great experience and it's actually kind of disappointing. After seeing an EWF performance all other concerts might not sound as good or be as entertaining.
TRR Concert Revue & Photography by Alan Duckworth