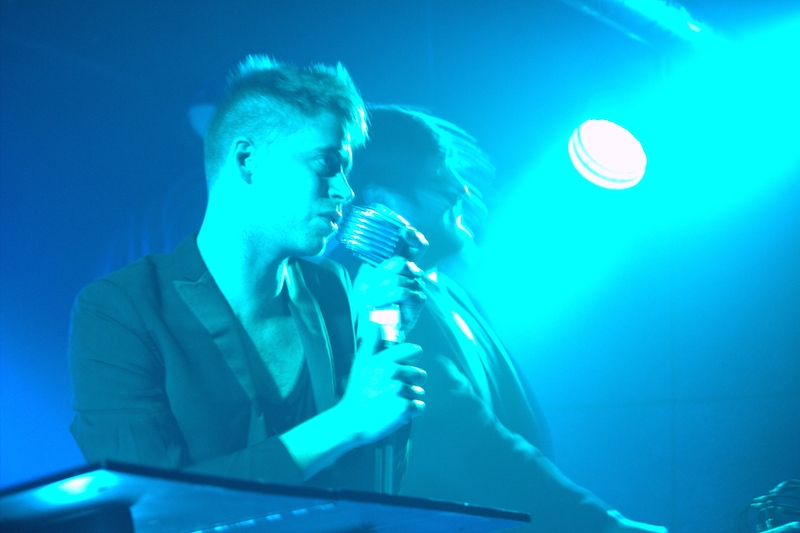 Who says Monday's suck? Those must be the lameoids who weren't at U St. Music Hall May 13th to see Digitalism perform live. The German indie dance duo was set to rock the stage not promoting a new album or anything but to just have fun. I guess that's what it's all about because if it isn't, you're in the wrong industry.
The vibe was cool and electric. There was the usual crowd of die hard fans camped out in front of the stage reserving their spot. Then there was the scattered social circles cheering drinks, groups of individuals dancing to the elation of electronic sounds provided by LXSX FRXNK, with the occasional wallflower nose deep in their iPhone. I triangulated my movements around this activity with an occasional pit stop at the bar.
Even with the ever growing crowd of people making their way down into the basement establishment front stage access was still relatively easy. The fog machine started shooting out test shots signaling the inevitable was commencing to proceed. The stage arrangement was pretty simplistic, two podiums with what appeared to be ipads sitting on them. I'm not going to lie, I would have liked to see a micro keyboard set up (I like micro keyboards!) but their arrangement worked well for what they were trying to achieve.
The stage darkened, a humming sound overcame the entire club and with a puff of smoke Jens "Jence" Moelle and Ismail "Isi" Tüfekçi took the stage emphatically clapping their hands and nodding their head. Everybody in the audiences hands shot up like a yoga instructor doing a tadasana pose. Looking around all you could see was a multitude of hand silhouettes some sporting glowing wristbands. Over the crowd there were two shiny disco balls hanging from the ceiling surrounded by red paper spheres rocking back and forth from the air being emitted from the vents.
The first song that caught my attention was "Idealistic" off their Idealism album. The songs catchy melody starts so quickly like if when composing the piece they just decided to skip to the best part. I had a knee jerk reaction to it and couldn't help but to jump up and down.  Their performance of "Zdarlight" was epic. It started with Isi steadily hyping up the rhythm by clapping. The song then erupts into a feel good consonance which I would consider more of a dance tune; it was easy to sway too. Another excellent song was of course "Pogo" this song was my first introduction to Digitalism and I had been waiting all night to hear it. It sounded great! Jence sung it so confidently. He was rocking a vintage style microphone in which he frequently cuffed his hands around and rocked back n forth like a gear shifter on a beamer. It was worth the wait. I also really liked the song "Falling" it was laced full of retro style synth and old school video game sounding tones.
Digitalism live was great time. I like the idea of them playing live more than a DJ set. There's something about a live set that just draws your attention towards the performer. They had my attention all night and trust me that' saying a lot given the good looking atmosphere I was surrounded by. So if you want to party like a rock star, go see Digitalism live. Or you could of watched the caps lose another opening playoff series and been miserable all night.  
TRR Concert Revue by Alan Duckworth