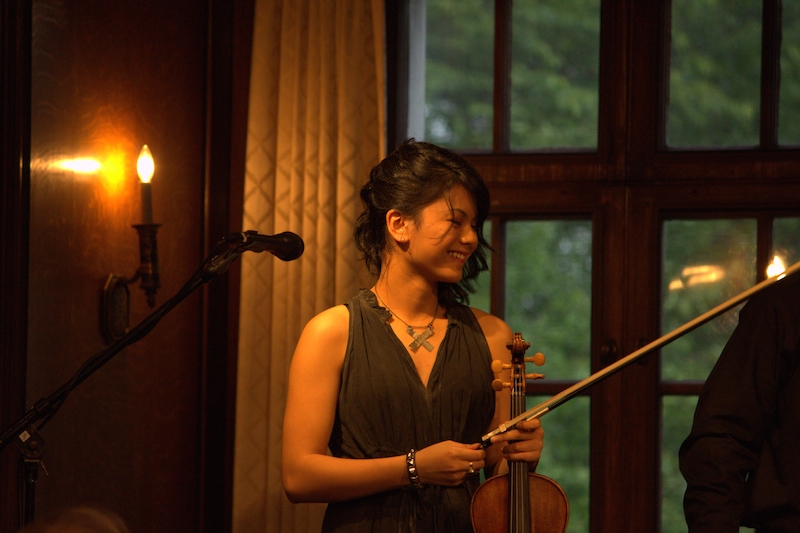 There are some of us who are late bloomers. It takes a while to find our ambition and excel. Then there are those who find their purpose at an early stage of life and talent comes natural to them. Daisy Castro is amongst the latter of the aforementioned and has seemed to have reached her destination before even starting on the journey. What is that destination you ask? That of a gypsy jazz violinist extraordinaire who at the age of 16 has already garnered respect from some of the finest musicians locally and abroad. Last night at the Strathmore Mansion Daisy revitalized the lost art of gypsy jazz with help from the band Swing Guitars DC.
I was always a little confused when it came to identifying Gypsy music. I grew up listening to the Gypsy Kings and always used that as a reference. I then found out that Gypsy music was a whole lot more than just Spanish rumba style flamenco guitar. When examining it in more detail I discovered that Gypsy music spans a broad spectrum of multiple influences and identifying it is merely the act finding the source. What is the source of gypsy jazz? That would have to be French guitarist Django Reinhardt. Django was influenced heavily by the recordings of American jazz trumpet player Louis Armstrong. I find the musical connection between Paris and New Orleans captivating.  Django later paired with violinist Stephane Grappelli and gypsy jazz was formed. I asked guitarist Marek Wojcik from Swing Guitars DC if playing Django style guitar is any different due to the fact that Django was partially paralyzed in two fingers and played solos with only his two remaining fingers. Marek replied that playing Django style guitar is different because it is so incredible difficult, you can only attempt to play it and it still isn't Django style guitar. He also explained the influence dance has on jazz and even compared jazz to chamber music.
Tonight's program was filled with plenty of Django and Swing Guitars DC attempt at playing it was adequate. All around all I heard was musical improvisational communication. Everyone from Daisy to Marek, Jay Miles on double bass and Kevin Doran on guitar; were communicating solos through rhythm. I would compare it to the rhythm being the setting for a conversation the soloist were having instrumentally amongst themselves. I wonder if that has anything to do with why Daisy speaks on stage with a British accent. It was a phenomenal performance, everything from "Swing 48", "Swing 42", "Hungaria" all great! I know traditionally you're suppose to hold applause till the end of each song but you couldn't help but to cheer them on as they traded off solos. For an encore, they performed "Dark Eyes", I had listened to this particular Daisy Castro/Gypsy Moth Quartet recording meticulously. Daisy stayed true to jazz form and played it differently than the recording. During this live performance, she accentuated the intro more melodiously and after the first measure as the tempo increased she applied more distinctive strokes. It's always good to here improvisation, it means the musician is relaxed and having fun. This concert also featured a song sung by Integriti Reeves "Nature Boy" by Eden Ahbez. This was an upbeat version with quick snappy rhythm. Integriti sung her part well, she was able to catch this rhythm and still sing at a smooth melodic pace.
This was a great concert! Maybe only in my opinion the songs were a little short. I mean it is jazz technically you can play them forever. But that was it!  Everything else was awesome! Daisy Castro should be a name you will recognize in the future. Given she keeps up the good work she can be amongst the likes of violinist such as Elena Urioste, Justine Lamb-Budge or maybe even a Mark O'Connor or Joshua Bell. Which given the style of violin she plays would be remarkable.
TRR Concert Revue by Alan Duckworth