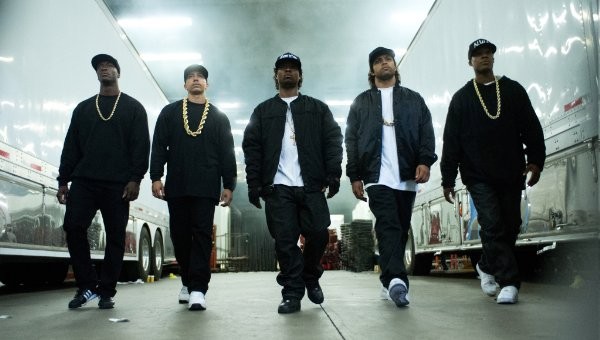 The summer's biopic of N.W.A. is explosive and entertaining!
The story begins in the city of Compton, CA in 1986. Eric Wright, known as Eazy-E (Jason Mitchell), gets himself into a drug deal gone wrong. Faster than you can say, "This is a raid," LAPD rams into the house while Eazy-E runs for his life. On the other side of town, O'Shea "Ice Cube"Jackson (O'Shea Jackson Jr.) is busy creating some new rhymes for an upcoming show and Andre "Dr. Dre" Young (Corey Hawkins) is a DJ at a local club who foresees the future of music and it's not the slow jams he plays.
Little did they know that they along with DJ Yella (Neil Brown, Jr.) and MC Ren (Aldis Hodge) would go on to form one of the first influential rap groups known as N.W.A. Eazy-E later meets up with manager Jerry Heller (Paul Giamatti) who immediately sees the group's potential to become superstars.
Directed by F. Gary Gray, Straight Outta Compton is a near-perfect musical biopic. The first half of the film captures N.W.A.'s swift rise to the top. It showed how they went from local grown rappers performing in small clubs to mega stars selling out arenas across the country.
The film's defining moment takes us to a concert in Detroit where the group is arrested after performing their smash hit "F*** Tha Police" as an act of defiance. The song ends in the violent manner that their critics feared was being glorified in the song. However, black and white fans of N.W.A. came together to raise their middle fingers in the air while chanting those famous words to the cops who arrested their heroes.
The second half of iis taken up by the fall of N.W.A. which includes Ice Cube's solo work and eventual transition to movies, the start of Death Row Records, collaboration of Dre and Snoop Dogg and the death of Eazy-E.
Casting for a biopic can be an impossible task if you're not determined to find the right actors to portray the real-life personalities. Gray has assembled an outstanding cast of actors who are all full of pure talent. Jason Mitchell's portrayal as Eazy-E was a standout performance. Mitchell delivers the heart and soul of the drug dealer turned legitimate businessman and rapper. Wright's passion for N.W.A. wasn't just a dream to him; it was a ticket to bigger and better things. However, throughout the film Eazy-E saw that the music life was challenging and deceptive like drug dealing and his fall from grace played out like a real tragedy. Mitchell's portrayal of the late rapper is worthy to be praised.
O'Shea Jackson, Jr., the son of Ice Cube, bears a crazily uncanny resemblance to the rapper himself in both appearance and voice. Jackson captures the essence of Cube as a true artist who thought music could one day show the nation the reality he and the rest of the group had to live through in their daily lives.
Another standout yet scary performance was R. Marcos Taylor's role as Marion "Suge" Knight. From the first moment you see Knight as a bodyguard to his meteoric rise to the top, Taylor's portrayal of Knight is the one you will hate and love at the same time.
The story of N.W.A. gets the silver screen treatment and it pays off brilliantly. For the people of my generation, it's a reminder of how much power that N.W.A. had in its time and the music is jarring but timeless.  Compton is an exhilarating piece of hip-hip history that will speak to the audiences of today just as much as the original album did almost 30 years ago.
FINAL GRADE: A