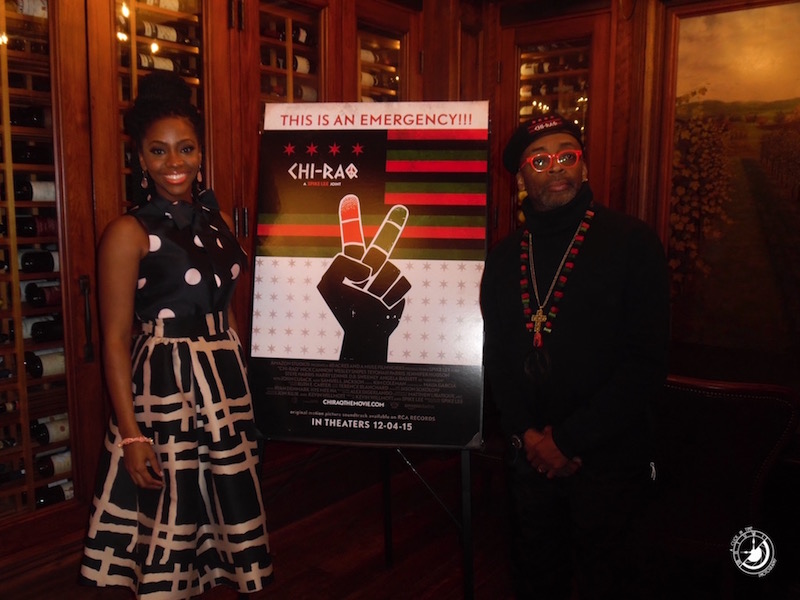 This Friday, the newest Spike Lee's joint Chi-Raq will open up in theaters. Based on the classic Greek comedy, Lysistrata, this modern day adaptation tells the story of Lysistrata (Teyonah Parris) who tries to persuade other frustrated women to abstain from sex until their men agree to end the senseless cycle of violence in Chicago. I recently sat down with actress Teyonah Parris and director Spike Lee, as part of a media roundtable, to talk about this exciting movie.
What got interested in the role of Lysistrata?
Teyonah Parris: I actually did the play of Lysistrata in school at Julliard and I did not get to play Lysistrata but I always studied Shakespeare, big plays and Chekov.
I love working on that certain text because there is so much to learn from it. So, when I got the script for Chi-Raq and I realize that this is the modern telling of that story, I was all in. Then to hear that Spike talk about what he was doing with the movie, which the first thing he said that I am trying to save lives. We have to save lives. I was all in; there was no question about it.
I remember reading that you stated that this was the most challenging role in your life. I would like you to explain that.
First of all, I am getting to work with someone I've admired for a long time, Spike. I am glad that I said that before he came in (we all laughed) and just the sheer fact that she is the hero. She comes in and she sees the issue. She knows that there has to be a strength and a determination to not only carry on her mission but for me also, the actress, to figure out what she's trying to do and how she has to do it in such a short time. We shot this in five weeks. I had to use every bit of my artistic being in this film from the dancing to just finding my center and my strength in how I effectively lead people. Those were some of things that made it a challenge for me but a welcome challenge.
At this stage, Director Spike Lee joins the roundtable.
When you were putting this together in your mind, were there any other place but Chicago where this could be and what's the underlying issue for you?
Spike Lee: Well the co-writer, Kevin Willmott, wrote the original version six years ago. He wrote the script and I was supposed to direct but we couldn't get it done. The re-incarnation, a year ago I told Kevin that when we do this again, let's make it take place in South Side Chicago. I think one of the things that you can talk strongly about is guns, now that is affects everybody too, all Americans.
My question is to the both of you. We all know that movies can influence minds. I would like, as artists, what role do you feel that you play in influencing those minds?
Lee: Well, hopefully people will become aware, people wake up. I had been using those two words in my movies. Those were the last two words in School Daze said by Laurence Fishburne. Do the Right Thing begins with Samuel L. Jackson saying "Wake Up" and closes this film by saying this as this is your Love Daddy. Consciousness is not something that's at use all the time.
Parris: I agree with what Spike said. I think our roles, as artists are to show the reflection of our community and the world in a way that it may not be comfortable to watch or to receive. Its truthful that it makes you think about the state of community.
The newest Spike Lee's joint Chi-Raq is a film not to be miss. See it theatres this Friday December 4th!