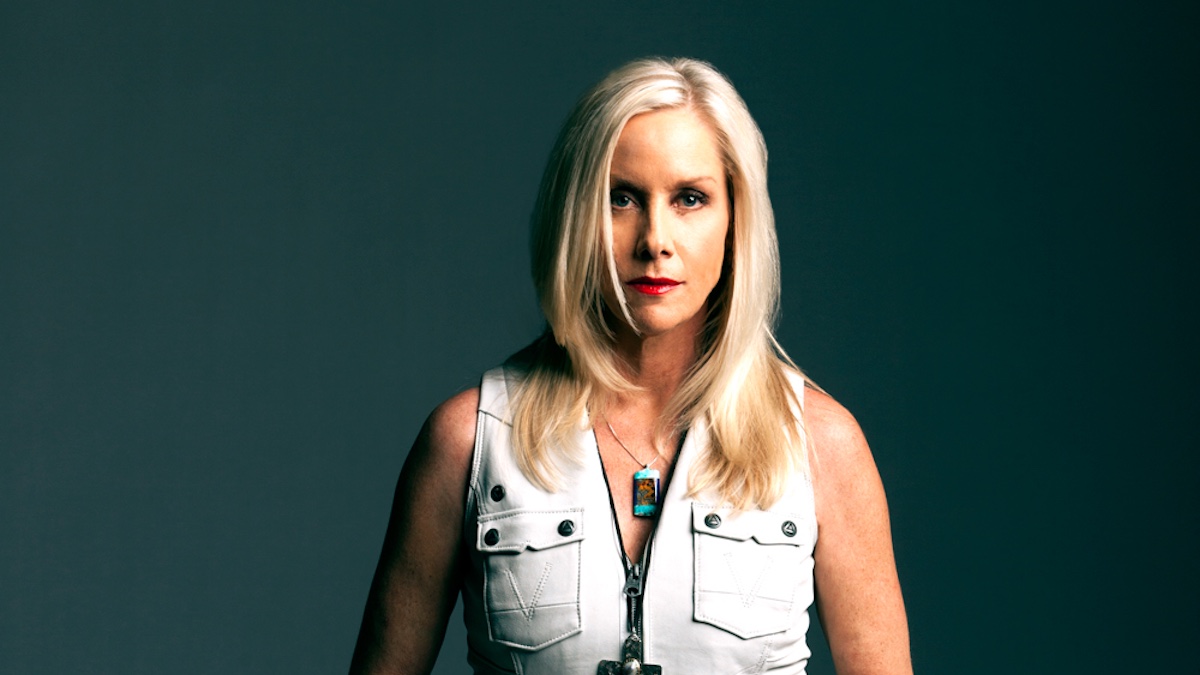 Good afternoon all and welcome to another smashing edition of THE INTERVUE. Tonight, we are in the presence of a rock goddess. Our guest today has released her long-awaited star-studded album Blvds of Splendor on Blackheart Records. The album's digital version includes three bonus tracks. She is the incredible lead singer of the powerhouse group, The Runways. She is author and chainsaw artist, Cherie Currie!
Cherie, welcome to the INTERVUE!
Well thank you Dean, very very happy to be here.
I am so glad to talk with you. As I mentioned earlier, this is one of the best albums I heard this year. You started working on the album a decade ago when the biopic The Runaways came out. Tell us about the songwriting process that went into this album
You know, I didn't really expect to make an album, Dean. I've been asked last minute to open for Joan Jett at the Pacific Amphitheater which is not a small venue. This is a big deal and I didn't have a band. Matt Sorum had reached out to me to be a background singer on his then girlfriend's now wife's album Ace and her band. My publicist, Ken Phillips, and I have been touring around on the movie. I missed his call, the opportunity to do his sessions. I did call him back and I happen to, in passing, say that I am opening for Joan and I don't have a band.  He says "I'll be your drummer.
I literally fell off my chair. He goes "I'll put together a band for you". He did with Nick Mayberry, who is a genius who worked for me for the last ten years; Grant Fitzpatrick who toured with me on four tours. He's now with The Cult. My son, Jake Hayes. Matt became the bandleader and he really whipped the show into shape. We had two and a half to three weeks before the date. It was in March of 2010. We just had this amazing show. It was a magical night. Matt turned to me, when we were taking photographs and said afterwards "We've got to make a record". I was just not buying it. You know you hear stuff like that all the time. In fact, we were offered a record deal that night by a different record company. Matt was headstrong that we really needed to do this. And sure, enough within a week, we were in his studio cutting Roxy Roller. Kenny Laguna was my manager at the time. We went with Blackheart Records. This album is Matt Sorum's little black phonebook, his genius because I was not prepared to do this (laughs) but I'm glad that I did.
I am glad that you did it. Fifteen wonderful tracks. When I loved about the tracks is not only the new content but the covers to The Hollies The Air That I Breathe and Tommy James' Draggin the Line.  Those are two of my favorite songs from that era. Why did you choose those two songs for your album?
The Air That I Breathe is a song that I grew up with and I loved it. Matt had asked if there's a song that I would like to do, and I always wanted to do that song, always. I love The Hollies. So that was a shoo-in for me. Then, Kenny Laguna wanted to do Draggin' the Line. He produced that song on the record. So, Kenny has made some pretty good choices in songs when it comes to Joan as well. I was happy to oblige.
I am glad to hear it. Another thing that I have loved about the album was Behind the Scenes clip of you doing a cover of The Runaways hit Queen of Noise from the second album. You mentioned to the producers that you wanted to pay homage to the late great drummer Sandy West. I wanted to know what is one great memory that you will cherish forever about Sandy.
There are so many because Sandy and I remained best friends up until her death I will never forget when I was in The Runaways, she had a truck that we would drive around in and we would go past Pierce College. There used to have cows out there and she would just yell "Moooo!" out the window and we would just laugh. There are so many memories. She helped paint my house. She helped me when I was married to Robert Hays. We just did everything together. When I say she was my best friend, it's the truth. She was in my life, major big time. I love her. Anytime I did a show, I made sure she was on the drums for any of the Runaways songs. I really think that she is looking down on all of this and she's very happy.
Let's go back to your first solo album, Beauty's Only Skin Deep. One of my favorite tracks on there was Science Fiction Daze because it reminded me so much of David Bowie and the roots of science fiction which I can tell you that I am a huge sci-fi fan. Tell me about this song and were you a fan of sci-fi growing up.
Oh, a huge fan and that wasn't the only song on the record that I liked…
Oh yeah.
Now with Beauty's Only Skin Deep, when I quit the Runaways, I still had a contractual obligation to do one more record. So literally within two weeks after quitting The Runaways, Kim had me in the studio with 103-degree fever for most of it for I was sick. Recording some songs for he had written very quickly, just so I can fulfill my obligation to Mercury (Records) but the Science Fiction Daze I loved.
What shows were you into that were your favorite sci-fi shows or movies?
As far as television shows, I liked The Twilight Zone even Chiller was super cool. For Twilight Zone, it was my favorite. I still watch that to the point where I can't watch it. I liked Lost in Space and Bill Mumy was I think my first true love. It bothers him when I tell this story, but I used to Dean Martin and I picture him from LIS in my head and having a little peck from Bill.
(we both laughed)
The funny thing about it is that he ended up having a poster of me, supposedly, in his bedroom growing up.
Did you end up meeting Bill Mumy?
Oh, my goodness, we are really good friends. His band, the Generators, opened for me multiple times at the Whiskey and other clubs through Southern California. I loved all the guys including Miguel Ferrer, who we lost a couple years back. Bill and I have been good friends for many years.
What was it like to work with such amazing talent like Billy Corgan and Slash of Guns N Roses and producer Matt Sorum on this album?
Well, it was surreal. It was like we had come off the movie too. Dakota Fanning is one of my favorite actors ever. Michael Shannon, of course, I am in awe of these actors. I carved a dragon bench for Kristen Stewart in her backyard. The thing is to come off a film like that and then to go into this record and to work with these iconic and wonderful people. They are huge stars but every one of them was so giving and generous with their time especially Billy. He was the most giving, kind, supportive person that I worked with in my entire career. Even after we finished recording the record, there was a song that I have written with my son that we shot off to Billy while he was on hiatus in Colorado in some cabin. He took the time to rewrite the song & actually videotaped the changes he made. That's the level of generosity of someone like Billy Corgan most people don't realized.
Just hearing the stories that come out of you, it's amazing! I am glad to be talking with you
For someone like me who is just a chainsaw carver from the San Fernando Valley as I always say because it's what I am and growing up surrounded by a lot of stars and a lot of people that became huge stars, we a lot of people change… not for the better.
When I see people come together to work on my behalf and be as kind, generous and down to earth as they were, all these wonderful people including Brody Delle, The Veronicas, Slash and Duff. When Slash was asked about his top ten collaborations in his career, he listed me as one of them. What a wonderful thing for him to do. Working with these people really renewed my belief in humanity and people. So, I am grateful for that.
I must agree with you. I have been doing entertainment reporter for eleven years now and it's amazing of how some of the people have change and the ones that have remained humble throughout their careers like you. I'll admit that this is one of the best interviews that I had in these eleven years. 
Oh, Dean first of all, I must thank you for taking the time. You know people say "Cherie, thank you for taking the time." but no if it wasn't for you, no one would know anything of what I'm doing, and I must thank you from the bottom of my heart. I mean that from every fiber of my being. What you do is unparalleled to anything that can help promote this record I have waited en years to have released. So, thank you!
Well, when its Cherie Currie, I can't say no! You are a rock goddess in my mind.  
I'm a chainsaw carver from the San Fernando Valley, that's what I am my friend! You know, I am very blessed to have a wonderful fan base that I had an opportunity to be in the Runaways and made a difference with these gals. Now, I got another chance, I got a second chance and if I never make another record, ever again, I'm happy because this is the record that I always wanted to make. When I came out of The Runaways, that didn't happen.
Since you been in the business from the 1970s to today, how has the music industry changed?
Well, women had just exploded. I mean women had taken over the music business. Even though, some say that's not true but, in my eyes, because I watched when I knew what it was like when women weren't in the business. You know that's the difference that I have seen. Artists like Melissa Etheridge, when I went to her concert, I stood at the foot of the stage watching her and I thought I was seeing God. You know these women had come and picked up where Suzi Quattro left off and done a phenomenal job of cementing women in rock & roll. I tip my hat to all of them.
Of all the songs on this album, which one speaks to you personally and would recommend to the person who has never heard your music before?
You know what, there's too many but I will tell you for the time we're in right now, I'd listen to Black Magic and all I can think of is being in a convertible on an open road in twilight and blasting that song. It's a thing of beauty. That's my song for the pandemic but the rest are just magical too. When we are free, I'm going to travel in my car on a desert highway blasting that song and that's the one I'm looking forward too.
Listen to this amazing album, Blvds of Splendor, now available where music is sold and streaming!