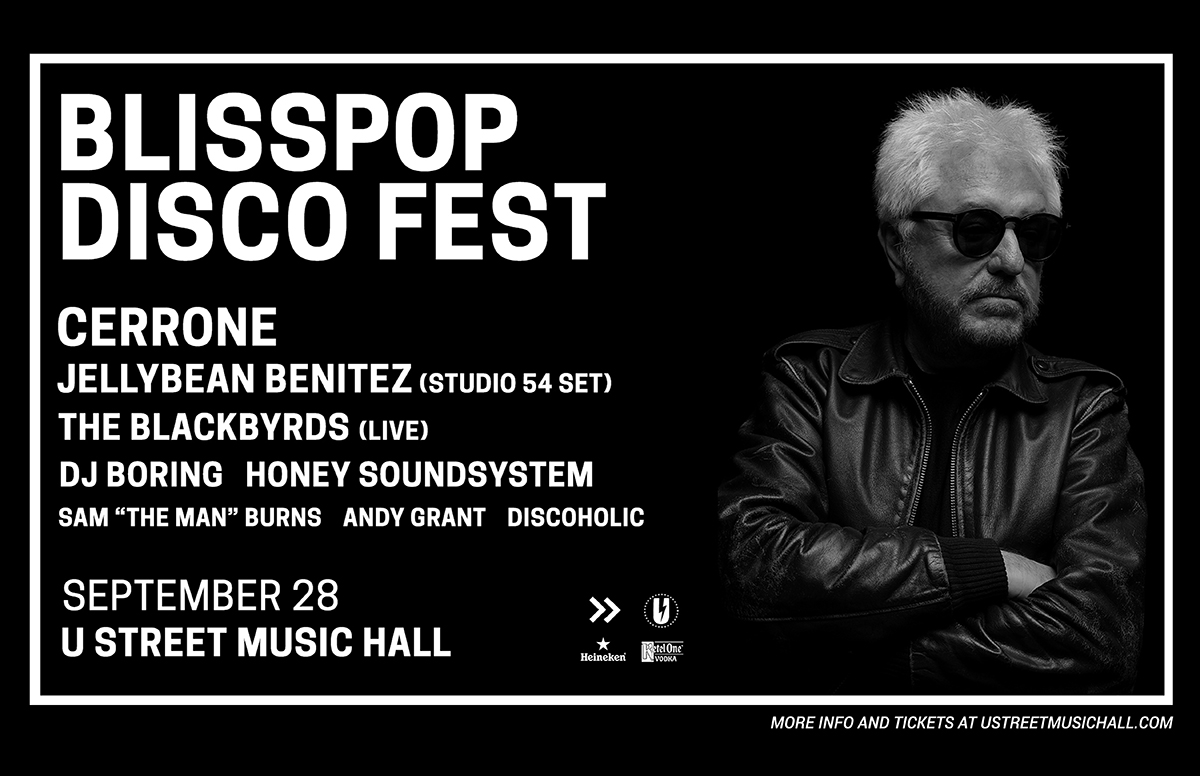 Blisspop Disco Fest is featuring two of the greatest music producers of the music genre, Cerrone and Jellybean Benitez (In Studio 54 Set) on September 28th at U Street Music Hall. This night features The Blackbyrds, DJ Boring, Honey Soundsystem, Sam "The Man" Burns, Andy Grant & Discoholic. How would you like to see the show on us? This contest only runs for ONE DAY ONLY. Click below for details and ENTER TODAY!!
TO ENTER:
You have to answer both these questions:
Name two songs that Jellybean Benitez remixed for Madonna

In 2008, with his old accomplice Nile Rodgers, Cerrone organized the "NY Dance Party" in the middle of Central Park, in New York, recreation of a huge discothèque to celebrate thirty years of dance music. What disco band is Rodgers most associated with?
Send the answer to this question to therogersrevue@gmail.com (SUBJECT: CERRONE/JELLYBEAN) by SEPTEMBER 27, 2019 @ 5:00pm EST for your chance to win!
For an Additional Entry, become a NEW SUBSCRIBER to therogersrevue.com!
One winner will be random selected to win ONE PAIR of Tickets for the Cerrone/Jellybean Benitez which is running September 28 2019 at U Street Music Hall in Washington DC
RULES:
Each household in the United States is only eligible to win one of two pair of tickets for Cerrone/Jellybean Benitez at the U Street Music Hall in Washington DC for September 28 2019. Winners MUST BE 18 Years and older to win the tickets. Only one entrant per email address per giveaway. If you have won the same prize on another blog, you are not be eligible to participate in the giveaway. Entries must be received by SEPTEMBER 27, 2019 @ 5:00pm EST. Any entry after the time stated, will not be qualified. Winner is subject to eligibility verification. The winner's name will be notified of their win once the contest ends and must reply to the email in order to claim their prize. TRR is not responsible for winner's costs when it comes to parking, gas, lodging or food. Good luck!