Concert Review: Eric Roberson at Bethesda Blues & Jazz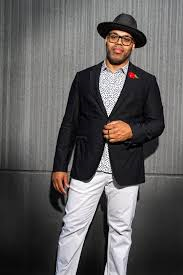 On Saturday July 15th, Eric Roberson brought his signature style to a sold out crowd at Bethesda Blues & Jazz Supper Club. Next to New Edition, Eric Roberson is the only other artist I make sure to see whenever he's in town.  I've had the pleasure of seeing Mr. Roberson live ten times in the last nine years and he never disappoints.
Despite a late start and a broken AC unit, Roberson graced the stage as a true professional. Opening with the fan favorite "Been in Love", Roberson transitioned into a R&B freestyle, where he sung about the heat in the building to let the audience know he could feel their pain. Throughout the night, Roberson, who has written for the likes of Will Smith, Jill Scott, 112 and Charlie Wilson, performed songs from his ten album catalog with a set list that included "Borrow You", "Dealing", "Mark On Me" and his signature cover of The Notorious B.I.G. classic "Big Poppa".