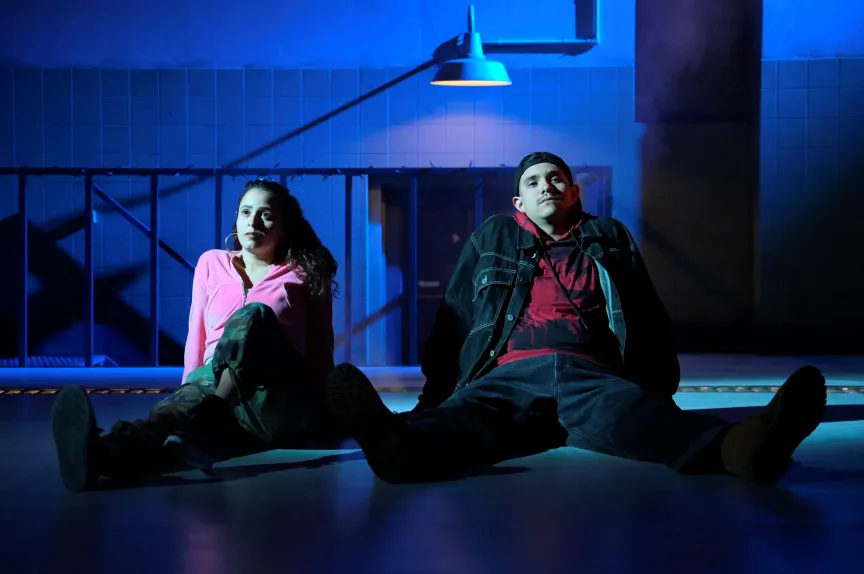 Arena Stage at the Mead Center for American Theater announced today the cast of the D.C. premiere of Martyna Majok's Sanctuary City, a 2021 New York Times Critic's Pick hailed for its "unsparing, unsentimental" take on immigration in the United States. The Arena Stage production is in association with Berkeley Repertory Theatre, where it received an "allusive, poetic staging" (San Francisco Chronicle) by director David Mendizábal this past summer. Many members of the Berkeley Rep cast and creative team will reprise their roles in Arena's mounting. Sanctuary City will run from October 21 through November 27, 2022, in the Kreeger Theater, and Press Night will be held on Tuesday, October 25 at 8 p.m.
Written by Pulitzer Prize winner Martyna Majok (Cost of Living, Ironbound), Sanctuary City is the powerful story of two young DREAMers who fight to establish a place for themselves in America, the only country they know as home. Seen through the eyes of these teenage immigrants, it follows their friendship, their struggles, and their heartbreak. Poignant, timely, and highly theatrical, this "one-of-a-kind love story" (San Francisco Chronicle) illuminates the triumphs and challenges these lifelong friends face, and how much they are willing to risk for each other when they have everything to lose.
Arena Stage Artistic Director Molly Smith is eager to host this "gritty and authentic" (BroadwayWorld) play about one of the country's most important issues in our nation's capital. "We read about immigration all the time in the newspaper," said Smith, "and many of us have friends or family who have immigrated to this country."
"The brilliant Martyna Majok has created a contemporary and compelling story of the complexities of moving to the United States and trying to become an American citizen. You will not want to miss it." 
Making their Arena Stage debuts and reprising their roles from the Berkeley Repertory Theatre production are Hernán Angulo (A.C.T.'s Cymbeline), María Victoria Martínez (Repertorio Español's In the Time of the Butterflies), and Kim Fischer (Second Stage's Make Believe). Also making their Arena Stage debuts are Johnny Anthony (Steven Spielberg's West Side Story) and Bekah Zornosa (Woolly Mammoth's There's Always the Hudson).
The creative team includes Associate Director/Transfer Director Cara Hinh, Set and Costume Designer David Israel Reynoso, Lighting Designer Cha See, Sound Designer Fan Zhang, Casting Director Erica Jensen, C.S.A., Calleri Jensen Davis, Stage Manager Elisa Guthertz, and Assistant Stage Manager Becky Reed.


PLAN YOUR VISIT
TICKETS: Tickets for Sanctuary City are $56-$95, subject to change and based on availability, plus applicable fees. For information on savings programs, such as pay-your-age tickets, student discounts, Southwest Nights, and heroes discounts, visit arenastage.org/savings-programs.
Tickets may be purchased online at arenastage.org, by phone at 202-488-3300 (Tuesday – Sunday, 12:00-8:00 p.m.), or in person at the Sales Office at 1101 Sixth Street, SW, D.C. (only on performance days, and only in the 90 minutes leading up to performance time).
Sales Office/Subscriptions: 202-488-3300
Group Sales Hotline for 10+ Tickets: 202-488-4380
PERFORMANCE DATES:
Tuesday, Wednesday, and Sunday at 7:30 p.m.
Thursday, Friday, and Saturday at 8 p.m.
Saturday and Sunday at 2 p.m.
Weekday matinees at 12 p.m. on Wednesday, November 2; Thursday, November 10; Wednesday, November 16; and Tuesday, November 22
No performance on Thursday, November 24
Early Curtain: Sunday, November 13 at 6 p.m.
Southwest Nights: Thursday, November 17 at 8 p.m. and Sunday, November 27 at 7 p.m.
Audio-Described Performance: Saturday, November 5 at 2 p.m.
Closed Captioning: GalaPro begins Wednesday, October 26
Post-Show Conversations
Connect with the show beyond the performance at a post-show conversation with artists and staff on November 2, 10, 16, and 22 following the 12 p.m. performance and on November 17 following the 8 p.m. performance.
Full Calendar: arenastage.org/tickets/calendar
SAFETY:  Arena Stage requires that patrons, staff, and volunteers wear facial masks inside the Mead Center, unless actively eating or drinking, regardless of vaccination status. These conditions are subject to change, and Arena continues to consult with medical professionals, monitor government best practice recommendations, and engage in industry trainings to ensure the health and safety of our patrons, artists, and staff. For up-to-date information, visit arenastage.org/safety
TRAVEL: Limited parking is available in Arena Stage's on-site garage and the Public Parking Garage at 1101 Fourth Street, SW, one block from the Mead Center for American Theater, and ranges from $18-27. Please visit arenastage.org/transportation for information on transportation to and parking around the Mead Center, and call 202-488-3300 to purchase parking in advance.
For complete 2022/23 Season details, visit arenastage.org/season.
Connect with us:
facebook.com/arenastage
twitter.com/arenastage
instagram.com/arenastage
youtube.com/user/arenastage1
arenastage.org