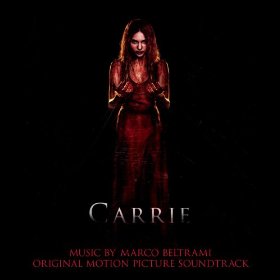 When it comes to the senior prom, most teens are concerned with what they'll wear, who their dates will be and what will happen after prom. But who really thinks that the newly crowned prom queen will raise telekinetic hell onstage? Stephen King's cult classic has been resurrected for the silver screen, and with it, a soundtrack that introduces you to tortured high school student, Carrie White.
Composed by Marco Beltrami, best known for his work in the films "Mimic" (1997), "The Faculty" (1998) and "Resident Evil" (2002)—this cavalcade of horror begins with the intro, "Carrie's Main Title" and "The Birth of Carrie". The child Margaret has borne is not an average child, but a supernatural one. The slow, ominous strings will cause the audience to recoil in fear and enchantment at the same time. "When Periods Attack", "Carrie On", "Headbanger" and  "Go to Your Closet"  will inspire a twinge of fear and sadness within the audience as they bear witness to the mistreatment and torment Carrie suffers at the hands of her brutal classmates and unstable mother. "Love You Too, Mom" shows Carrie's unwavering love for her abusive mother. Her suppressed anger begins to trigger her first telekinetic experience in "Mind over Matter".   "Sue Gets an Idea" and "Shopping" reveal a remorseful side to Sue as she finds ways to atone for her poor treatment of Carrie.
Carrie has embraced her new found powers and rebels against her mother in "Levitated Mass", "Preparing for Prom" and "Trapped in the Closet".  She unleashes her unbridled fury onto the prom guests in "Blood Bath", "Kill 'Em All" and "Driving Her Crazy". This is no longer prom night; it is a living nightmare.  "Heading Home" and "Mommie Dearest" end Margaret White's mistreatment as Carrie releases her ultimate wrath upon her mother. The final nail is hammered into Carrie's coffin with "House Crumbles" and "Burn in Hell". While these songs are dark, they symbolize Carrie's release from her suffering.
"Carrie" has proven to be a cult classic among Stephen King fans. The score also demonstrates its epic success among the fans because the music beautifully, yet sadly tells Carrie's story. Each track describes her horrific beginnings and her equally mortifying end. While I have no doubt that the movie will gain many followers, I truly believe that this score will have a greater impact on the audience.
Final Grade: A