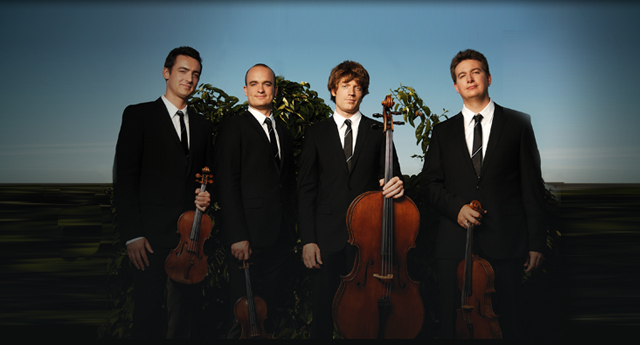 The Washington Performing Arts Virtuoso Series presented The Calder Quartet at The Kennedy Center Terrace Theater on Sunday afternoon. The Los Angeles-based quartet was the winner of the 2014 Avery Fisher Career Grant and is considered by LA Times critic Mark Swed as "one of America's great string quartets."
The program featured Sabina by Andrew Norman, String Quartet No. 2 "Intimate Letters" by Leoš Janáček, and String Quartet Op. 127 by Beethoven. The Calder Quartet is Benjamin Jacobson, violin, Andrew Bulbrook, violin, Jonathan Moerscel, viola, and Eric Byers, cello. They formed in 2008 at the University of Southern California's Thornton School of Music. They were also a Juilliard School Graduate Resident String Quartet. They have collaborated with Thomas Ads, Mark Mothers Baugh, Joshua Bell, and Phillip Glass, just to name a few.
I refer to the Calder Quartet performance as "light" classical based from Andrew Norman's Sabrina. It was inspired by an early morning visit to one of Rome's oldest churches. The light shining through the shapes on the stained glass windows came to represent Norman's view of sonic range. Andrew Norman derives from the visual world correlations in music. His music is often inspired by architecture, patterns, and textures. His approach has been praised for its creativity.
The Calder Quartet performance of Sabrina was stirring. The range of sound came together uniformly like light piercing a windowpane. A distinguishable timbre gave the quartet texture. The dynamics were exquisite! Barely audible tones and silence gradually increased in volume. At times when the volume increased it was a bit shrill but still very interesting. Benjamin Jacobson almost sounded like he was making electronic sounds on violin. It reminded me of a György Ligeti composition and how he composed orchestrations to resemble early electronic sounds.
I support the theory of visual aesthetics complimenting sound but my understanding of it is a little different. From my understanding, the Pythagorean theorem is mathematical proof of a direct correlation between art, nature and sound. In short you can equally divide the lengths of a stringed instrument indefinitely, eight notes per octave. In microtonal music, you can divide even more notes per octave. A pentagram often visually represents it. It's known as "Devine Proportion," the "Golden Ratio" or "Phi." It's a geometric aesthetic with numerous examples that can be found in art and nature. Visually Katsushika Hokusai can see this aesthetic in the architecture of the Parthenon and the woodblock print "The Great Wave off Kanagawa". This is the same print that inspired Claude Debussy's "La Mer," a composition believed to show intrinsic evidence of golden proportion.
Leoš Janáček's "Intimate Letters" was an enjoyable piece. It's a four-movement piece shrouded in intense passion. A rhythmic Moderato is pronounced by a climatic violin duet. Benjamin and Andrew sounded exquisite! The blend of sounds created was illustrious! The performance was superb! The Moderato and Allegro were especially enjoyable. At this point, the rhythm increases into a great folk dance melody.
They closed with Beethoven's String Quartet Op. 127. This was a purely classical sound with a lot of melodic variation. Cellist Eric Byers was extraordinary at subtly blending measures. The Scherzando vivace finale exulted virtuosity! It was a phenomenal performance! Benjamin Jacobson was outstanding!
Watching the quartet communicate with each other was another enjoyable aspect to this performance. There is no conductor so there was periodic eye contact. The timing was spot on. The program showed just how much ranges this quartet has. It's almost like it transitions from a modern sound to a purely virtuosic sound. The results were incredibly enjoyable. I would highly recommend seeing the Calder Quartet. They really are one of America's great string quartets.