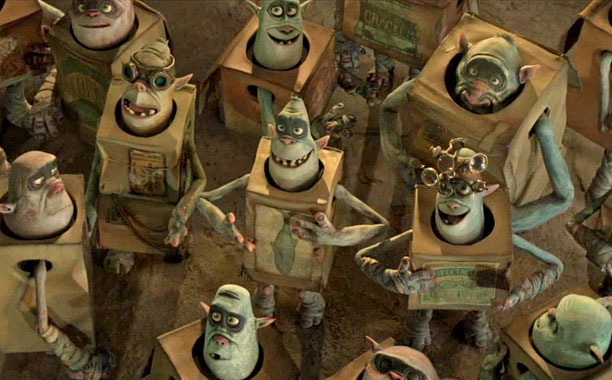 The fantastical, lovable Boxtrolls creatures from this fall's family event movie The Boxtrolls are thinking outside their box(es) – for the Boxtrolls Cardboard Challenge Contest throughout September, and for a partnership with the Imagination Foundation.
The Boxtrolls Cardboard Challenge is for children creating and building crafts inspired by the new movie The Boxtrolls and using cardboard boxes as the main resource – just like the Boxtrolls themselves do in their amazing world. Participants across the country will win "What's in the Box?"-themed packages at hosted events. A list of cities, dates and times for the hosted events in the Boxtrolls Cardboard Challenge can be found at www.Facebook.com/TheBoxtrolls.
The Contest will take place between Monday, August 25th and Monday, September 29th; all eligible entries received by the Contest end date will be judged based on ingenuity, resourcefulness, and creativity. Participants sharing their creations via Twitter or Instagram by tagging them with the hashtag #TheBoxtrollsCC are eligible to enter for the Grand Prize: one (1) Grand Prize winner will be picked on September 29th and receive an "Imagination Box" for creative play, including an Apple iMac, an iPad Air, Microsoft Office, The Print Shop and Kid Pix softwares, a $500 DiscoveryStore.com gift card, and a $1000 Michaels Arts & Crafts gift card. Complete Contest rules, including submissions instructions can be found at the Contest's website via http://www.focusfeatures.com/article/the_boxtrolls_cardboard_challenge.
The Los Angeles premiere of The Boxtrolls, with cast and filmmakers in attendance, will be held as a benefit supporting the Imagination Foundation and will take place on Sunday, September 21st at the AMC CityWalk Theater. The proceeds will help the Foundation prepare for this year's Global Cardboard Challenge, celebrating and fostering kids' creativity worldwide. To make a donation and/or attend the event, visit www.imagination.is/theboxtrolls.
Inspired by the documentary short film Caine's Arcade, the Imagination Foundation's Global Cardboard Challenge is a worldwide celebration of children's creativity and the role communities can play in fostering it. In the month of September, kids are challenged to create and build their own projects out of cardboard, recycled materials, and imagination. Then on October 11th, communities will come together and play.
Wearing cardboard boxes like turtles wear their shells, the Boxtrolls are kindhearted tinkerers who have used their imagination to build a home and community beneath the cobblestoned streets of the town of Cheesebridge. They are always making unique and creative devices out of found materials, using their imagination. The Boxtrolls include Fish, Shoe, Sparky, Bucket, Oil Can, and Wheels – and an 11-year-old boy named Eggs who thinks he's a Boxtroll.
The Boxtrolls Cardboard Challenge will help to inspire parents, educators, and kids to get creative and to gear up for the Global Cardboard Challenge, which will culminate on October 11th. Cardboard Challenges can take place anywhere — in schools, backyards, parking lots, libraries, and kids can build whatever they can dream up. Everyone is encouraged to share pictures, video and stories from their own Cardboard Challenge on blogs, websites and social media platforms.
The 2013 Global Cardboard Challenge had nearly 100,000 participants from 46 countries including Chile, Rwanda, Thailand, and Bosnia and Herzegovina. Kids designed and built arcade games, gadgets, castles, robots, rocket ships — anything and everything they could dream up. They practiced collaboration and creative problem-solving, and learned about math, engineering, design thinking, sustainability, social entrepreneurship, and more. Some events raised funds for local food banks, community gardens, library and school programs, childhood cancer research, gorilla habitats, and the Imagination Foundation.
The Boxtrolls and the Imagination Foundation encourage everyone to join The Boxtrolls Cardboard Challenge, see The Boxtrolls, and take the 2014 Global Cardboard Challenge!
To become a sponsor of the Global Cardboard Challenge, please visit www.imagination.is/get_involved.