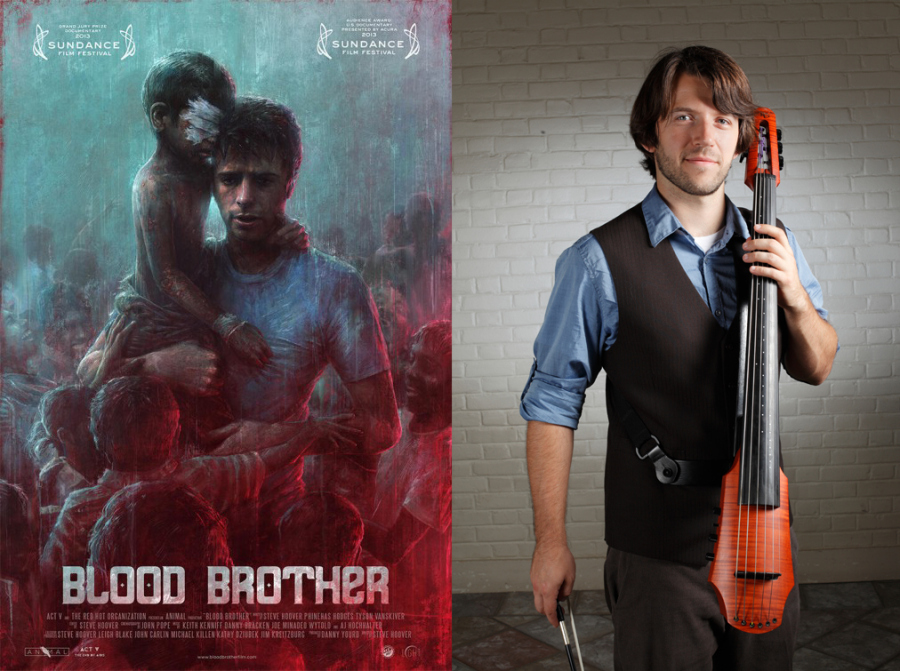 It wasn't long after screening Blood Brother at Landmark E Street Cinema that it dawned on me that I had just witnessed a documented miracle. Although Director Steve Hoover contradicts this notion "Blood Brother" really does follow who'd I'd consider a real life miracle worker, Rocky Braat. He basically on a whim decided to devote his life to an AIDS orphanage in India after seeing the children there and pretty much falling in love with them. This film won the Grand Jury Prize for best documentary at the 2013 Sundance Film Festival. In addition to the screening there was a live concert with Wytold performing on cello prior to the film. Two of his compositions are featured in the soundtrack.
Wytold's concert was a short assemblage of both music featured in the film and new material. It was an incredible tone setter. His performance of "Know Me" along with Bryan Bowman on the darbuka was scintillating. This composition's Indian style musical ornamentation's really prepared you for the film. Hearing the cello and the darbuka performed together is a great combination.
[youtube=http://www.youtube.com/watch?v=AE8mmV8eg3Y]
Towards the beginning of the film, there was a interesting animation. It was a story from Rocky's childhood about his pet kitten that was severely injured by a automobile and pretty much left for dead. Rocky treated the kitten back to health and it ended up surviving for years to come. Rocky instinctively cared for the kitten by holding it and bandaging it's face. You might think he'd grow up to be a doctor. Today, Rocky treats and cares for sick children in India with no medical training, just love. The results are extraordinary! Rocky's plan was never to provide medical treatment for the children, just give them love and support. It turns out that can be some of the best medical treatment available; I believe it has real healing powers! He gives these children hope and the power to fight.
It was fascinating seeing the children interact with Rocky and just how powerful an antidote such as laughter and happiness can be. These children are stricken with a life threatening illness and you would never know it by their behavior. They're just kids who want what every other kid wants; to be loved and have a family. Rocky's goal is to fill this need but it comes with a price. To have loved, makes losing that much harder. You can't have emotional attachment where there isn't any; to share emotions is to take on responsibility. Rocky genuinely takes on this responsibility full force.
This film is a powerful example of the parity that exists in our world. It doesn't make any sense! It's an eye opener to say the least. I saw a man who realized the needs of the many outweigh the needs of a few, one's self in particular. He sacrificed everything and took matters into his own hands. It's like nothing I've ever seen before! This is a powerful must watch film and a good life lesson. For information on Rock's cause, just visit www.bloodbrotherfilm.com