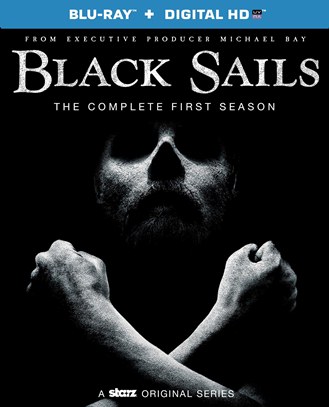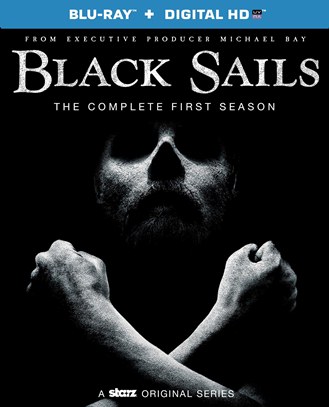 Anchor Bay Entertainment releases "BLACK SAILS: THE COMPLETE FIRST SEASON" the acclaimed STARZ Original series on Blu-ray™ + Digital HD with Ultraviolet™ and DVD on January 6th, 2014.  "From executive producer Michael Bay (Transformers, Armageddon, Pearl Harbor) and his Platinum Dunes partners Brad Fuller and Andrew Form (Teenage Mutant Ninja Turtles, The Purge), the Emmy® Award-winning first season of "Black Sails" follows the story of Captain Flint (Toby Stephens), the most brilliant and feared pirate captain of his day, who takes on a fast-talking young addition to his crew who goes by the name John Silver (Luke Arnold).  Threatened with extinction on all sides, they fight for the survival of New Providence Island, the most notorious criminal haven of its day – a debauched paradise teeming with pirates, prostitutes, thieves and fortune seekers, a place defined by both its enlightened ideals and its stunning brutality.
The 3-disc set is filled with exciting behind-the-scenes featurettes that give insight into the lavish production and inspired performances. The SRP is $59.99 for the Blu-ray™ + Digital HD with Ultraviolet™ and $49.98 for the DVD.  Pre-book is December 3rd.
"BLACK SAILS: THE COMPLETE FIRST SEASON" begins in 1715 The Golden Age of Piracy in the Caribbean is at its apex. The former British colony of New Providence Island is now lawless territory, controlled by a few dozen of the most notorious pirate captains in history.  The most feared among them is Captain Flint (Toby Stephens). s the British Navy returns to these waters, and the threat of extinction looms, another side of Flint emerges. A man driven by deep, complicated, even romantic motives.  He will ally himself with the beautiful Eleanor Guthrie (Hannah New), daughter of the local smuggling kingpin who turns the pirates' loot into profits.  Together, they forge a plan to hunt the ultimate prize, and by winning it, stave off reclamation of their home by a resurgent empire. Arrayed against them are a series of opponents: rival captains, jealous of Flint's power; Eleanor's father, whose ambitions for the island conflict with his daughter's; and a young sailor, recently recruited onto Flint's crew, who will somehow manage to constantly undermine his captain's agenda. His name is John Silver (Luke Arnold).
New Bonus Features:           
BLACK SAILS: A Look Inside
Dress To Kill
Pirate Camp
Folklore Is Finished: Pirate Politics
A Place In History
Building The Behemoth
Here, then, is all the dangerous adventures of our brethren of the sea in one beautifully packaged bold and bawdy set – "BLACK SAILS: THE COMPLETE FIRST SEASON" – is one epic treasure not to be missed!
The second season of "Black Sails" will begin airing January 24th, 2015 exclusively on STARZ.